Irish playwright and director Jim Sheridan will co-direct a new feature film on Ponca Chief Standing Bear with director and producer Andrew Troy.
The filmmakers are set to co-direct, write, and produce the long-anticipated historical drama, "I Am a Man: The True Story of Chief Standing Bear."
The film, which has formal Resolutions of Support from the Ponca Tribe, will depict the Ponca's "trail of tears" march that led to the 1879 landmark trial of Standing Bear vs. the United States of America. 
This relatively unknown legal case helped all Native Americans to be considered "human beings" under the law and set a legal precedent for many future civil rights matters within the US courts.
Sheridan's films, which include "My Left Foot," "In the Name of the Father," and "In America," have garnered 16 Oscar nominations and have won two Academy Awards as well as numerous prestigious international awards.
Troy, whose films include "Salinger," "The Runaways," and "Growing Up Smith," has spent the past decade developing the project and gaining the support of US and State Officials and Native Americans alike who are enthusiastic about the telling of Standing Bear's legacy.
Troy is a 2021 AMPAS Nicholl's screenwriting fellowship semi-finalist for a previous draft of his script of "I Am a Man," and he recently directed the upcoming film "Midnight in the Orange Grove," which he co-wrote with "American Psycho" writer Guinevere Turner. 
Troy says: "Standing Bear has been completely left out of our school textbooks.
"Traveling the country, I learned that even Native people are unfamiliar with his name and the impact he had on their lives. Chief Standing Bear's story needs to be told."
In 2019, Troy. who is part Chiricahua Apache, attended the unveiling ceremony of a new Chief Standing Bear Statue placed in the US Capitol in Washington D.C., making Standing Bear one of the first Native persons to be inducted into Statuary Hall.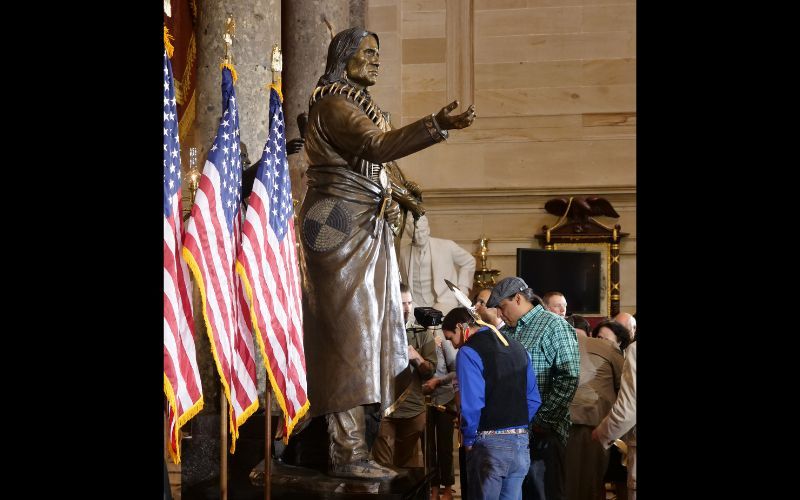 2
More recently, the Nebraska Legislature passed a bill providing a one-time $5 million grant to the production.
The film is a recipient of production incentives from the Cherokee Nation Film Office, the CNFO being the first Native American film office to open in US history. Screen Ireland has also provided development incentives.
"I'm delighted to be working with Andrew on this wonderful project," added Sheridan.
The film will be jointly produced by Troy's banner Troy Entertainment and Sheridan's Ireland-based Hell's Kitchen Limited along with producers Luca Matrundola and longtime Anonymous Content executive Paul Green.
Executive Producers are Warren Anzalone, Bart Daly, and former Nebraska Senators Colby Coash and Burke Harr.
Casting Director is Rene Haynes who recently cast Martin Scorsese's "Killers of the Flower Moon," the Amazon series "The English," and "Prey," the Native American-themed prequel to the Predator franchise.