Cillian Murphy's "Oppenheimer" co-stars were blown away by the Irish actor's performance in Christopher Nolan's latest film. 
Murphy underwent dramatic weight loss to more closely resemble J. Robert Oppenheimer, the American physicist who led the development of the atomic bomb during World War II.
The actor, a native of Co Cork, recently told The Guardian how he was determined to emulate Oppenheimer's thin silhouette.
"You become competitive with yourself a little bit which is not healthy," Murphy said. "I don't advise it."
Murphy's dedication to his portrayal of Oppenheimer impressed his co-stars, including Robert Downey Jr., who plays Atomic Energy Commission chairman Lewis Strauss in the new film.
"I have never witnessed a greater sacrifice by a lead actor in my career," Downey Jr recently told People Magazine.
He added: "He knew it was going to be a behemoth ask when Chris called him. But I think he also had the humility that is required to survive playing a role like this.
"We'd be like, 'Hey, we got a three-day weekend. Maybe we'll go antiquing in Santa Fe. What are you going to do?' 'Oh, I have to learn 30,000 words of Dutch. Have a nice time.' But that's the nature of the ask."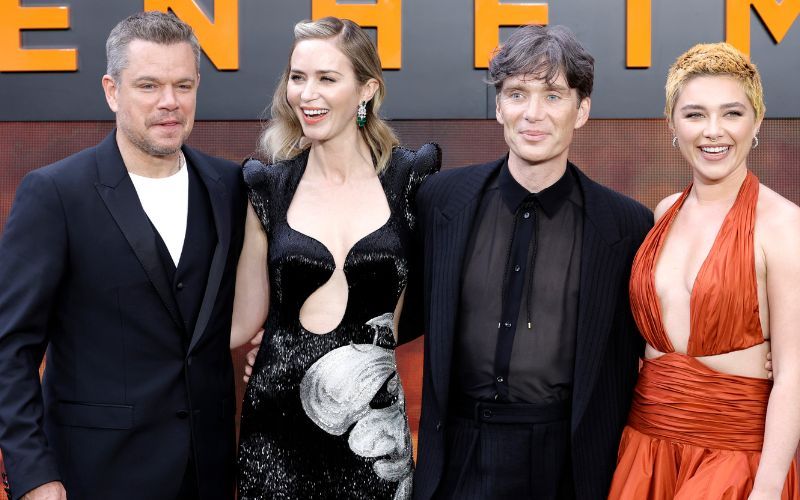 2
Florence Pugh, who plays Jean Tatlock in the film, was also full of praise for Murphy's performance, describing it as "hugely impressive."
"Every single day he shows up knowing every single possible way, intonation, inflection of how to bring this character to life. That was hugely impressive to me. There's a reason why he is one of the greats," Pugh told People.
Emily Blunt, who plays Murphy's on-screen wife Katherine Oppenheimer, said the Irish star was "so emaciated" while shooting the film. 
"He had such a monumental undertaking. And he could only eat, like, an almond every day," Blunt told Extra. 
Meanwhile, Matt Damon, who stars as General Leslie Groves, said he often found himself getting lost in Murphy's blue eyes during filming, joking that it was a "real problem" to shoot scenes with Murphy because of his eyes. 
"Sometimes you find yourself just swimming in his eyes."
You can watch the trailer for "Oppenheimer" here: