Bono had a near-death experience while making the band's latest album 'Songs of Experience.'
He has said that he finds it difficult to talk about his "extinction event," which he admits influenced the record.
The 57-year-old U2 frontman told Rolling Stone magazine in a powerful new interview :
"It's just a thing that... people have these extinction events in their lives; it could be psychological, or it could be physical. And, yes, it was physical for me, but I think I have spared myself all that soap opera. Especially with this kind of celebrity obsession with the minutiae of peoples' lives – I have got out of that. I want to speak about the issue in a way that lets people fill in the blanks of what they have been through, you know?

"This political apocalypse was going on in Europe and in America, and it found a perfect rhyme with what was going on in my own life. And I have had a hail of blows over the years. You get warning signs, and then you see that you are not a tank, as my wife Ali says. Edge has this thing that he says about me, that I look upon my body as an inconvenience."
However, Bono insisted he does not want to dwell on his near-death experience because he has been luckier than other people who did not survive.
Read More: Bono comes clean about 2016 health scare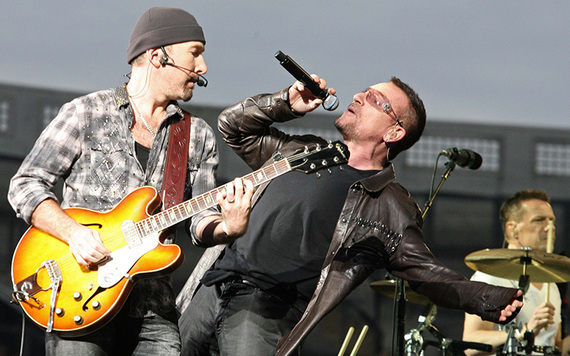 3
He said: "I had a sense of suffocation. I am a singer, and everything I do comes from air. Stamina, it comes from air. And in this process, I felt I was suffocating. That was the most frightening thing that could happen to me because I am in pain. Ask Ali. She said I wouldn't notice if I had a knife sticking out of my back. I would be like, "Huh, what is that?" But this time last year, I felt very alone and very frightened and not able to speak and not able to even explain my fear because I was kind of...

"But, you know, people have had so much worse to deal with, so that is another reason not to talk about it. You demean all the people who, you know, never made it through that or couldn't get health care!

"I am the f**king luckiest man on Earth. I didn't think that I had a fear of a fast exit. I thought it would be inconvenient 'cause I have a few albums to make and kids to see grow up and this beautiful woman and my friends and all of that. But I was not that guy. And then suddenly you are that guy. And you think, "I don't want to leave here. There's so much more to do." And I'm blessed. Grace and some really clever people got me through, and my faith is strong.
3
Bono also briefly spoke about a throat cancer scare 17 years ago, which turned out to be a false alarm.
Read More: The Edge Speaks: Bono's health scare, Mike Pence, and Donald Trump 
When the interviewer asked, "In 2000, you had a throat-cancer scare, right?", he said: "No, it was a check for it. One of the specialists wanted to biopsy, which would have risked my vocal cords – and it turned out OK."