An investigation into U2 singer Bono's ONE charity has uncovered disturbing claims of abuse and bullying from the organization's workers. It has also been revealed that the charity failed to pay taxes.
A multi-million dollar lawsuit has been filed against the organization by former employees.
Bono, who started ONE in 2004 to raise awareness of poverty, has said he was "deeply sorry" and admitted things had "gone badly wrong." He said he was left "reeling and furious" about the allegations and vowed to meet the victims to apologize in person.
A DailyMail investigation has found that majority of the complaints were against Sipho Moyo, the former Africa executive director of ONE from 2010 until 2015.
Read More: Bono on inequality - nowhere on earth do women have the same opportunities as men
Moyo has been accused of intimidating a member of staff into massaging her feet, inviting colleagues to parties at her house then demanding they serve as waiting staff, ordering a worker to find her a greyhound puppy and drive to another city to collect it.
While @ONECampaign @ONEinAfrica is advocating for human rights all over the world, some of their employees in #Africa are treated worst than dogs! I'm a #ONESurvivor too! https://t.co/kW3AS5GNvp

— Mil T (@MilandoKantu) November 10, 2017
One worker, a married woman in her mid-30s, claims Moyo pressured her to have sex with an older Tanzanian MP. When she refused, she was demoted and had her salary cut.
Moyo said she "vehemently denies" the claims and says she is being smeared. She, in return, claims that other directors treated her "like their personal maid" and abused her in public.
Workers say the abuse went on for years and bosses at the charity tried to cover up he allegations.
Ex-staff says that nothing was done about their claims against the organization until after staff started complaining publicly on social media in November. Last year, Idriss Nassah, a Malawian journalist, started tweeting about the abuse and cover-ups during his year-long stint working in ONE's communications department.
BONO's statement tries to put all blame on former @ONEinAfrica Executive Director, Sipho Moyo.
No.
For years @ONECampaign--all the way to the President and CEO--knew of the abuses. It enabled the abuses. It tolerated them. It looked the other way. It didn't care. https://t.co/MZnxwlo5fm

— Idriss Ali Nassah (@mynassah) March 11, 2018
"The toxic environment was terrible, with staff treated so badly," said one former manager.
"It was awful for an organization that claims to fight for social justice, respect and equality. I have never seen anything life this."
Read More: Bono and the Irish are hypocrites when it comes to tax evasion says Ireland's top columnist
Lawyers acting for seven former staff members launched a legal case last week demanding £3.6 million compensation for distress from "emotional, physical, and psychological abuse" under Moyo. They also have alleged "wrongful and malicious mistreatment" at the hands of Moyo, her former deputy director Nachilala Nkombo and former human resources director Jane Ilori, who they say ignored their pleas for help.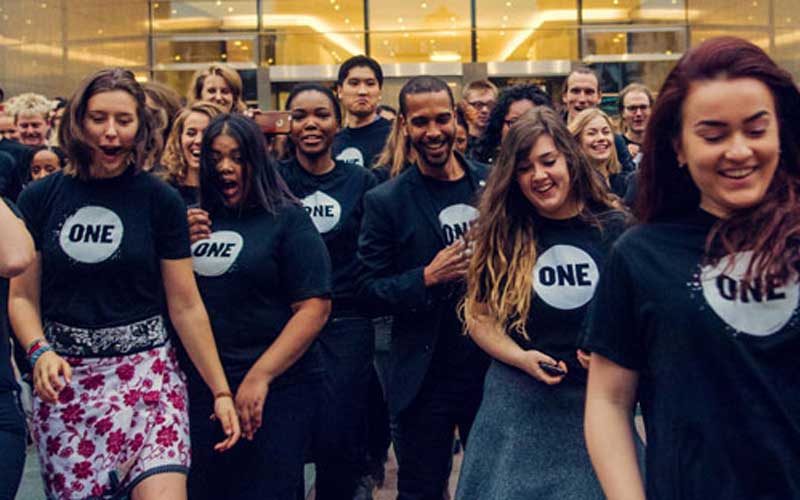 2
The organization, whose board includes high-profile figures such as David Cameron and Facebook chief Sheryl Sandberg, has since admitted that there was "mistreatment and inaction" by former managers.
ONE's current president, Gayle Smith, said she was "troubled" and "appalled" by the allegations, and said she accepted that there was "what I would characterize as bullying and belittling of staff."
The DailyMail also reports that ONE failed to pay taxes despite campaigning against tax evasion. The organization is also alleged to have illegally employed foreign workers on tourist visas.
A message from our President and CEO @GayleSmith on our investigation into past workplace conduct issues at @onecampaign #transparencyhttps://t.co/Ourc1p552J

— ONE (@ONECampaign) March 9, 2018
A former staff member claims ONE was not registered in South Africa and payroll taxes were ignored.
Another former employee said:"I was paid from an American bank account and no taxes were taken from my salary."
The arrangement also meant staff had to work under tourist visas.
The organization says it was acting as a nonresident taxpayer at the time.
In February 2015, an email was sent to trustees by a departing manager revealing a workplace that was "toxic, unprofessional and dominated by fear, intimidation and bullying."
Bono's assistant received the email, but sources claim the U2 singer is "furious" the complaint was not passed on to him.
Read More: Is the criticism of U2's Bono warranted or does he get a bum rap?
In response to the allegations, Bono said: "I hate bullying, can't stand it. The poorest people in the poorest places being bullied by their circumstance is the reason we set up ONE."
One of the ex-staff behind the legal claim said: "ONE is only making a public admission after becoming aware of The Mail on Sunday investigation – just like they only took any action when we went public about their abuse and bullying on social media.
"It is all about ONE trying to look good, but never sincerely addressing and compensating the victims of its years of rampant abuse."