Billie Eilish, the 21-year-old Grammy and Oscar winner, had no idea that U2 is an Irish band until she arrived in Dublin last summer for a concert. 
Billie – given name Billie Eilish Pirate Baird O'Connell – is a mega-fan of the US sitcom "The Office," and learned lots of her pop culture from the show.
But being a sitcom, not all of "The Office" was based in real life, such as an episode where U2 was briefly discussed. 
During a recent interview on the "Office Ladies" podcast, hosted by the "Office" stars Jenna Fischer and Angela Kinsey, Eilish confessed her innocent yet longstanding misunderstanding. 
The "Bad Guy" singer explained that when she was in Ireland last June, U2 frontman Bono was kind enough to send flowers and a "really, really sweet letter" to her hotel room. 
Eilish recounted her thought process on the podcast: "I was like, 'Why would Bono, who's from Scranton...'"
Kinsey interjected: "You thought Bono was from Scranton, Pennsylvania?"
Eilish admitted: "I kept asking everyone like, what is Bono doing sending me flowers all the way across the world?"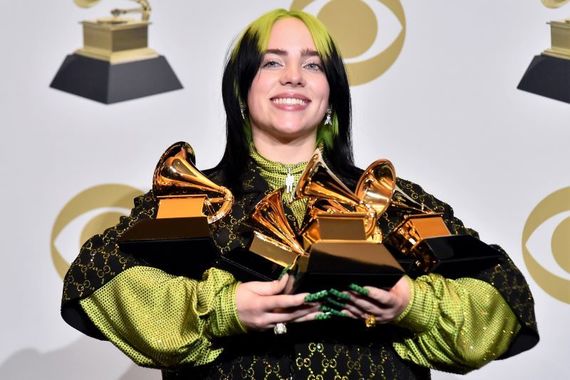 2
The award-winning musician went on to explain that she completely missed a quick joke from a 2008 episode of the show.
In the episode, the often clueless Michael Scott asks his office mate Jim Halpert: "Hey, what's the group that was from Scranton and made it big? Was that U2?"
Halpert, without missing a beat, replied flatly: "Yes."
"There's no pause," Eilish said on the podcast, "There's no laugh."
She explained: "I thought Jim thought, 'oh, that's a stupid question,' because obviously, they're the band that made it big from Scranton."
"Their [U2] whole thing is that they're Irish," Eilish says now, fully aware of her misunderstanding. 
"This is in June. June!
"I didn't know, like I could have been in an interview. Somebody could have asked me about U2 and Bono and I could've been like, well, it's really cool because they're from Scranton."
Kinsey and Fischer got a laugh out of the innocent misunderstanding and kindly told Eilish: "We are going to give you our phone numbers. Any time you come up on something like, 'is this a real?' just text us."
*This column first appeared in the January 18 edition of the weekly Irish Voice newspaper, sister publication to IrishCentral.