Looking for great places to bring your kids in Dublin? Here is a line-up of some of our favorites. 
"Are we there yet?" "Can we get ice cream?" Are these phrases familiar? Why not give your kids a vacation and bring them to some of the child-friendly locations and activities in Dublin.
From parks to historical tours, to magical doll palaces and real-life Vikings there's something in Dublin to put a grin on your little tike's face.
Read more: Top ten tips for bringing kids on a guided vacation to Ireland
Phoenix Park
Officially the largest enclosed recreational space within any European capital city, the Phoenix Park is amazing. Established in 1662, it is 707 hectares (1,753 acres) of parkland which house the Irish presidential palace, the Zoo, the Victorian People's Flower Gardens, Ashtown Demense, and a Victorian Tea Kiosk.
About 30 percent trees, the park is filled with beautiful wildlife including herds of deer.
For more information visit www.phoenixpark.ie.
Read more: Mayo and the Cliffs of Moher tours
Dublin Zoo
Located in the Phoenix Park, Dublin Zoo has recently undergone a revamp. In 2011, it was voted the most popular attraction in Ireland, with one million visitors that year, and with good reason.
One of the world's oldest zoos it takes up 28 hectares of the park and is home to 600 animals including a number of new arrivals during the last year including a baby gorilla.
For more information visit www.dublinzoo.ie.
Read more: Can you name Dublin Zoo's new baby gorilla?
Viking Splash
4
Don't worry. You won't miss them. They'll be the people cheering at you, wearing Viking helmets from inside what would appear to be a large tank but is, in fact, an amphibious vehicle.  That's the Viking Splash tour.
The tours leave Stephen's Green (at the top of Grafton Street). The vehicles bring you on an hour and fifteen-minute tour of Dublin. The tours promise to be "fun-filled and engaging" and what's better, they allow you to see Dublin by land and by water.
For more information visit www.vikingsplash.ie.
Read more: Galway and the West tours
Dublinia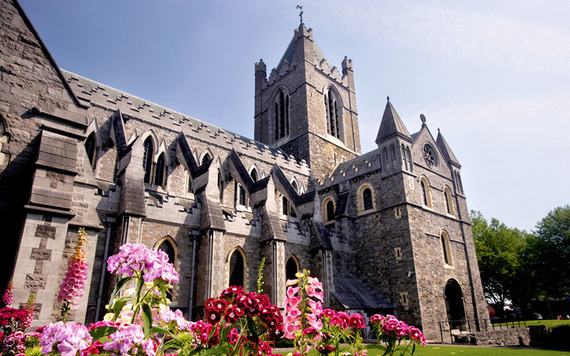 4
Dublinia is really five historical exhibitions in one but the difference is that Dublinia brings the ancient history of Dublin to life. The exhibits allow the visitor to interact with the exhibition and engage, learn and share.
The exhibitions include the Viking Dublin Exhibition where you can learn what it's like to be on a Viking warship, learn about weaponry and skills, wear their clothes, become a slave and walk down the streets of Viking Dublin.
The Medieval Dublin Exhibition allows you to see Dublin from the age of Strongbow (late 12th century) to the Reformation.
You learn about warfare, crime and punishment, death and disease and even medieval dentistry.
The other three exhibitions are the History Hunters Exhibitions, where you learn about archaeology and unlock the stories of the past, St Michael's Tower, a 17th-century viewing tower with an amazing view of the city and of course, Christchurch Cathedral, where you will learn about 1,000 years of worship in Ireland.
For more information visit www.dublinia.ie. 
The ARK Cultural Centre for Children
This center in the middle of Dublin's Temple Bar district will introduce children to the joy, wonder, and creativity of the arts and plays a vital role in raising the standard of culture for children. Children aged two to 12 explore everything from theater, music, and literature to painting, film, dance and more.
There are always great events, shows, classes and workshops going on here. Keep on eye on their website ( www.theark.ie ) for details.
Read more: Dublin and surrounding areas tours
Imaginosity
This is a child-centered creative, educational and interactive space for kids under nine and their families. Spread over two and a half floors the exhibits are educational and fun, designed to inspire life-long learning through play.
Through education and shared experiences, the museum aims to strengthen family bonds, enhance the developmental potential of children and help build a healthy community.
For more information visit www.imaginosity.ie.
Read more: Kerry and the Wild Atlantic Way tours
Tara's Palace - Museum of Childhood
4
Yes, a real-life palace and probably one of the world's most magnificent doll's palaces.
Inspired by Sir Neville Wilkinson's celebrated Titania's Palace of 1907, the doll's house has 22 rooms which were built over two decades. The Palace encapsulates the grandeur of three great 18th century Irish mansions – Castletown House, Leinster House, and Carton House.
The palace is the centerpiece of a collection of historical dolls houses including the earliest surviving house in Ireland and the UK, the Portabello, from circa 1700.
This place is any little girl's heaven.
For more information visit www.tarapalace.ie.
The Doll Hospital
This is known by locals, and around Ireland, as "The Dolls Hospital." These people are geniuses when it comes to any toy old or knew that incurs an injury, big or small. Kids love to visit and to have their "their porcelain and furry friend's ailments" cured.
They also stock designer dolls, dolls houses, teddy bears and a large collection of miniatures.
For more information visit www.dollstore.ie
Read more: Northern Ireland and Game of Thrones tours
Airfield Trust
The airfield is Dublin's only working urban farm. It is situated on a 35-acre estate. The farm features season appropriate programs that respond to the natural rhythms of the seasons, with celebrations taking place during harvest, spring, and summer. They also have a range of regular farm-related activities such as "Meet the animals" and the young farmers' group.
The farm continues to be focused on live-stock and functions as a fully working farm raising calves and lambs as the main production animals.
The site is also home to the most beautiful and well-maintained gardens.
For more information visit www.airfield.ie.
Where is your favorite place to bring kids to in Ireland? Let us know in the comments section below. 
*Originally published in June 2016.