Seafood on a beach, apple pie in the wild – ten top tips for great food experiences outside of Dublin
Foodies of the world take note: experiencing food in Ireland is not just about fine-dining excellence in the best restaurants. It's about seafood on a beach. It's about apple pie in a wild location. It's about picnicking on the very freshest fish you've just plucked from the ocean.
Read more: Galway and the West tours
Dublin is chock-full of world-class restaurants and dining experiences, but the rest of Ireland is no slouch in the food department either. Here are 10 tips for a great food experience outside Dublin.  You can't help but enjoy!
8
If you're looking for a special food experience, then look no further than Moran's Oyster Cottage. Located in a 250-year-old cottage at the edge of the Atlantic Ocean in Galway, this place has fed everyone from Julia Roberts to Roger Moore. Sit inside in a cozy snug in the original building, or take in the glorious surrounding seascapes with a table outside. Order up plates of Galway Bay oysters, wild native clams and steamed Galway Bay mussels.   
Top it off with a pint of Guinness. It doesn't get better than that.
Read more: Irish foods emigrants miss and crave the most
Harry's Shack, Portstewart, Co Derry
8
No matter where you are in the world, there's nothing quite like sitting on a beach with your toes in the sand, eating insanely fresh seafood. Well, in Northern Ireland there's a place you can do just that. Harry's Shack has gathered a legion of fans since opening in 2014. With a stunning seaside setting on Portstewart Strand, the simple shack here is home to some of the best seafood cooking on the island of Ireland. All you have to do is rock up, kick back and enjoy.
Belfast Food Tour
8
With one of the most innovative restaurant scenes on the island of Ireland, Belfast is a hotbed of incredible flavors, from the refined tastes at Ox to fine-tuned seafood at the Mourne Seafood Bar. But to really get under the skin of this Northern Ireland foodie hub, take to the streets with the multi-award winning Belfast Food Tour. Capturing the spirit of Belfast's unique flavors, producers and restaurants, the tours cover everything from whiskey to bars to delicious bites with energy, fun and insider knowledge.
Read more: Northern Ireland and Game of Thrones tours
The Happy Pear, Greystones, Co. Wicklow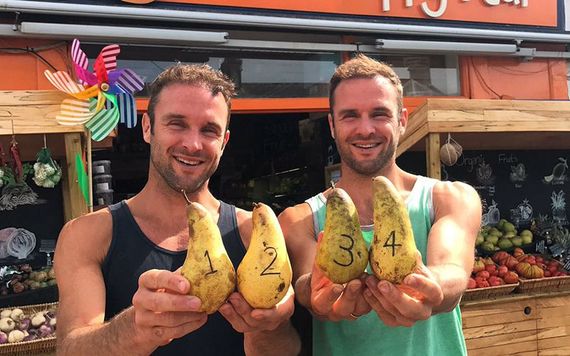 8
The lively little town of Greystones in Wicklow is a 30-minute DART (train) ride away from Dublin, and yet it feels like it's a million miles away from the city's urban buzz. Anchoring the town's food scene is a vegetarian mecca, The Happy Pear. Run by twins David and Stephen Flynn, the café has become a hotspot for veggies and carnivores alike thanks to its tasty and creative take on plant-based foods.  
On a sunny day, the atmosphere here is fabulous, with tables and chairs casually strewn outside and a lively crowd. And if you're feeling adventurous, why not join the twins for a dawn swim at Greystones' Ladies' Cove, where they take to the seas every morning with locals and visitors. Follow it with breakfast at the café on Church Road, and you've got a pretty memorable start to the day!
Ice Cream in Dingle, Co. Kerry
8
Dingle has feel-good written all over it. This joyous little town in Co. Kerry packs in great pubs, excellent restaurants and a laid-back bohemian vibe that draws visitors from all over the world.
Visit, and you're bound to notice a bustling queue that seems to linger outside a blue shop on Strand Street. This is Murphy's Ice Cream – a glorious temple to all things dairy. Handmade with the finest fresh farm milk and local cream, the flavors here are worth traveling miles for: Dingle sea salt, caramelized brown bread and Irish coffee. It's ice cream, with a definite Irish twist.
Read more: Kerry and the Wild Atlantic Way tours
Pyke 'N' Pommes, Derry
8
A repurposed shipping container may seem like an unlikely place to find one of the island of Ireland's great food experiences, but Pyke 'N Pommes in Foyleview likes to do things differently. Located on the riverfront in the historic city of Derry, this is casual food with a gourmet twist and a very local heart. Tacos, a legendary Wagyu burger, slow roasted pork and some of the freshest fish around – make no mistake, it's a culinary gem.
The English Market, Cork city
8
With a history stretching back to 1788, the English Market goes way beyond your average food market. Located at the heart of the foodie city of Cork, this place serves up an explosion of tastes, a riot of colors and time-honored foods that you won't find anywhere else. There's tripe (cow's stomach) and drisheen (a type of blood pudding) at A. O'Reilly & Sons, traditional spiced beef at Tom Durcan's, and some of the finest smoked salmon in the world at Frank Hederman's.
After exploring, head upstairs for some traditional local dishes at the Farmgate Café, including tripe and onions, with drisheen; lamb's liver and bacon; and, of course, sausage and mash!
Read more: Dublin and surrounding areas tours
Hillsborough Oyster Festival, Co. Down
If a food festival has been going for over 25 years, it's got to be doing something right! One of the highlights of the Northern Ireland food calendar, the Hillsborough International Oyster Festival (September 6-10) is a fabulous way to enjoy the marvelous mollusk in the beautiful surrounds of the Georgian village of Hillsborough, Co. Down. Thousands of visitors from across the world flock here every year to enjoy what has become one of the top food events on the island.
Read more: Ireland's whiskey industry challenges Scotland as world capital
Cupán Tae at the Sheep's Head Peninsula, Co. Cork
When it comes to coastal wildernesses, the spellbinding wave-lashed peninsula of Sheep's Head in Cork is a cut above. Walk out to the lighthouse that sits at its very tip and you'll be surrounded by the white-tipped Atlantic Ocean and views that stretch out indefinitely.
But this wild little spot is also home to what has been dubbed "the tea shop at the end of the world."  Run by Bernie Tobin, Cupán Tae ("cup of tea" in Irish) sits at the start of the lighthouse walk and is the essence of simple food done well, with salmon sandwiches, light fluffy scones and legendary apple pie. Simple food, breathtaking location, memories made.
Read more: Kerry and the Wild Atlantic Way tours
Gourmet Fishing Trip, Co. Kerry
Butter-colored sands, turquoise waters dotted with islands and a backdrop of undulating mountains, Derrynane in Co. Kerry is something special – a place of extreme beauty on the Wild Atlantic Way. It's also home to a very memorable food adventure – a gourmet fishing trip with Atlantic Irish Seaweed. Boatman John Fitzgerald whisks visitors away to catch and picnic on sashimi and ceviche Irish-style around the islands of Derrynane Bay. Wild, wonderful and an experience to cherish.