Ireland in September, October, and November is glorious. The cooler weather comes whispering in, and hues of red, orange, and yellow fleck the green of Ireland's famous landscape.
What's more, Ireland in the fall is buzzing with festivals, events, spooky celebrations, opportunities for day trips, and delicious autumnal treats.
So, what should you do during an autumn trip to Ireland? Here are our nine best ideas, and you can find even more on Ireland.com.
Read more: Dublin and surrounding areas tours
Witness a whole city celebrating Dracula at the Bram Stoker Festival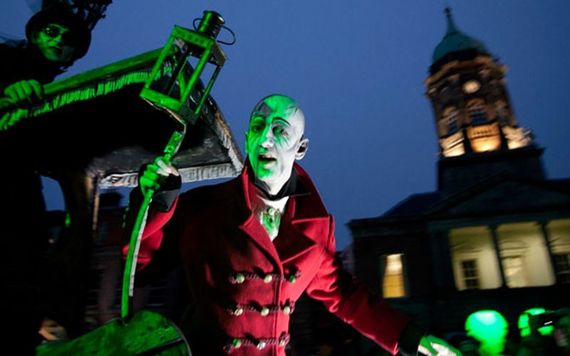 14
October 26 – 29, 2018, Dublin summons the supernatural for a city-wide celebration of one of its most famous authors few people realize was Irish: Bram Stoker. Stoker's best-known novel Dracula has been scaring and delighting people since 1897, and while there are plenty of spooky events as part of the festival for those who like a good scare (how does an immersive acrobatic show in the middle of the woods sound?), there are also family friendly items on the agenda, like Stokerland (a Victorian style funfair) and a Halloween parade from Macnas.
Feel the love in the air at the Lisdoonvarna Matchmaking Festival
14
Are you looking for love or in the mood to celebrate romance? Get yourself to Lisdoonvarna, a spa town in County Clare, for the Lisdoonvarna matchmaking festival! A tradition of 150 years, the Matchmaking Festival now brings thousands of people from all over the world for a late August or early September weekend of music, dancing and the "craic." Dancing takes place in venues all over town and in the newly reopened Spa Wells. Third generation matchmaker Willie Daly is on hand to bring hopeful singles together at his "office" in the Matchmaker pub and boasts many marriages to date.
Spend a night stargazing at Finn Lough
14
Bet you've never spent a night like this before! The Finn Lough resort in Enniskillen, Northern Ireland is an oasis of tranquility and beauty a mere 90 minutes from Belfast International Airport, nestled on the banks of Lough Erne. While they have traditional accommodations in the form of luxury suites and cottages, the standout is by far their bubble domes, which offer the chance to spend the night sleeping on a four-poster bed with a 180-degree view of the forest's fall foliage around you and the sky above. Take in a day at the resort's spa, enjoy some delicious meals, and try your hand at fishing or boating while you're there.
Read more: Mayo and the Cliffs of Moher tours
Visit Ireland's most haunted Loftus Hall (if you dare!)
14
Loftus Hall is a 22-bedroom period mansion on Hook Peninsula in County Wexford. The isolated house is set on 60 acres, overlooking a lovely stretch of the South East coast. The mansion, with a long history of ghostly occurrences, opened its doors to the public for the first time in 30 years in 2012. Owner Aidan Quigley now hosts guided interactive tours, which he says are not for the fainthearted. In the works for Loftus Hall's ongoing development is guest accommodation, which will give thrill-seekers and history buffs a chance to spend the night in Ireland's most haunted house. Would you be brave enough?
Marvel at the beauty of a fall foliage walk
14
Nothing screams "fall" quite as much as a walk in the woods to take in the changing colors of the season. One of the most beautiful and renowned areas for walking on the island of Ireland is Killarney National Park, in the heart of County Kerry. The first national park in Ireland, it offers over 25,000 acres of stunning landscape to explore, with vast ranges of animal and plant life to behold. Another must-see is beautiful Ross castle, a 15th-century tower nestles on the edge of Lough Leane.
14
In Northern Ireland, just an hour north of Belfast lies Glenariff Forest Park, an enchanting woodland of nearly 3,000 acres. Named the "Queen of the Glens," it is one of nine Glens of Antrim and offers riverside walks and panoramic views. The waterfall walk is especially beautiful.
Feast on fall foods at Savour Kilkenny
14
Head to the charming medieval city of Kilkenny the last weekend in October for four days of foodie heaven. What's in store? Interactive cooking demonstrations and masterclasses with the most lauded chefs and culinary stars in Ireland, beer and wine tasting events, live entertainment, and a bustling food market full of the best produce and food that Ireland has to offer. Whether you're looking to learn more about Ireland's world-class food scene or you already know how incredible it is, you're in for a treat.
Read more: Galway and the West tours
Relax (you deserve it!) with a spa day
14
Between summer and the start of the busy holiday season, it's important to take some time for yourself. A spa day is just the thing! Ireland's spa industry is famous for its customer care and luxurious treatments. One of the loveliest is Monart Destination Spa in County Wexford. With a five-star rating, Monart was voted one of the top three destinations worldwide by the Condé Nast  Readers Choice Awards and named one of the Top 10 World Destinations by Forbes Magazine. Enjoy a range of spa treatments and spend the night in sumptuous accommodation, including two luxury suites in the grand old house on the Monart estate.
14
Just 30 minutes outside of Belfast, Galgorm Resort and Spa is one of Northern Ireland's most luxurious spa experiences. Set on a 163-acre historic estate and parkland, the spa boasts 122 guest rooms, a thermal spa village, saunas, steam rooms, and riverside hot tubs. They even offer a special autumn package.
Immerse yourself in Ireland's farm heritage at the Ballinasloe Horse Fair
14
The Ballinasloe Horse Fair is held every year in Ballinasloe, the second largest town in County Galway, and is regarded as one of the most important social and economic events of the town's calendar. The fair is believed to date back to the 18th century. One of Europe's oldest and largest horse fairs, it attracts up to 100,000 visitors year after year. The fair lasts nine days and starts on the first Saturday in October with a parade through the town. The festivities over the next week include a beauty contest (where the Queen of the fair is crowned), tug-of-war competitions, dog shows, artistic and cultural events, singing competitions and fairground attractions as well as the titular horse fair. It's an utterly unique experience you can only have in Ireland.
Read more: Kerry and the Wild Atlantic Way tours
Settle in for a night at one of Ireland's oldest pubs.
14
There's no denying that Fall weather is ideal pub weather, a time to cozy up in a warm sweater with a pint and some good friends (old or new) for an evening of conversation and music. And if you can take in a bit of history while you're at it, even better! One of the oldest and most intriguing pubs in Ireland is the medieval Kyteler's Inn, in the heart of Kilkenny City. It was founded in 1324 by Alice de Kyteler, the daughter of a Norman banker, who was tried and convicted for witchcraft.
14
If you journey to Toomsbridge, County Antrim, to a stretch of road between Portglenone and Toome, you will find Ireland's oldest thatched cottage pub. Founded in 1654, the Crosskeys Inn is also one of Ireland's top destinations for traditional Irish music and welcomes visitors from all over the world.
Read more: Northern Ireland and Game of Thrones tours
Find more inspiration for Fall fun throughout the island of Ireland on Ireland.com