A trip to Ireland doesn't need to cost an arm and a leg. From free attractions to backpacking destinations, from the off-peak season to charming hostels and B&Bs, here's how to plan a budget trip to Ireland. 
If Ireland is one of your bucket list destinations but you've been putting it off due to concerns about affordability, here are some of our top budget travel and backpacking tips to help you achieve your Ireland travel dreams.
To save on travel to Ireland, go during the off-season. If you book in advance and visit between October and May - excluding the busy Christmas travel season, of course - you can save significantly on airfare and accommodations.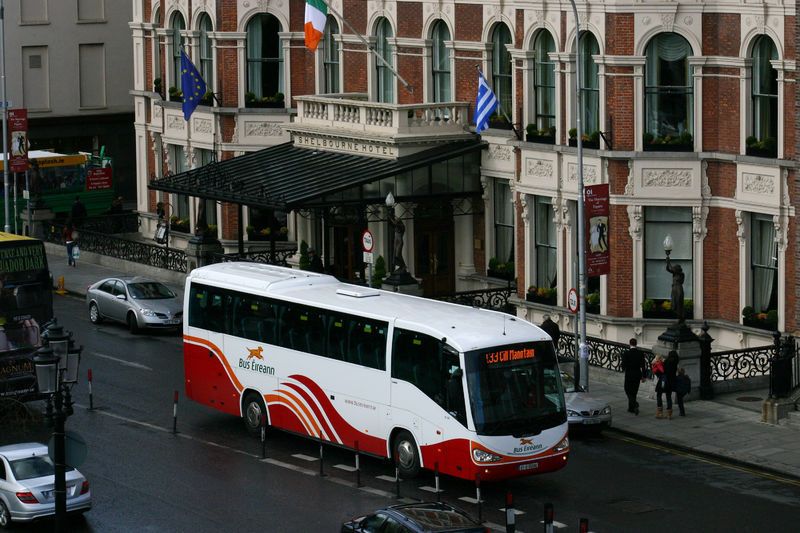 23
Once you're in Ireland, there are a number of ways to get around on a budget. While renting a car certainly offers the most freedom, special tourist passes available from Bus Eireann (Irish Bus) and Iarnrod Eireann (Irish Rail) will allow you to save while taking you most places you want to go. Ireland and Northern Ireland are also a cyclist's dream, with biking routes and dedicated greenway spaces aplenty.  
The island of Ireland might be small in terms of land area (approximately 32,525 square miles; about the size of the state of Indiana) but it is dense when it comes to must-see attractions and locations. The following are just a few that will give you the best return on your investment: memories to last a lifetime. 
Heritage Sites 
23
Ireland's Office of Public Works, which maintains hundreds of monuments, historic houses and gardens, and other sites of national importance, offers a Heritage Card that grants free admission to all fee-charging heritage sites. At a cost of €40 ($44.25) for adults, €30 ($33) for those 60 and over, €10 ($11) for students with a valid ID as well as children, and €90 ($99.57) for a family of up to two adults and five eligible children aged from 12 to 18 years, the Heritage Cards are valid for one year and can save you a lot of money if you're planning on visiting a few of the sites. 
23
Locations include the Knowth passage tombs and Trim Castle in County Meath, Cahir Castle in County Tipperary, Charles Fort in County Cork, Dun Aengus Fort on the Aran Island of Inishmore, Glenveagh National Park and Castle in County Donegal, Reginald's Tower in County Waterford, and many more. 
Derry-Londonderry
23
The Walled City of Derry is having a moment. With the hit TV series Derry Girls picked up for international distribution by Netflix, viewers around the world are becoming acquainted with the charms, quirks, and rich, complex history of Northern Ireland's second-largest city. It has so much to offer visitors and its manageable size means you'll be able to cover a lot of ground, even on the tightest of itineraries. It also serves as an ideal jumping off point for day-trips to the Giants Causeway, the Carrick-a-Rede rope bridge, and the Seamus Heaney Home Place.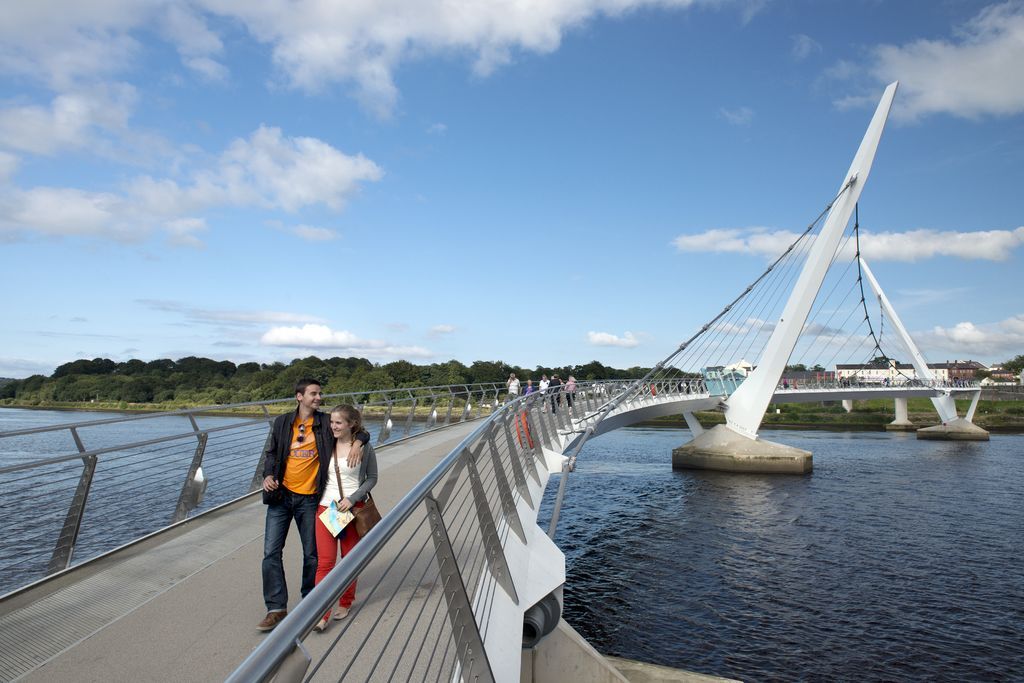 23
With a guide book or cell phone in hand, take yourself on a free walking tour through the city and its centuries of history. Given that it is the only fully walled city left on the island of Ireland, and one of the finest surviving examples in all of Europe, start on the Derry Walls. Built to protect the city in the 1600s, they form a stunning walkway around the city and provide some of the most spectacular views. You'll get a solid workout ambling up and down Derry-Londonderry's famous hills, and be sure your path takes you to the Guildhall, St. Columba's, across the Peace Bridge, and to the Bogside to take in the famous political murals. For a reasonable splurge, treat yourself to lunch or dinner at one of these restaurants making Derry-Londonderry a foodie destination. 
Achill Island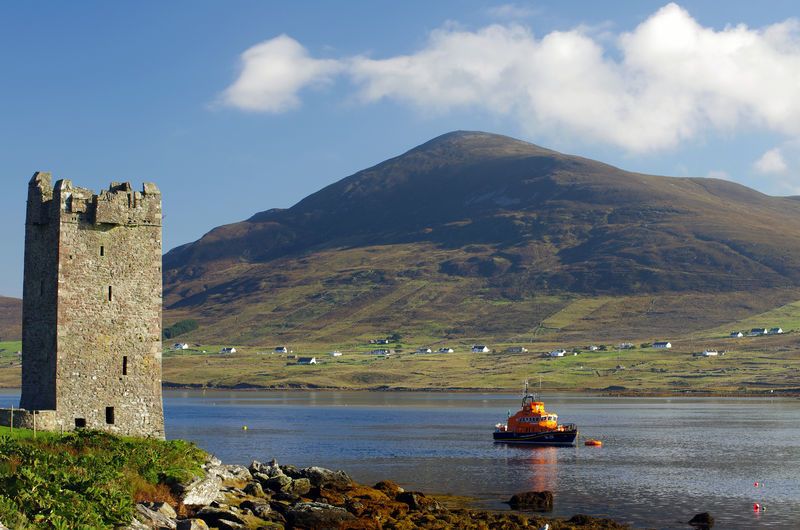 23
For a truly immersive Irish travel experience, a visit to one of Ireland's islands is a must. Achill Island, off the coast of County Mayo, is easy to access and navigate, and offers a slice of island village life, five pristine blue-flag beaches, historic castles and houses, ancient tombs, and a deserted famine village -- all within 57 square miles.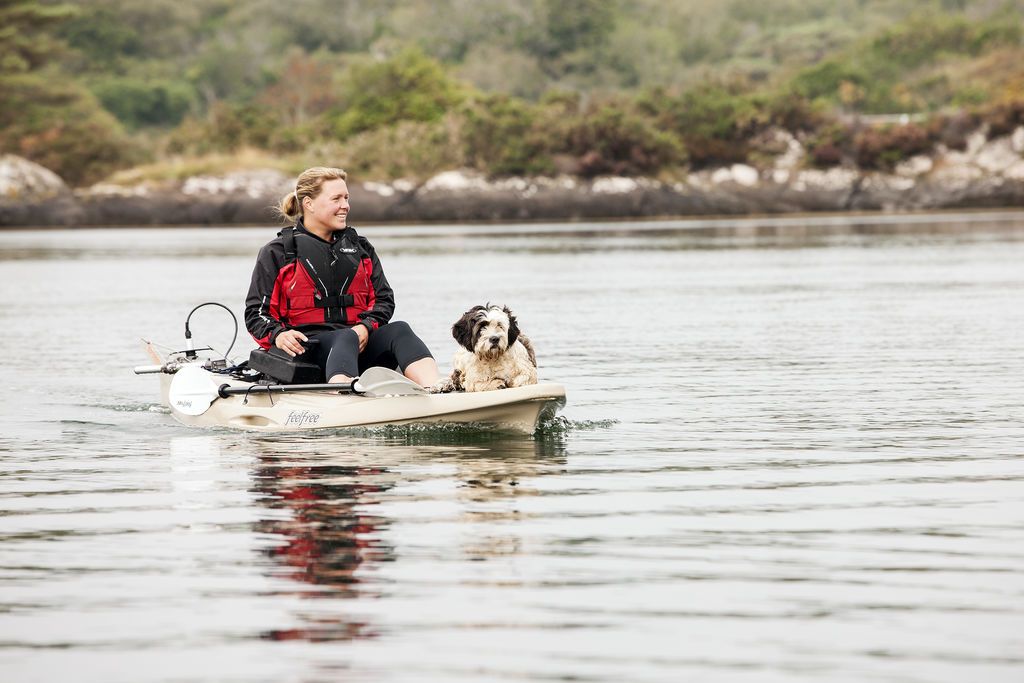 23
A daily bus service will take you from the mainland towns of Westport or Castlebar, over the Michael Davitt bridge, to Achill. The island boasts a range of accommodation options to suit all needs, from guest houses and self-catering cottages to caravan and camping grounds. To get around the island, rent a bike or use the public bus. Be sure to explore Carrickkildavnet Castle, a 15th-century tower house that once belonged to pirate queen Grace O'Malley, and the deserted village of Slievemore, the ruins of nearly 100 stone cottages on the southern slope of Slievemore mountain (that's right, Achill even has a mountain). If you feel like treating yourself a little while on Achill, rent a kayak and explore the island's surf and waterways close-up. 
Great Western Greenway
23
A trip to Achill ties in nicely with a larger backpacking or cycling adventure along County Mayo's Great Western Greenway. Following the route of a railway line that closed in 1937, the greenway stretches for 26 peaceful miles between Achill Island and the town of Westport, with stops in Mulranny and Newport in between. No cars are allowed on the greenway - it will just be you, fellow bikers or hikers, and the glorious Irish landscape. Take in the sights of Clew Bay and Nephin Beg mountain.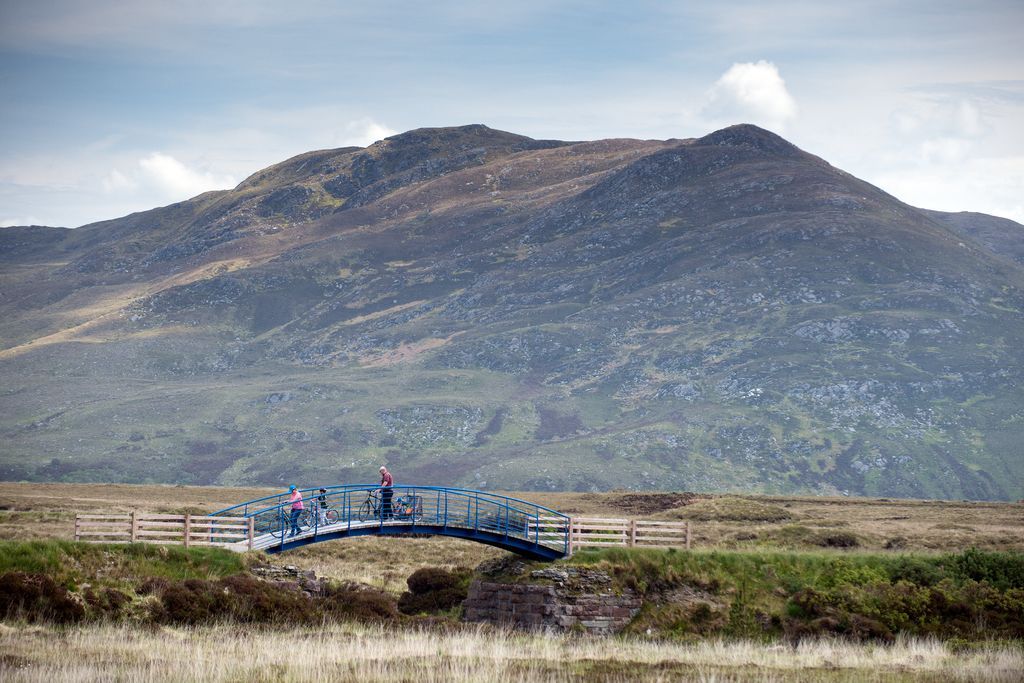 23
There are four designated campsites along the greenway, and for a taste of Irish town living we recommend spending a night or two in Westport. It did beat 500 other towns for the title of Best Place to Live in Ireland in a competition by the Irish Times, after all! Pop into a pub like Matt Malloy's (yes, of The Chieftains fame) for a pint and an evening of traditional Irish music. 
Benbulben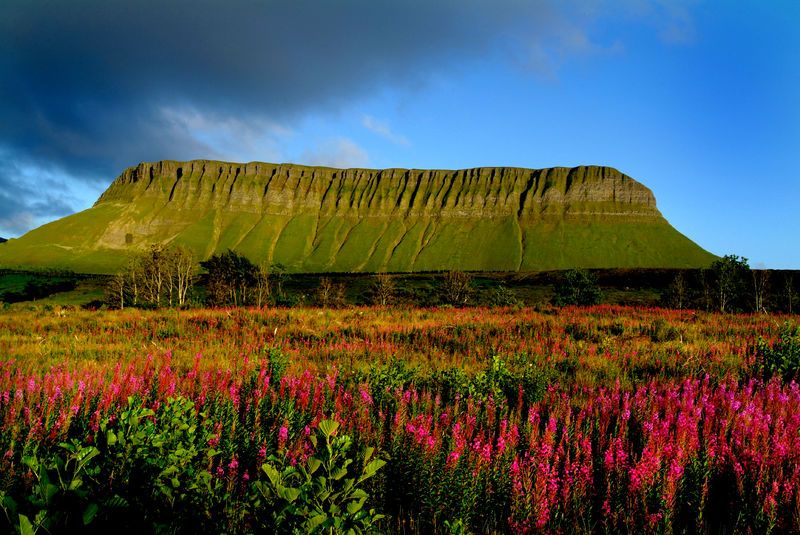 23
One of the most mesmerizing sights in Ireland is Benbulben, the table top mountain that's an iconic part of the County Sligo landscape. Its distinct shape was carved by glaciers some 320 million years ago during the Ice Age, making Benbulben stand out from the rest of the Dartry Mountains and granting it a special place in Irish history and lore. 
23
One of the best things about Benbulben is that it can be appreciated by hikers and climbers of all skill levels - for free. Approaching the mountain from the North side is considered treacherous but climbable for the most advanced adventurers, while climbing the mountain via the Gortarowey looped walk is easy and accessible for all ages and abilities. Beginning just four miles from the grave of Nobel Laureate poet W. B. Yeats in Drumcliffe, the walk starts in a secluded forest area before opening up to magnificent panoramic views of Donegal Bay and the Atlantic Ocean. If you're feeling literary, incorporate Benbulben as part of a larger tour of Yeats Country, the locations in Sligo that deeply influenced Yeats' life and work.
Chester Beatty Library
23
As you would hope from Ireland's capital, there are many tourist bargains to be had and free attractions to visit in Dublin. The Chester Beatty Library is one of the most fascinating. Located inside historic Dublin Castle, the library has been hailed by Lonely Planet as "not just the best museum in Ireland but one of the best in Europe." Once the private library of Sir Alfred Chester Beatty (1875 – 1968), a successful American mining engineer, collector and philanthropist, the Chester Beatty is now home to rare manuscripts, books, and precious artifacts from all around the world. 
23
Additional free attractions in Dublin include the National Library, the National Gallery, and the National Museum; Phoenix Park, and the Botanic Gardens. 
Malahide
23
For a slightly more off-the-beaten-path day-trip from Dublin, take the DART train or Dublin bus to the coastal village of Malahide. Your mission for the day: strolling and taking in the fresh air. Explore the Malahide Marina and then walk the coastal road to Portmarnock, with its stunning views across Dublin Bay. 
23
Loop back through the center of Malahide with its charming streets and shops, and if you feel like spending a few euro, gain entry to Malahide Castle and Gardens, the historic home of the Talbot family. If not, the demesne and park around the castle are free to roam. 
Hiking in the Mourne Mountains
23
Officially recognized as an Area of Outstanding National Beauty, the Mourne Mountains are a range of granite mountains that sweep across County Down in Northern Ireland. The mountains are a popular destination for hikers, cyclists and rock climbers of all levels, and on a clear day offer views stretching across the Irish Sea to the Isle of Man or even Wales. Highlights include Northern Ireland's highest mountain peak Slieve Donard, prehistoric and early-Christian sights along the Ring of Guillion, the walking trails in Castlewellan Forest Park and Bunkers Hill, and the 22-mile long Mourne Wall which traverses 15 different summits and is one of the best-known examples of an Irish dry-stone wall. 
23
Game of Thrones® fans will especially love the Mountains of Mourne, where the HBO series filmed scenes set in Vaes Dothrak, north of the Wall, and in the woods around Winterfell. Tollymore Forest Park, at the foot of the Mourne Mountains, was also a heavily featured GOT filming location. 
Kilkee Cliff Walk 
23
The Kilkee Cliffs are the savvy traveler's alternative to the Cliffs of Moher: free of any charges, blissfully uncrowded, and equally as beautiful. Take in stunning Wild Atlantic Way views of crashing waves, seals, sea birds, and rock strata. A two-three hour loop will take you past the Diamond Rocks and the Puffing Hole, a natural blowhole. The Pollock Holes are a popular local swimming spot where you can cool off with a dip after your cliff walk. 
23
Kilkee itself is a charming seaside resort town. Explore its peaceful horseshoe bay and pop into one of the local pubs or seafood restaurants while you're there. 
The Northern Lights in Donegal
23
Not too many people know that you can see the Northern Lights - also known as the aurora borealis - from Ireland. They're one of the most spectacular shows in the world, and they're also absolutely free. 
23
To stand the best chance of catching the Northern Lights, head to County Donegal, to Malin Head on the Inishowen Peninsula, the northernmost point in Ireland. Here, the latitude combined with the lack of light pollution sets the stage for taking in this natural wonder. To increase your chances at catching nature's light show, go during the winter months when the days are shorter. 
For more budget travel ideas, visit Ireland.com
Proudly produced in partnership with Tourism Ireland.