My Irish Cousin, Ireland's friendliest car rental company, has partnered with Mayo County Council for their Home to Mayo Competition.
The winner of the Home to Mayo Competition will receive free car hire for two weeks courtesy of My Irish Cousin, along with the amazing prize of two return flights to Mayo during the month of May next year from anywhere in the world!
The Home to Mayo Competition was launched ahead of May 2024 which marks ten years of Mayo Day. Since its inception, Mayo Day has become a celebrated occasion, embodying the essence of Mayo's rich heritage, vibrant culture, and strong community spirit.
It was at this year's Milwaukee Irish Fest, the largest Irish festival in the world, that Mayo County Council and Malachy Quinn from My Irish Cousin first linked up after Malachy was taken with the Home to Mayo Competition.
The competition has so far seen phenomenal interest from right across the globe already with entries coming from as far-flung places as Vietnam, South Africa, and Brazil, along with Irish emigrant hot spots like the USA and Australia.
Speaking about coming on board with the competition Quinn said: "My Irish Cousin is thrilled to contribute a car rental to this wonderful competition. Car rental is without a doubt the best way to get out and explore the hidden gems of beautiful Ireland."
"Mayo is one of my favorite parts of the country with lots to see and do and we are delighted to be working with Mayo County Council on this innovative promotion of the county and all it has to offer"
Chairperson of Mayo County Council, Cllr Michael Loftus who launched the competition in Milwaukee said: "I'm delighted that My Irish Cousin has decided to support the Home to Mayo Competition.
"The competition has been a great success so far and the addition of free car hire for the winner is an added bonus and will enable them to explore every corner of Mayo and all it has to offer during their stay."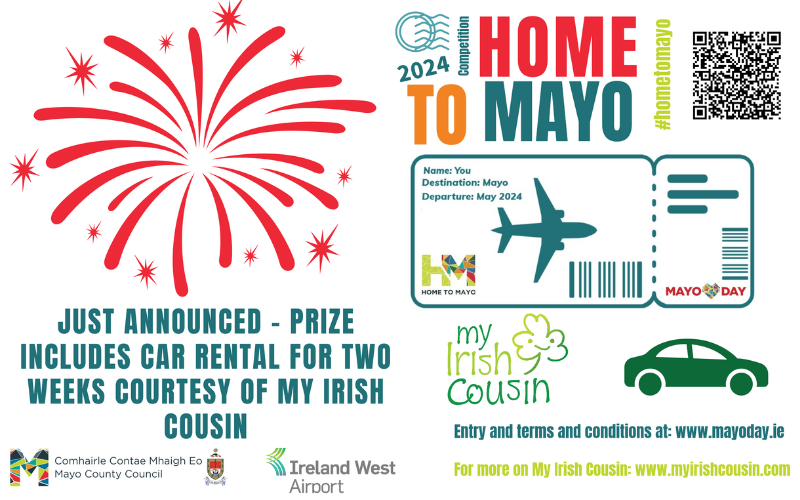 3
Who is My Irish Cousin?
My Irish Cousin is headquartered at Dublin Airport and offers visitors to Ireland peace of mind car rental. With vehicles in over 30 locations and 7 airports, they can accommodate your preferred pickup and return - whatever suits you best!
Having heard firsthand the difficulties experienced by visitors in renting a car in Ireland and the horror stories of hidden charges, excess deposits, and damage disputes on returning vehicles, which in some cases ruined their trip, Malachy at My Irish Cousin thought there had to be a better way.
All charges are included and covered in My Irish Cousin's fixed cost pricing with no surprises, hidden or additional charges on pick up - zero excess, zero deductible, tyres, glass, roadside assistance, travel to Northern Ireland, and unlimited mileage are all included. No add-on deposit held on credit card and additional driver at no extra cost. 
With My Irish Cousin's Peace of Mind rental package, you take the car, you return the car. Whatever happens in between, you are fully covered for any damage anywhere on the vehicle. Plus tires, glass, and roadside assistance are also included as a standard, as is a second driver at no additional cost.
There's also unlimited mileage on rentals - North to south, east to west of the island of Ireland, over to Scotland and back, whatever number of kilometers you put up during your visit is covered in your agreement. 
My Irish Cousin is available during your visit to Ireland to assist you in any way they can, rental related or not - that's what family is for. 
This year My Irish Cousin received the prestigious 2023 Tripadvisor Travelers' Choice award! The esteemed recognition is given to services that have consistently garnered positive reviews from travelers over the previous year. This placed My Irish Cousin in the distinguished group of the top 10% of all businesses featured on Tripadvisor.
My Irish Cousin is always a call or email away before, during, and after your visit to Ireland - learn more about the friendliest car rental company on the island of Ireland on their website.
*For more information about Home to Mayo Competition terms and conditions click here.