Thinking about moving to Ireland? Life in Galway City is full of arts, culture, delicious food, and lots of craic. 
Whether you're actively planning a move to Ireland or just daydreaming a little, IrishCentral has you covered at the start of each week with #MovetoIrelandMonday. This week: Galway City, County Galway. 
Read more: Mayo and the Cliffs of Moher tours
What you'll find in Galway City 
10
Galway City is a stunning oasis dating back to the medieval era, on the harbor where the River Corrib meets the Atlantic Ocean. With a population of just under 80,000, Galway is Ireland's fifth biggest city and the perfect place for anyone looking for charming environs and a tight-knit community that has lots going on. 
Planning a visit or moving to Ireland? Why not book some day tours of top sites here on IrishCentral
10
With cultural landmarks such as the Druid Theater and the Galway International Arts Festival, the academic institution of NUI Galway, a buzzing start-up and tech industry, and an unparalleled culinary scene, there's opportunity and entertainment aplenty. 
Read More: Glorious Galway, the jewel in Ireland's crown
10
Where to live in Galway City 
Galway City spans 20.46 square miles, centering around Eyre Square and the Latin Quarter, and spreading out to lovely Salthill, Claddagh, and Knocknacarra out to the west, suburbs like Doughiska, Roscam and  Merlin Park to the east, and Menlo and Terryland to the north, overlooking the River Corrib. 
Read more: Galway and the West tours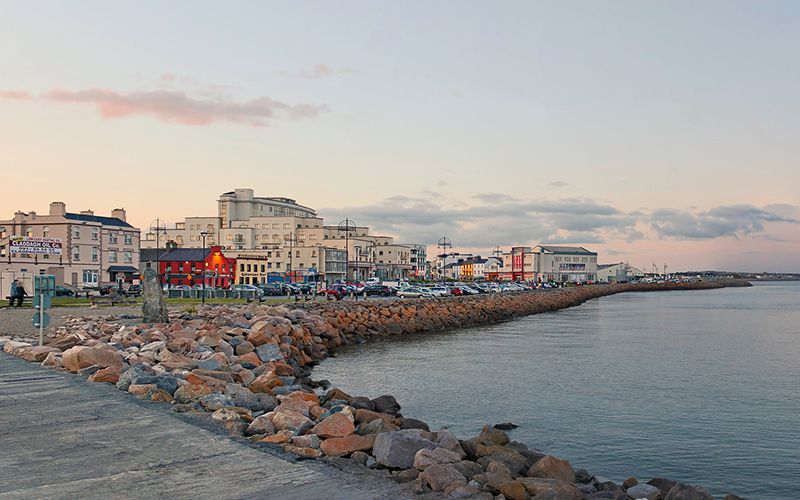 10
To rent, two-bedroom apartments range from €900 ($1,100) farther out from the city center to €2,000 ($2,460) for more luxe, centrally located listings. 
10
To purchase, properties run from €150,000 ($185,00) for more modest two-bedroom homes to €1,450,000 ($1,787,948) for a lavish and historic six-bedroom property on one of Galway's oldest residential streets. 
10
Read more: Dublin and surrounding areas tours
What to do in Galway City 
Galway has long been a hub of arts and creativity, but with the lovely city selected as the European Capital of Culture for 2020, that's never been truer.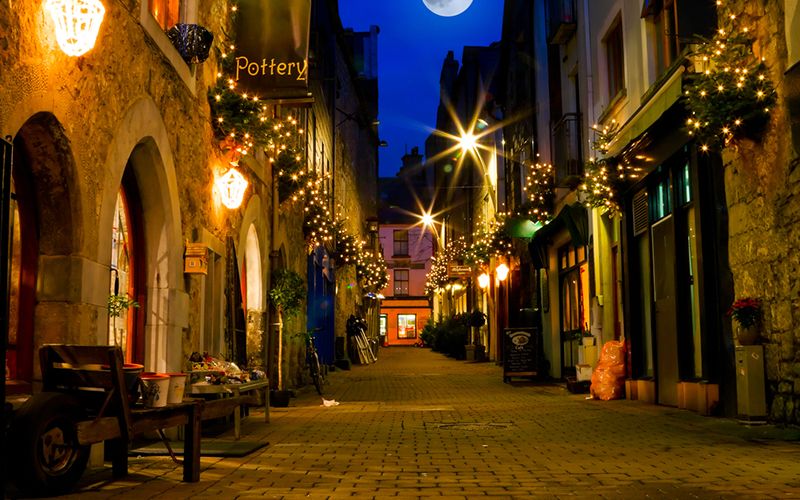 10
Galway is home to The Druid, one of Ireland's most acclaimed theater companies, helmed by Garry Hynes, which wows local and international audiences with their daring productions. 
Planning a visit or moving to Ireland? Why not book some day tours of top sites here on IrishCentral
The city's calendar is jam-packed with festivals throughout the year, from the world-famous Galway International Arts Festival, which runs for two thrilling weeks each July, to the annual Galway Theater Fest, Film Fleadh, Food Fest, Oyster Fest, the Galway Sessions music fest, and so much more. 
10
Read more: Northern Ireland and Game of Thrones tours
Soak in Galway's history at the Galway City Museum, or check out the vibrant local arts scene at any of the galleries in the city center.
Whether your nightlife preferences tend towards raucous or cozy, Galway has you covered with a plethora of pubs, bars, and live music venues. Daunted by all the options? Check out our handy guide to The 10 best pubs in Galway City to get started. 
10
Also worth noting is the prime launch-point Galway makes for any explorations of the west of Ireland. From here you can easily explore Connemara, the Aran Islands, the Cliffs of Moher, and the Burren for a day trip or a longer getaway.
Read more: Kerry and the Wild Atlantic Way tours
For more information: 
Want even more information on moving to Galway? These sites are full of even more helpful info: CVLibrary.ie, LookWest.ie, and Boards.ie
Would you consider moving to Galway City? Do you have any tips for those contemplating a move? Share your thoughts in the comment section.