If you're looking to unwind and enjoy a stress-free vacation, Ireland is just the place.  
Travel trends are constantly changing, and these days many vacationers are dedicated to not only having a memorable experience but also being mindful and considerate of the places they visit.  
Slow travel is all about ditching the checklist, sinking into your destination, soaking up the local culture, and really making a meaningful connection with the people and the places you visit.  
Sustainable travel is also becoming more popular as people become more aware of how important it is to protect the Earth. The Irish government has developed an action plan that aims to make Ireland a world leader in sustainable travel. 
Preserving the environment is a big part of it: picking up your litter, avoiding single-use materials, and not disturbing local wildlife are par for the course. But it's also about appreciating the traditions, culture, and customs of a place, and supporting its independent business.
There are many ways to enjoy Ireland sustainably and responsibly.  Here are some ideas:
Outdoor Activities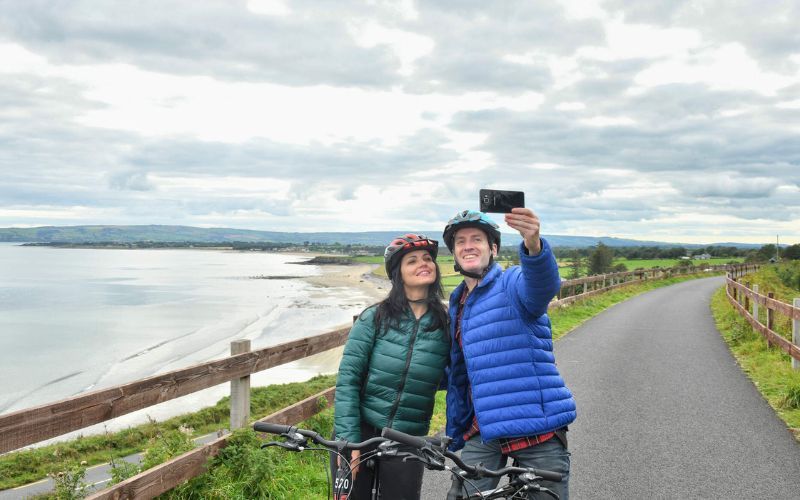 5
Ireland's 40 shades of green are famous, of course, and the perfect setting for healthy activities like walking, hiking, and cycling.  There are walking trails and cycling greenways all over, affording a wonderful opportunity to tour at your own pace.
The Gobbins Cliff Path wraps around the sea cliffs of Co. Antrim and is the only guided adventure walk of its kind in Europe. This incredible path snakes through dramatic tubular bridges and smugglers' caves, and above crashing waves.
For those looking for a more leisurely walk, the Howth Cliff Path in Co. Dublin (visitdublin.com) provides just that. Running to around 3.7 miles, the trail starts at the Dart station before hitting some of the most exhilarating coastal scenery around. Expect sheer drops, jagged cliff edges, heather-filled hills, boggy fields, and a beautiful lighthouse perched at the end of the peninsula. 
There are plenty of bike hire shops around the island, and rental fees are reasonable. The Waterford Greenway provides bike hire to facilitate a trip through Ireland's scenic countryside from Waterford to Kilmacthomas, Dungarvan, and back. Cycling the Kingfisher Trail will bring you through several counties in Northern Ireland and the Republic.  It's for those who really love their bikes and takes two days.  You'll cycle 135 miles and cover everywhere from Enniskillen Castle to Carrick-on-Shannon, and so much in between.
At first glance, night hiking may not sound too appealing, but in fact night hikes are growing in popularity. Northwest Adventure Tours in Co. Sligo focuses on the wonders of astronomy. Your expert guide will lead you on a tour that includes the history of the land as well as the story of the skies above.   
Food and Drink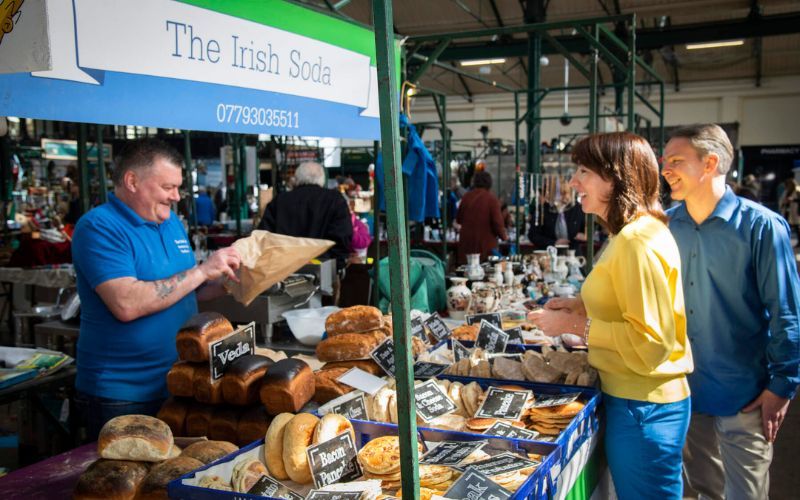 5
Rich, steaming hot apple juice made from local organic apples, glistening oysters served with crisp white wine, and an abundance of farmhouse cheese and local salamis – the Irish farmers' market is a bedrock of local community life. This is where you can try real authentic Irish street food with an artisan twist.
One of the most famous markets is the English Market in Cork City. Established in 1788, it's one of the oldest in the world and is an important part of food culture in Cork, with an emphasis on fresh, local produce with traditional Cork foods as well as an array of international delights.    
The St. George's Market in Belfast is home to some of the finest fresh produce, with customers traveling near and far to sample the delights of Friday, Saturday, and Sunday markets.  It has become one of the city's most popular places to visit.
Ireland has all kinds of mouth-watering food options as regular visitors are well aware. Best known for the neolithic passage tombs of Brú na Bóinne, the Boyne Valley was named Ireland's number one Foodie Destination thanks to the Boyne Valley Food Series calendar of eclectic food events. From apple blossom walks and midsummer solstice suppers to street feasts, harvest markets, and maritime festivals, these are great opportunities to break bread with the locals.
Imagine a day spent rubbing shoulders at traditional livestock markets, sampling local rainbow trout caviar, learning the secrets of farmhouse butter-making, touring organic cider apple orchards, and feasting on locally crafted chocolate truffles. 
Welcome to Kilkenny, one of Ireland's first counties to offer a food trail. TASTE of Kilkenny Food Trail's interactive map will have you heading down leafy boreens and medieval alleyways for the most delicious adventures.
Exploring the Burren Food Trail in Co. Clare might see you feeding the goats whose milk makes award-winning cheese, greeting the cows whose milk made your ice cream, foraging for sea veg and discovering a bean-to-bar chocolate factory – all before wining and dining at acclaimed gourmet destinations.
Wild Atlantic Distillery is an award-winning whiskey, gin, and vodka distillery based in Co. Tyrone, drawing inspiration from the spectacular rugged coastline. You'll be surprised by the unexpected as your hosts, Brian and Jim, tell you stories of innovative distillation methods that are rooted in long tradition, and how the people and landscape of this place have inspired them to make something extraordinary.  
Local Crafts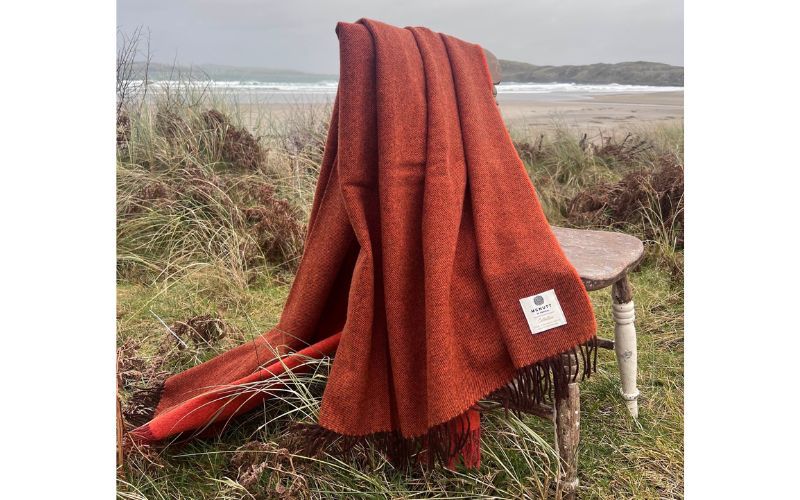 5
Irish tweeds, Aran sweaters and so much more – don't forget to leave Ireland with a locally made item made with care.
Donegal may be most famous for its tweed, but the tradition of weaving can be keenly felt in the beautiful alpaca, lamb's wool, pure wool, and linen products of McNutt of Donegal. This stylish label uses its location in the tiny Gaeltacht (Irish speaking) village of Downings on the edge of the Wild Atlantic Way as its inspiration.
The Dingle Peninsula is a place of natural majesty, and home to one of Ireland's most famous potters, Louis Mulcahy. Mulcahy knows where his inspiration comes from: "The colors of the sea and mountains around me are mirrored in my pots. Likewise, the massive winter waves exploding against our cliffs have driven my desire to create big sculptural works."
Visitors can check out professional throwers and learn about techniques like casting and glazing, while there's also an open room for those looking to get their hands dirty creating their own misshapen masterpieces on the potter's wheel.

5
To learn more about Tourism Ireland and get inspired for your next visit to Ireland, check out their website.
*This column first appeared in the June 28, 2023 edition of the weekly Irish Voice newspaper, sister publication to IrishCentral.