Can we let you in on a little secret? Winter is the most wonderful season to visit Ireland.
Before you scoff at the very notion and snuggle back into your sofa to enjoy the winterly creature comforts of good movies and a cup of tea, hear this out!
There are many magical experiences you can only find in Ireland during the winter, from festive markets, to breathtakingly beautiful winter sunrises, to the heart-warming (& body-warming) joy of an evening spent cozying up by the fireplace in a pub.
Especially for those who live in North America's colder, snowier locales, winter in Ireland is, by comparison, fairly mild. Temperatures average 39.2°F and 44.6°F in January and February respectively, the coldest months of the year.
While more and more people are catching on to the appeal of a winter vacation in Ireland, the influx of tourists is still far smaller than during the peak summer months. This means there are better deals on travel and accommodation, not to mention less competition when it comes to seeing the sights.
The famous Irish hospitality is especially warm in the winter, when it isn't uncommon to be among a handful of guests and therefore get the undivided attention of your bed & breakfast host – trust us when we say that many an epic night out on the town with locals or a delicious meal in has started this way.
Here are a few winter travel ideas to get you started planning your vacation.
Ring in the New Year
Ireland does New Year's right! What else would you expect from the country responsible for the gorgeous Waterford Crystal ball that marks the start of the New Year in New York City's Times Square?
13
While you won't get crowds quite that large anywhere in Ireland, you will find a delightful range of ways to ring in the new year. Dublin hosts a full-on two-day New Year's Festival from Dec 31 – Jan 1, featuring light shows, a spectacular parade, and public concerts. Belfast also boasts exciting events and parties, including one at Titanic Belfast, where a DJ performs at the top a replica of the ship's famous staircase.
13
If a village setting sounds more like your ideal way to spend the changing of the years, Dingle in County Kerry is a popular New Year's destination. The pubs are packed, and a firework display lights up the skies above the Dingle pier.
Wintry walks
Go on a winter hike and get some of that crisp, fresh Irish air into your lungs! Intrepid hikers can test their feet on some of Ireland's mountain routes, such as the Torc Mountain path starting at Torc Waterfall in Co. Kerry, offering views of the Macgillycuddy Reeks and the Lakes of Killarney; the Mourne Mountains in Co. Down, which served as inspiration for C.S. Lewis' fantastical winter wonderland of Narnia; or make a pilgrimage to the top of Croagh Patrick in Co. Mayo.
13
For a more low-key, but no less of a feast-for-the-eyes outing, try the famous seaside walk in Howth, just a 40-minute train ride from Dublin; the valley of Glendalough in Wicklow, with its tall monastic tower; the Ballyvaugahn Woods Loop in Co. Clare; or a walk along the cliffside of Downhill Demesne near Castlerock in Co. Derry, home to the Mussenden Temple, built in 1785 and inspired by the Roman Temple of Vesta.
No matter where you wander, dress in warm, waterproof clothing and keep in mind that the sun begins to set in Ireland as early as 4pm in December, progressing to 6pm by the end of February, so you should plan any outdoor adventures accordingly, whether that means getting an early start or packing a headlamp.
13
However, there is one sight very much worth staying out late to see: the Northern Lights. The Inishowen Peninsula in Donegal, at the northern time of Ireland, is a prime vantage point to see the Aurora Borealis.
Live it up in the city
Ireland's cities are positively magical during the winter months, as decorations linger after Christmas and the New Year, and an indoor diversion awaits around every corner – be it a museum, a concert, a play, an unforgettable meal, or a night at the pub.
13
In Dublin, spend a day exploring the city's many museums – such as the National Gallery which has some of Ireland's finest paintings, the famous bog bodies at the National Museum of Ireland, or the scope and achievements of the Irish diaspora at EPIC Ireland. Then take in a show at The Abbey or The Gaiety, two of Ireland's most revered homes for drama.
There's nothing quite as inviting on a chilly day as Cork City's English Market, where you'll find local purveyors of food and goods. Later, catch a film at the Triskel Arts Center or listen to music or world-class storytellers spinning their yarns while you sip on a pint at An Spailpin Fanach.
13
In Galway, try to catch Garry Hynes' renowned Druid Theater company when they're performing on their home turf (as opposed to touring Ireland or the US, as they do yearly). Take a stroll through the Spanish Arch and down the pier to whet your appetite, and then indulge in fish and chips at McDonagh's, or treat yourself to some fine Irish cheese at Sheridan's Cheesemongers.
Take in a show or exhibition at the MAC (Metropolitan Arts Center) in Belfast, learn the city's fascinating ship-building history at Titanic Belfast, and then head to one of the city's famous public houses such as The Duke or the Crown Liquor Saloon.
On the castle trail
What looks better than a centuries-old Irish castle and its beautifully landscaped grounds covered in a light dusting of early-morning frost? Nothing, that's what. Whether you want to take a day trip to an historic ruin or spend a few nights living the luxe life in one of Ireland's many castles that are also hotels, you won't need to go far.
13
The jaw-dropping Dunluce Castle on the coast of Co. Antrim is prime day-trip material, as are the Rock of Cashel fortress in Tipperary; the sprawling grounds of Birr Castle in Co. Offaly; famous Blarney Castle with its gab-gifting stone in Co. Cork; and the Powerscourt Estate and Gardens in Co. Wicklow, just a short journey from Dublin.
To pretend you're winter royalty, book a couple nights at Ashford Castle in Co. Mayo, near the village of Cong, where The Quiet Man was filmed; nab one of the 12 exclusive rooms at Cabra Castle in Co. Cavan, which dates back to the 1760s; curl up next to the roaring fire at Dromoland Castle in Co. Clare, or hide away in Belle Isle Castle in the Co. Fermanagh lake lands of Northern Ireland.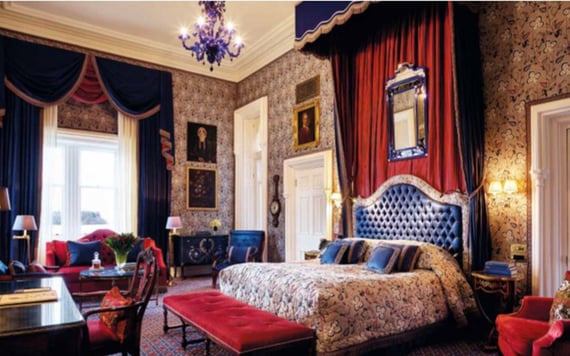 13
Winter sports
It is indeed possible to get your winter sport fix in Ireland, whether your passion lies with ice skating, skiing, or snowboarding.  Skating rinks pop up in many of Ireland's cities and towns during the winter months, including Dublin, Cork, Galway, Castlebar, and Waterford.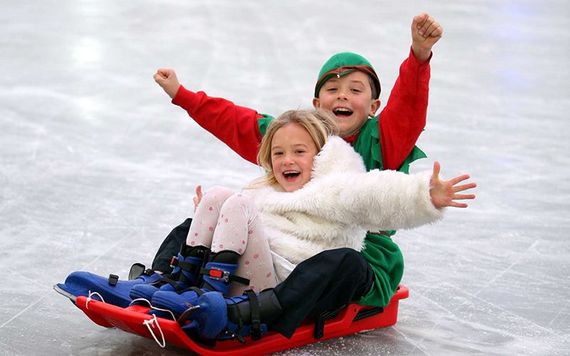 13
In Kilternan, just a half hour's drive from Dublin City, you will be amazed to find the National Snowsports Centre for Ireland, where you can practice skiing and snowboarding at all levels of experience. At Craigavon in Co. Armagh, just a 30-minute drive from Belfast, you can ski, snowboard, snowtube, or even play golf! How's that for the best of both worlds?
St. Patrick's Day done right
In 2018, winter officially ends on March 20, and what better way to close out the winter months than celebrating St. Patrick's Day! Spending Paddy's Day in Ireland is a top bucket list item for many visitors to Ireland, and it isn't hard to see why. March 17 is a national holiday in Ireland, and nowadays the whole island celebrates accordingly with parades and parties galore.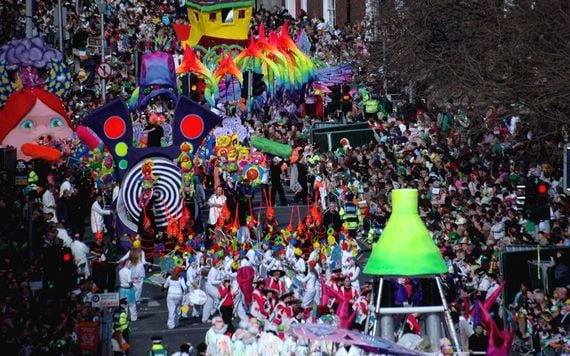 13
Dublin is the epicenter, with its vibrant carnival parade full of elaborate costumes and entertainers, and a bevy of additional parties and events in the days surrounding March 17. Cork, Limerick, Galway, and Derry each also hold massive parades and celebrations – drop a pin on a map of Ireland and you can't really go wrong.
If you want to pay deeper respects to St. Patrick, head to Northern Ireland and follow St. Patrick's trail.  Start in Downpatrick, Co. Down, the town where he is believed to be buried and where he built his first church. The town is also home to the Saint Patrick Visitor center, which tells the story of Ireland's patron saint. Armagh, home to the dual Catholic and Protestant Cathedrals of St. Patrick, hosts a two-week-long festival in his honor. In Antrim, walk the Sleamish Mountains, where Patrick toiled as an enslaved sheep herder during his teenage years.
13
Feeling inspired? Get more winter travel ideas on Ireland.com
This post is proudly produced in partnership with Tourism Ireland. Find out more on Ireland.com
13