Sculpted for over 300 million years by the Atlantic Ocean's natural forces, the towering Cliffs of Moher are Ireland's second-biggest tourist attraction, accounting for 1.6 million visitors last year.
Runner-up to only the Guinness Storehouse in Dublin, the newly released figures show a 3.8% increase on the previous year.
The awe-inspiring sea cliffs on Irelands Wild Atlantic Way are located in the southwest region of Ireland and remain the countries most visited natural attraction.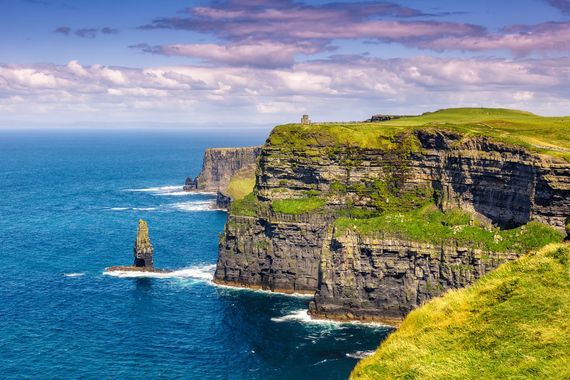 3
They rise 390 feet (120 m) above the Atlantic Ocean at Hag's Head, and, five miles to the north, reach their maximum height of 702 feet (214 m) just north of O'Brien's Tower.
Their impressive scale and size were used for a pivotal scene in the movie "Harry Potter and The Half-Blood Prince," featuring the boy wizard and Professor Dumbledore.
The iconic cliffs have also played host to the cult classic "The Princess Bride" and to music videos by "Maroon 5" and "Westlife".
The boost in numbers has been attributed to new pricing models for both visitors traveling on their own and coach tours.
55% of all visitors were from the Fully Independent Traveller or FIT market and the new pricing model allows individuals to get discounts of 50% for early and late visits when booked online.
Read More: Five things you didn't know about the Cliffs of Moher
3
Group visits and coach operators are also getting reduced admission prices for visits during off-peak periods to encourage the operators to stay longer in Co. Clare.
110 people are employed at the Cliffs visitor experience during the peak tourist season, with a further 50 in tenant companies selling gifts and serving food.
Read more: Interesting facts about the lovely County Clare
Have you been to the Cliffs of Moher, what did you think of them? Tell us in the comments below.