From historic sites, to wild landscapes, and Game of Thrones inspired dramatic vistas – these attractions in Northern Ireland will make your heart swell with excitement.
Would your dream vacation in Ireland include UNESCO World Heritage sites, wild untamed landscapes with mountains sweeping down to the sea? Or perhaps you're a Game of Thrones fan who dreams of sharpening your broadsword on location? Maybe your dream Irish holiday includes a truly spectacular Irish golf course?
Well you're in luck! These ten amazing spots in Northern Ireland have it all.
You can sharpen a broadsword on location where the minds behind HBO's Game of Thrones created the expansive world we now know as Westeros.
Explore a crumbling cliff-top castle at Dunluce, cross the same 100-foot high Carrick-a-Rede rope bridge that daring salmon fishermen traversed in centuries past, or slow it down on tranquil Lough Erne.
There's walking on water at the Gobbins Cliff Path, embracing your romantic side at Mussenden Temple, or teeing off on a glorious Championship links course.
That's a lot to get into a 60 second video, right?
Amazing places to visit in Northern Ireland

Does your dream vacation in Ireland include ancient historic sites and stunning landscapes? Or perhaps you're a Game of Thrones fan wanting to tour actual filming locations? Maybe your dream Irish vacation includes a truly spectacular Irish golf course or castle? Well, you're in luck! These ten amazing spots in Northern Ireland have it all. (Via Tourism Ireland).

Posted by IrishCentral.com on Wednesday, 4 April 2018
Here's a rundown of these amazing Northern Ireland:
11
Myths and majesty come together at the magnificent Giant's Causeway in County Antrim, a collection of 40,000 interlocking basalt columns created by an ancient volcanic eruption.
Locals think that warring giants made it, what will your verdict be?
The Sperrins, County Derry and Tyrone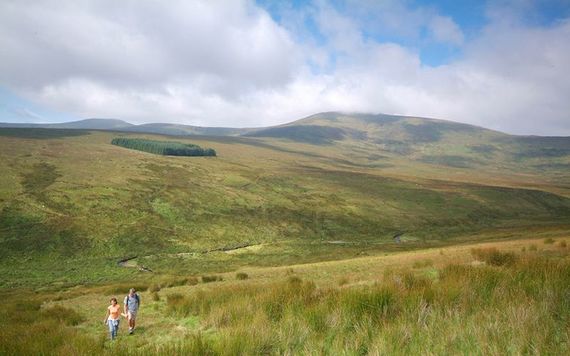 11
The Sperrins are Northern Ireland's largest mountains range and also its least explored. Stretching from Strabane in County Tyrone to the shores of Lough Neagh in the east, Northern Ireland's largest upland area is a designated Area of Outstanding Natural Beauty.
National Geographic also thinks highly of its meandering, occasionally roller-coaster roads: it included them in its prestigious Top 101 Scenic Drives in the World.
Read more: Northern Ireland and Game of Thrones tours
The Mournes, County Down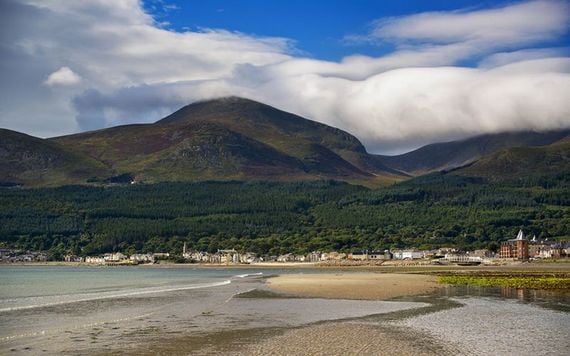 11
The untamed landscapes of the Mourne Mountains sweeping down to the sea – the place where C.S. Lewis found his fantastical winter-land of Narnia come to shape in his mind's eye and once you visit it's clear why.
The Mourne Mountains in County Down are famous for a lot of things. Challenging peaks, gentle slopes and crystalline lakes.
11
The Dark Hedges of Northern Ireland are probably one of the most photographed and painted phenomena in the region. These striking beech trees were planted by the Stuart Family in the 1800s, along the avenue leading up to their home – Gracehill.
A place such as this cannot escape the inevitable tales of ghostly activity – with an grey lady thought to haunt the avenue – although for whom she is looking or why seems to have been lost to the mists of time.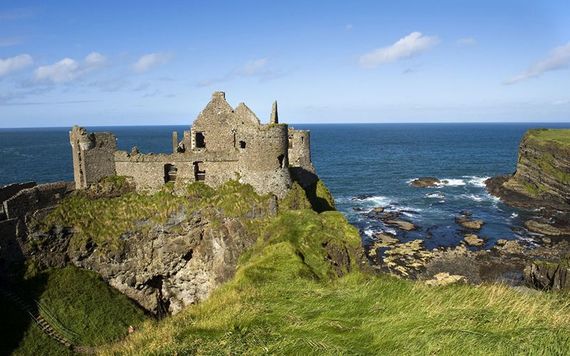 11
The iconic ruin of Dunluce Castle bears witness to a long and tumultuous history. First built on the dramatic coastal cliffs of north County Antrim by the MacQuillan family around 1500, the earliest written record of the castle was in 1513.
Visitors can explore the findings of archaeological digs within the cobbled streets and stone merchants' houses of the long-abandoned Dunluce Town.
The dramatic history of Dunluce is matched by tales of a banshee and how the castle kitchens fell into the sea one stormy night in 1639.
Carrick-a-rede Bridge, County Antrim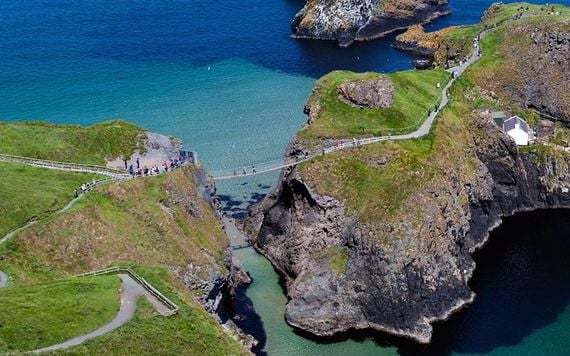 11
Connected to the cliffs by a rope bridge across the Atlantic Ocean, Carrick-a-Rede Island (home to a single building - a fisherman's cottage) is the final destination.
Suspended almost 100 ft (30 m) above sea level, the rope bridge was first erected by salmon fisherman 350 years ago. In 2016 Carrick-a-Rede welcomed the highest number of visitors ever to this exhilarating rope bridge experience.
Read more: Galway and the West tours
Lough Erne, County Fermanagh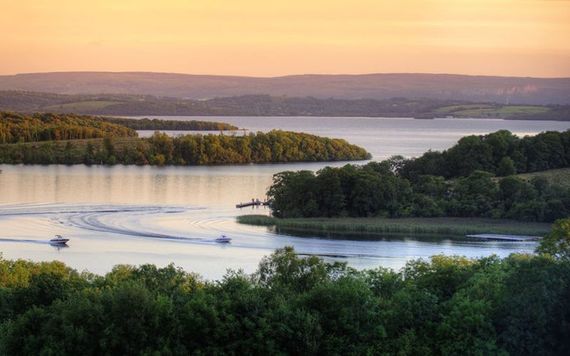 11
Lough Erne offers widely different experiences; from the serenity of the Upper Lough and the bustling island town of Enniskillen to the wide expanses of Lower Lough Erne.
The area is truly rural and unspoilt, a leisure-orientated region encompassing spectacular beauty. Castles, historical islands and lakeside amenities all combine to ensure that Lough Erne is an ideal holiday destination.
The Gobbins, County Fermanagh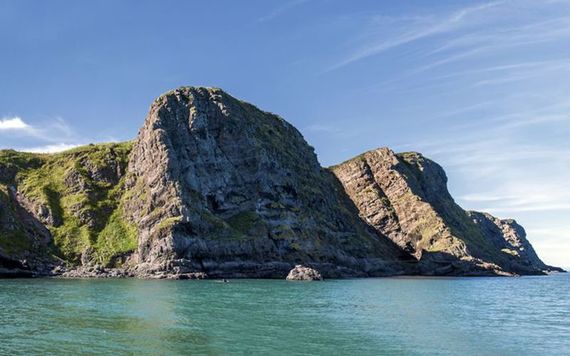 11
On the very edge of the Irish Sea lie The Gobbins cliffs. These towering giants cling to the edge of Islandmagee some 20 miles / 32 kilometres north of Belfast on the stunning Causeway Coastal Route.
The modern cliff path at The Gobbins will be an unexpected white-knuckle walk which will thrill those with a sense of adventure and delight those who wish to experience the coast up close.
Read more: Mayo and the Cliffs of Moher tours
Mussenden Temple, County Derry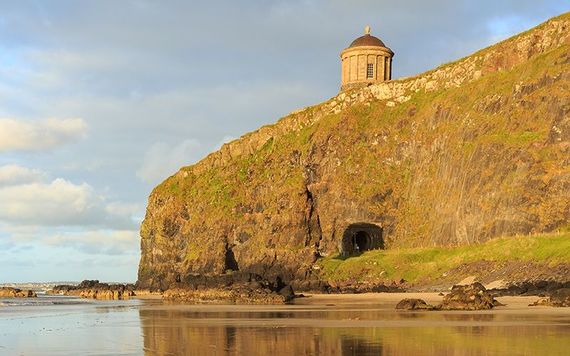 11
Mussenden Temple is located in the beautiful surroundings of Downhill Demesne, near Castlerock, in County Derry. It perches dramatically on a 120-foot cliff top, high above the Atlantic Ocean on the north-western coast, offering spectacular views westwards over Downhill Strand towards Magilligan Point and County Donegal and to the east Castlerock beach towards Portstewart, Portrush and Fair Head.
The temple was built in 1785 and forms part of the estate of Frederick Augustus Hervey, Bishop of Derry and Earl of Bristol (or the Earl Bishop). The temple was built as a summer library and its architecture was inspired by the Temple of Vesta in Tivoli, near Rome. It is dedicated to the memory of Hervey's cousin Frideswide Mussenden.
Read more: Kerry and the Wild Atlantic Way tours
Royal Portrush Golf Club, County Antrim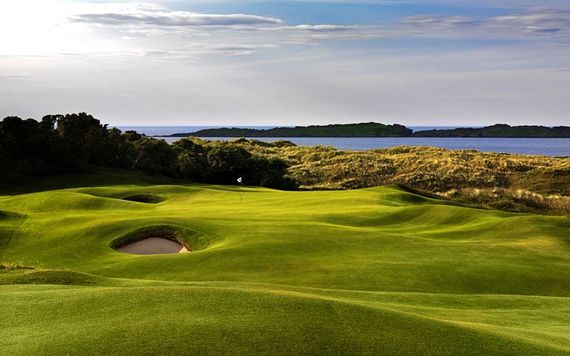 11
Founded in 1888, the legendary Royal Portrush Golf Club has two Championship Courses – the renowned Dunluce Course and the smaller but equally enjoyable Valley Course. Both command impressive views across the North Atlantic with breath-taking views of Scotland and Donegal but the golf is even more spectacular.
Read more: How hard is it really to move to Ireland as an American?