Katie Taylor celebrated a majority decision in one of the most entertaining fights women's boxing has ever seen. 
Katie Taylor became the undisputed women's light heavyweight champion of the world with a majority decision win over Belgium's Delfine Persoon at Madison Square Garden on Saturday night.
Taylor entered the ring with the WBO, WBA and IBF titles at 135lbs, and left it with two more to her name. She claimed the WBC belt from the defeated Persoon, along with claiming the inaugural The Ring belt.
She did not have it all her own way, however, and was made to work harder than ever before in a professional bout. The fight was not without its controversy either and many felt that Taylor was fortunate to come away with a decision in one of the best fights women's boxing has ever seen.
"It was a very, very close fight," an exhausted Taylor said afterward. "I felt like I won the earlier rounds and she came on strong at the end. But I feel like I did enough to win that fight."
Read more: WATCH: Trailer for Katie Taylor documentary KATIE released
Many were left scratching their hands when judges Allen Nace and John Poturaj scored the fight 96-94 in favor of Taylor. Don Trella scored the bout at 95-95 which would have probably been a fair result for such an evenly contested fight.
The Bray native asserted her authority in the opening round, outmatching her Belgian opponent, but soon found herself on the backfoot as Persoon went on the attack in rounds two and three.
Taylor found herself being regularly caught by vicious hooks as Persoon closed the distance between the two fighters and fought on her terms. Fighting at such close quarters unsettled Taylor's rhythm and by the end of the third round, it was already the most challenging fight she had faced on the professional circuit.
Persoon, who is also a policewoman, looked to bully Taylor and employed roughhouse tactics to do so in the clinch.
Taylor, however, didn't balk at the stern task and began to regain her composure in the middle rounds, showcasing her superior boxing skills. The Irish fighter consistently landed from distance and caused Persoon to swing at fresh air in a glorious demonstration of speed and skill.
Read more: Katie Taylor looking forward to a Boston Irish welcome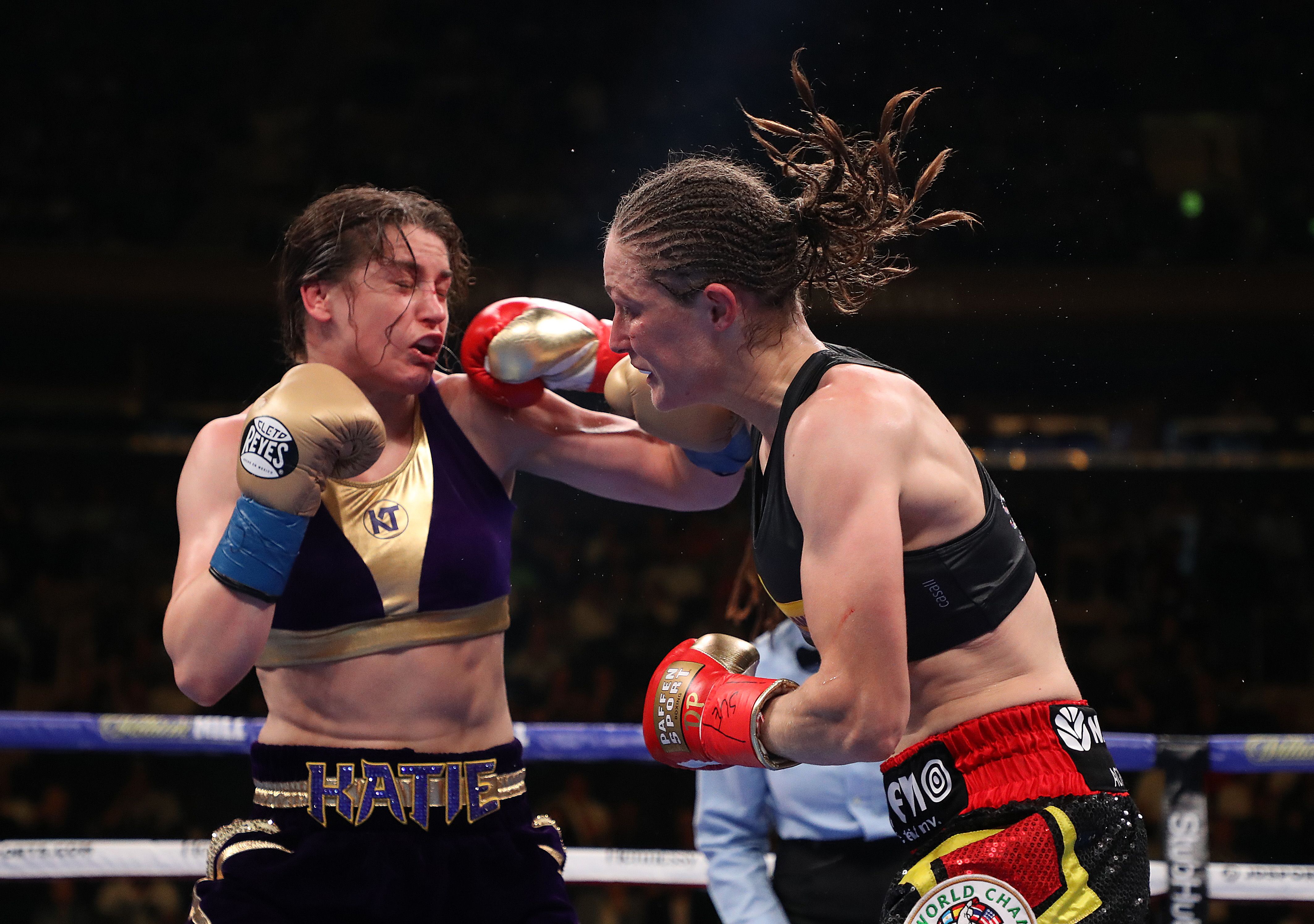 2
By the sixth round, it seemed that Taylor had established the control necessary to cruise to victory, but Persoon gradually fought her way back into contention. She particularly rocked Taylor with a huge right hand in the eighth round and won the round on all three of the judge's scorecards.
Taylor's mettle was being tested like never before, but she passed the test with flying colors after such a difficult eighth round. The partisan crowd was treated to a whirlwind of combinations in the penultimate round when Taylor found her range as her opponent's defense faltered.
The final round resembled something out of a Rocky movie as both fighters abandoned any semblance of defense to trade punches in one of the most exciting rounds women's boxing has ever seen. Taylor was out on her feet by the end and had the fight gone on any longer she could well have been stopped.
She wasn't though and went on to land a majority decision that was questioned by many boxing experts in the immediate aftermath of the fight, meaning that there will almost certainly be a rematch before the year is out.
For now, Taylor can celebrate becoming Ireland's first undisputed champion in modern boxing. She is, without doubt, one of the greatest athletes to ever represent the nation and can take enormous credit for what she has done over the past decade and a half.
Where does Taylor's achievement rank in the list of great Irish sporting moments? Let us know below.