What did the Irish American President of the United States John F Kennedy give Queen Elizabeth II on their one and only meeting in 1961?
The amazing answer is a small, signed portrait of himself! The one and only JFK.
According to Vogue magazine the US president gifted the Queen a photograph of himself, in a silver Tiffany & Co. frame. He signed it "To Her Majesty Queen Elizabeth II, with appreciation and highest esteem, John F. Kennedy."
What a modest gift right?!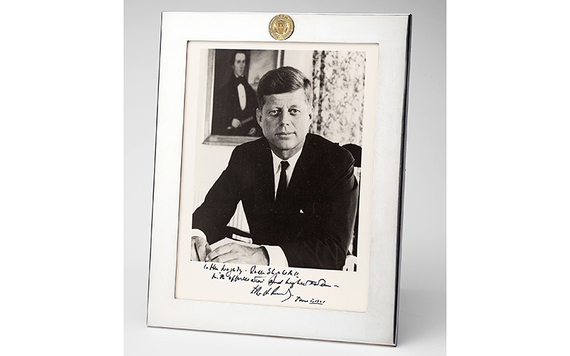 2
However, as it turns out, this 1961 visit was not an official "state visit," and therefore no extravagant offering was necessary.
Kennedy and his wife Jacqueline had planned to save their real gift for the British monarch for their official state visit later on in his presidency. Tragically, this visit never occurred as JFK was assassinated in November 1963, in Dallas.
It turns out that the Queen must have been quite taken with John F Kennedy's 1961 gift. It seems that the Queen gifts all of her visiting dignitaries with the same gift – a small, silver-framed signed photographer of herself.
Vogue's report on JFK's unusual gift comes in advance of the launch of Buckingham Palace's launch of an exhibition of over 250 gifts which Queen Elizabeth has received during her 65-year reign. Among the gifts on display are a full-sized gilded Australian State Coach and a bag of salt from the British Virgin Islands, where one of the islands historically paid the British monarch an annual rent of a pound of salt.
Other US presidents' offerings are also on display. Among them is President Barack Obama's 2016 gift of a sets of bits, used in horse carriage driving. These were gifted to Prince Philip who is an avid driver.
One of the finest pieces on exhibition is the 15-inch-tall Queen's Cup, made by Steuben Glass, which was gifted to the Queen by President Dwight D. Eisenhower, in October 1957.
The Buckingham Palace exhibition, running until October 1, describes itself as including "gifts representing every continent, including those from world leaders such as former US President Dwight D. Eisenhower, former South African President Nelson Mandela and President Xi Jinping of the People's Republic of China, the exhibition will present a spectacular display of craftsmanship from across the globe."
And of course, it also includes, that signed photo of President John F. Kennedy.
Read more: British Pathé footage of John F Kennedy's visit to Ireland