Former President John F. Kennedy loved dogs and had nine during his time in the White House, the recently-released book The Dogs of Camelot reveals.
Margaret Reed, an animal trainer and co-author of The Dogs of Camelot, met Kennedy as a young child in 1963 when one of the president's dogs got loose in her yard.
"Although it was a brief encounter, it's just one of those moments you knew something terrific happened," she said.
Read More: Rare Kennedy family photos now available online, thanks to JFK Library
Reed got the idea to write the book when she saw a German Shepherd that reminded her of Clipper, one of Kennedy's dogs, and wondered what had happened to him and the president's other canines.
"I wanted to know: where did they go and what happened to them?" said Reed.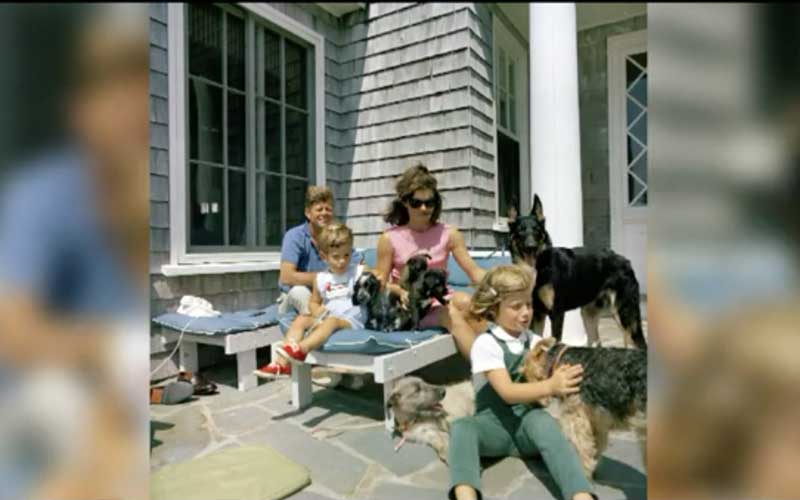 2
For the book, Reed and co-author Joan Lownds accessed rare and previously unpublished photos and stories from the Kennedy Library archives and interviewed some 40 to 50 people that knew the Kennedys.
"The hardest part was the research because there really weren't many files on the dogs," she said, according to the Newtown Bee. "I wanted to get it right. There's so much bad information out there about the Kennedy dogs."
After the president's assassination, eight of his nine dogs had to find new home. Jacqueline Kennedy kept one of the them.
Read More: New JFK library podcast to bring John F Kennedy's life to new audiences
Reed told WTNH: "I think the reason that he liked the dogs so much is because he was sickly growing up and he always had the companionship of a dog there was always a dog at the Kennedy family. In the first picture I ever saw of him, he was five years old holding a dog. I think he liked them in later years because they didn't tell his secrets. He was able to confide in them without any worries."
She added: "He felt like he could trust them better than most people. He was very allergic to dogs, and yet they were a constant in his life."