In 1922 the long reach of Michael Collins tracked an informer to New York and shot him dead outside Central Park - but did the traitor really die?
The Bureau of Military History in Dublin recently unredacted the witness statement of one Daniel Healy and his involvement in the shooting of Patrick "Croxy" Connors (note, Connors in various documents is also referred to as Connor and O'Connor). It should be noted that this shooting was sanctioned with the knowledge and cooperation of Michael Collins even as he was negotiating the Anglo-Irish Treaty in late 1921.
Daniel Healy was a member of a Cork City Active Service Unit (ASU). ASUs were specially set up IRA units, staffed by salaried IRA men, who were to carry out special missions. Healy's ASU seems to closely resemble Michael Collins' ASU which was known as "the Squad," and more colorfully as "the Twelve Apostles." Healy states that in his ASU unit "The men were on whole time duty in the city, their object being to attack any enemy forces at every opportunity."
Which brings us to Croxy Connors. According to Healy "On the 21st March, 1921, six men from 'C' Company, while asleep in farm out offices at Ballycannon, County Cork, were surprised by a raiding party or R.I.C. and Black & Tans and brutally shot and killed." It was determined by the IRA that the British had been tipped off by the informer Patrick Connors.
4
The story of Patrick "Croxy" Connors is a rather strange one. He apparently was a veteran of the British Army during the Great War and earned his nickname because in 1919 he was awarded the Croix de Guerre while a member of the 63rd Battalion, Machine Gun Corps (Salford). The medal was awarded for wartime acts of gallantry and gazetted in the Official Journal of the French Republic. Why Connors would join the IRA on his return to Ireland begs the question, was he planted as an informer by the British? (Although it should be noted that former British army soldiers joining the IRA was not unusual, as witnessed by IRA Generals Tom Barry and Emmet Dalton, both of whom fought for the British in World War I.)
"In connection with this tragic occurrence," wrote Healy in his witness statement, "it must be recorded that, some short time previously, another member of  'C' Company, named Patrick Connors, who had been in Ballycannon with the other boys (who were subsequently killed) was, himself, arrested by the Black and Tans while carrying arms and conveyed to the Bridewall in Cork. Later we learned that while he was in custody he informed on his comrades in Ballycannon with the tragic result I have mentioned. Connors eventually got away to England and later to New York. One year later he has shot in New York and died of wounds in circumstances which I will describe."
No luck in London
With Connors now in London Healy took off for Dublin for a chat with Michael Collins at Kirwan's Pub in Parnell Street which Collins referred to as his "Joint Number Two," Joint Number One being Vaughan's Hotel in Parnell Square. "Liam O'Callaghan and I were to go to London," wrote Healy, "and shoot Connors when he arrived at Hammersmith Post Office. Liam O'Callaghan and I set out for Blarney that evening and on the following day left by train for Dublin. As instructed, we contacted Michael Kirwan in Parnell Street, Dublin, and, through him, we got in touch with Michael Collins who gave us a note for Sam Maguire in London. We arrived in London on 10th July, 1921, where we met Sam Maguire who, in turn, passed us on to Seán Flood. For about ten days we waited in the vicinity of Hammersmith but failed to see Connors. We then decided we had missed him, and we returned to Cork."
4
A "lady friend" of Connors in New York tipped off the IRA that Connors was now in New York and Healy and accomplices started the complex problem of getting to New York to confront Connors. "Martin Donovan and I went to Dublin," wrote Healy, "and, after a considerable time, succeeded in contacting Mick Collins. It was decided that Martin and I should travel with Collins and his party, who were then going to London in connection with the Truce negotiations. From my conversations with Collins I gathered that our business in New York had the sanction of G.H.Q. (General Headquarters)."
Healy applied for and received a British passport under an alias and Ned Broy, a member of Collins security staff on the Treaty negotiations and the future commissioner of the Garda Siochána, personally helped him get a visa to America. Donovan was not as lucky and his application for a passport was rejected which would eventually turn him into a stowaway. Healy and Donovan were then joined by Patrick "Pa" Murray, who held the rank of commandant and was Healy's commanding officer in their ASU. By bribery, Murray also secured a British passport. Healy reports that "The funds for our New York venture were supplied by General Headquarters," which certainly puts the stamp of approval of Collins and Richard Mulcahy, the chief-of-staff of the IRA, on the project to neutralize Connors.
Healy reached New York in early February 1922 and was eventually joined by his confederates. The three eventually found out that Connors was working as a bookkeeper at Altman's Department Store and put him under surveillance. Connors spotted them, made his escape, and immediately quit his job.
Not all the information about New York Healy got from Collins was accurate. "At this point in my narrative," wrote Healy, "I would refer to a conversation I had with Mick Collins in Dublin before we set out on the job. I remember Collins saying that he had 'Some very good men in New York.' By this I took him to mean that we would be afforded every assistance when we got there. In fact, the contrary was the case; indeed we could not get a man to drive a car for us. There were, however, two exceptions, one a man from Derry named Mullins and one other who gave us the greatest possible help; his name was Jimmy Magee. He was, I think, a native of Dundalk or Drogheda, and was Secretary of the Ship Engineers' Union in New York. His home was always open to us at any time of the day or night. He provided us with revolvers and ammunition and, generally speaking, was of invaluable assistance during our stay in America." Essentially, Healy, Donovan and Murray were on their own.
They did not know where Connors lived. "…Suffice to say I remember getting what turned out to be a brainwave," wrote Healy, "when I suggested going to Connors' old 'digs' at night, where, with a bit of luck, we might be fortunate enough to get his new address. (We had been given his old address before leaving Ireland.) We were lucky as we got the new address."
They then began to "tag" Connor, putting him under surveillance. "A few nights later," recalled Healy, "when keeping watch on the new address, I 'ran into' Frank Connors, a brother of Paddy's (our man). We then knew we were on the right trail. We kept a constant watch on the block of flats where Paddy Connors lived with his brother and saw him leave the house on succeeding nights. We noticed that every night we saw him leave the house he went in a different direction. On one occasion we trailed him, Martin and 'Pa' going one way, but I, anticipating his move, went in another direction and came almost face to face with him on the footpath. I was unarmed on this occasion, as were 'Pa' and Martin. However, I kept track of Connors and saw him go in the direction of a cinema."
The shooting of Connors on Central Park West
Holy Week would bring retribution to Patrick Connors. "A week or so later," wrote Healy, "it was Holy Thursday night, 1922, and almost a year exactly since the Ballycannon murders, we were watching Connors' place. We were armed with revolvers supplied by Jimmy Magee. Martin Donovan and I were standing together diagonally across from Connors' house in 83rd Street, 'Pa' Murray and Mullins were further up near 84th Street. We saw Connors come out and walk along 83rd Street in the direction of Central Park West. When I saw him take this turn I told Martin to tell 'Pa' and Mullins to go down 84th Street so that they would probably reach Central Park West before Connors did. I would follow him from behind. As I anticipated, Connors turned down in the direction of 84th Street, but he reached the corner before 'Pa,' Martin and Mullins, and, looking in their direction, he saw and recognized them. Immediately he crossed the road to the blank wall which runs along Central Park at that point, all the time puffing furiously at a cigarette and keeping 'Pa," Martin and Mullins under observation. He was not aware that I was following him from behind. He continued on the same sidewalk until he was just opposite 85th Street."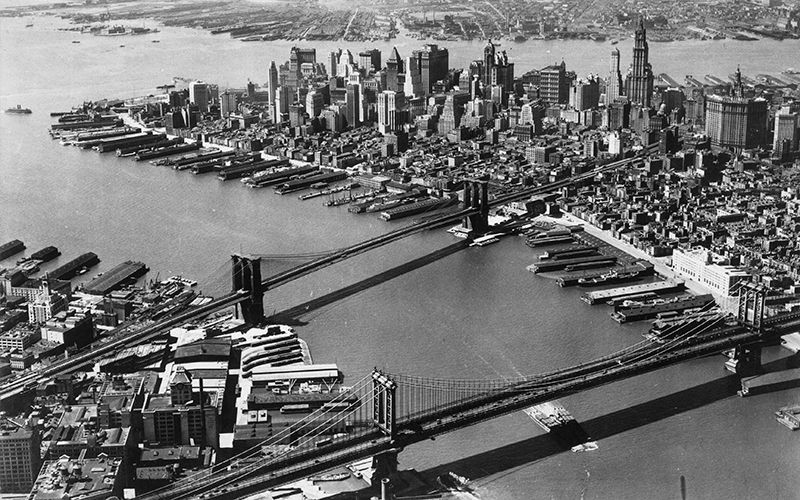 4
At this point we come to the material that was redacted by the Bureau of Military History. I think it's safe to say that the material was redacted during Healy's lifetime because he might have been charged with murder had he ever returned to New York. Here is the redaction:
"He [Connors] then paused for a moment, turned and came backwards towards me.  I was shaded by a tree, consequently, he was on me before he was aware of my presence.  I fired at him, hitting him (as I thought) in the chest.  He immediately ran right across the street, which was very wide and contained tram rails, until he reached the corner of 84th Street and Central Park West.  I followed him up and fired on him again, hitting him twice. To my surprise, he again doubled back across the road towards Central Park West, ran around a tram which had pulled up there and back again in the direction of 84th Street.  I was behind him the whole time.  After rounding the tram I fired at him again, but I knew this shot missed as I heard the thud of a bullet on a building nearby. When Connors came back to 84th Street, he turned to run in the direction of 85th Street and ran into Martin Donovan, who fired without effect; his revolver had jammed. A few steps further on, Connors fell. I caught up with him and fired twice more at him, hitting him. My gun was now empty."
A crowd by this time had gathered and were in pursuit of Healy. He would be saved by the 7th Avenue subway: "As can well be imagined a big number of people had gathered, but, at a respectable distance from us. I felt that I had no chance of escape until Martin Donovan said to me, 'Run for it, Danny, run.' I walked casually to the nearby corner of 84th Street and then I began to run. As I ran, the crowd commenced to follow me, but Martin—being Martin Donovan—pulled out his gun (which, as I have said, was useless) and inquired of the foremost of my pursuers just exactly where they were going. They immediately turned back. I kept running until I was about three-quarters of the way down 84th Street, where I slowed to a walk. I then turned into Columbus Avenue, passed the block of flats where Connors had lived and on to the next block. From there I zig-zagged my way until I came to the subway station at 79th Street, Broadway. I was followed by a unit as far as the subway, but was lucky to be able to board a train which was just about to leave the platform as I arrived and so escaped my pursuer."
Did Healy actually kill Connors?
"SHOT AS A TRAITOR TO SINN FEIN ARMY" blared the august New York Times, making the Old Gray Lady sound like a New York tabloid. "Victim of Gunman Here Doomed in Ireland—Suspected of Betraying Comrades." The Times added that Connors had a "fighting chance" of survival.
"They report that Connors was very seriously wounded but was not dead on admission to hospital," wrote Healy, then added, "He died later from his wounds."
But did he?
One website speculates that Connors survived the attack and did not die until 1952 in Evanston, Illinois. Because of the commonness of the Connors name (and the different variations such as Connor and O'Connor) it's very hard to pin down details. How many Patrick Connors do you think lived in the United States between 1922 and 1952?
Healy, Donovan, and Murray evaded capture and eventually, all three made it back to Ireland safely. This mystery probably will never be resolved, but it shows the determination of the IRA and General Michael Collins to spare no expense and manpower in reaching out to New York for a notorious informer, the mysterious Patrick "Croxy" Connors.
* Dermot McEvoy is the author of The 13th Apostle: A Novel of Michael Collins and the Irish Uprising and Our Lady of Greenwich Village, both now available in paperback, Kindle and Audio from Skyhorse Publishing. He may be reached at dermotmcevoy50@gmail.com. Follow him at www.dermotmcevoy.com. Follow The 13th Apostle on Facebook.