Disney Princess JFK? Incredible photo, taken 2 months before his assassination, shows President feeding a dear in his pajamas.
President John F. Kennedy is surely one of the most recognizable faces in the world with hundreds of iconic shots taken of the Irish American politician throughout his life. However, this image of the 35th President of the United States, JFK, feeding a deer bread, in his pajamas and red slippers has stolen our hearts.
The touching story behind the images will certainly bring a smile to your face.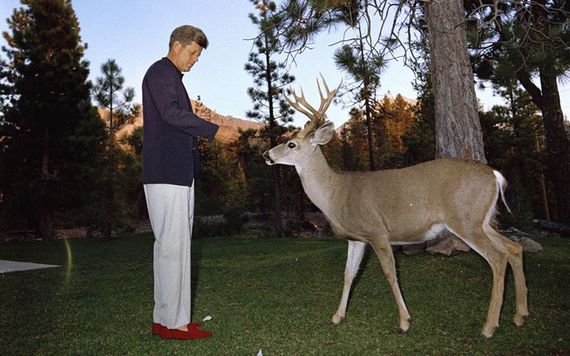 2
The image was taken on Sept 27, 1963, less than two months before he was assassinated in Dallas Texas, on Nov 22. The photo was taken by Cecil Stoughton, a Military Aide to the President who was with him during his "Conservation Tour of Western States". Kennedy had stayed in a cabin at the Lassen Volcanic National Park, California, for just one night.
Ten years after his tragic death TIME magazine reporter Hugh Sidey who revealed how excited President Kennedy had been about the prospect of feeding the deer outside his cabin, which explained why he's wearing his pajamas and dashing red slippers. According to Sidey the President repeatedly sent his aides to find more food he could hold out to the animals.
The next morning JFK announced that there would be no toast for breakfast as he'd fed all the bread available to the park deer.
This incredible image, held in the JFK Library archives is stored as part of a collection of photographs taken "by White House and National Park Service staff photographers documenting the President's activities at the White House, his official trips, and other events; informal photographs of the President and his family at the White House."
We just love the informality and quiet in this photo.
Do you have a favorite photograph of John F Kennedy or any of The Kennedys? Let us know know in the comment section below.
Read more: What John F Kennedy's trip to Ireland meant to its people