In May 1847, 1,490 tenants from the Strokestown Estate took part in an assisted emigration scheme that would take them from their homes in Roscommon to Canada, via Dublin and Liverpool. The journey was paid for by their landlord, Major Denis Mahon, who had calculated (as many landowners did) that it was cheaper to pay for their travel to Canada than to keep them indefinitely in the local workhouse.  Their walk along the Royal Canal to Dublin, accompanied by Bailiff Robinson, probably represents the largest single movement of any single group during the Great Famine.  For the poor tenants, it was a journey motivated by hunger and hope, which ended in despair and death.
Newspaper accounts for that month describe the weather as 'ungenial'.  The winter of 1846 to 1847 had been the coldest for a 100 years with snow falling as late as April in some western counties, hampering the distribution of relief and making working on the public works even more hazardous. May 1847 started cold and windy, with frosty nights.  There were never more than two fine days together, leading the 'Cork Examiner' to declare that if felt 'more like February than May'.
The Strokestown emigrants survived these hardships to embark on what they believed was a journey to a new and better live in Canada. 
In May 2017, the Irish Heritage Trust, working with its partners, including the Great Hunger Institute at Quinnipiac University, decided to recreate this journey, tracing the route along the Royal Canal that the original emigrants had taken to Dublin. It was a journey of approximately 166 kilometres (103 miles), which was to be completed in six days.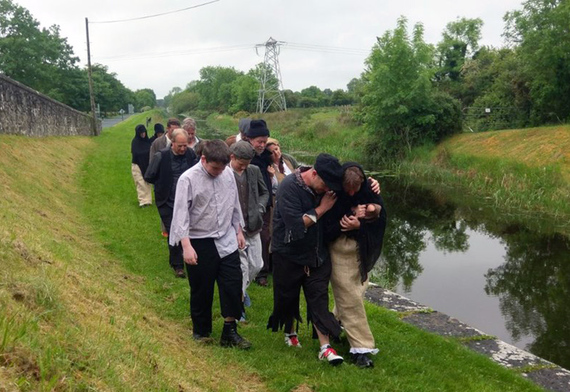 5
Eleven people, including a number of Famine scholars and activists, undertook this journey, namely, Mick Blanch of the Committee for Commemoration of the Irish Famine Victims; Michael Collins, novelist and journalist; (myself) Professor Christine Kinealy, Director of Ireland's Great Hunger Institute; Dr Jason King of the Irish Heritage Trust; Dr Andrew Newby of Helsinki University; Cathal Póirtéir, broadcaster and folklorist, and Anthony Russell, retired lecturer from Anglia Ruskin University. A group of four women from Strokestown also took part, Caroilin Callery, Geraldine Glennon, Bernadette Kelly and Patricia Rogers.  At a number of locations, the walkers were joined by different well-wishers and sympathizers, including local school children from Strokestown, Kilcock, the Newtown National School in Cloncurry and Enfield.
Read more: Sculpture honoring Choctaw Nation for helping famine Irish to be dedicated
Each of the core walkers was in the persona of one of the 1,490 tenants who undertook the journey.  I walked in the footsteps of Catherine Tighe, a nine-year-old girl who travelled with her mother, uncle and four brothers. Only Catherine and her 12-year-old brother, Daniel, survived the journey.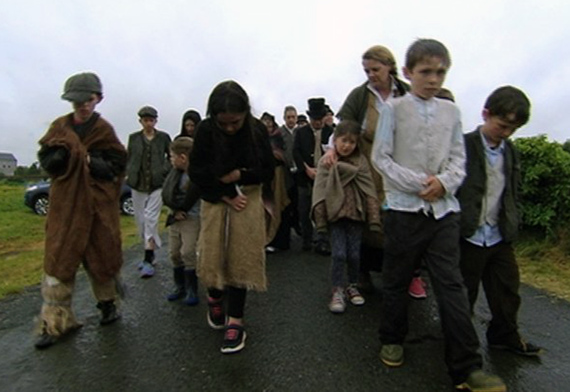 5
A French-Canadian couple who were childless wanted to adopt Daniel.  Catherine cried so hard at the idea of being separated from her last remaining family member that the couple adopted the two children. The siblings remained together until Catherine died in her 30s.
The weather on the first day of the walk was similar to what the originally emigrants encountered - ungenial. At Clondra in County Longford, President Michael D. Higgins was present to mark the two-hundredth anniversary of the Royal Canal and to officially say good bye to the walkers. By that time, we were already wet and cold.  As I quickly realized, the clothes I was wearing provided little protection and the skirt in particular was an impediment to walking. 
For the first phase of the journey we were accompanied by a number of children, who despite the unforgiving weather, stayed in character and did not complain, adding a poignancy to the journey.  It is estimated that approximately 1,000 of the Strokestown emigrants were children and, as in any famine, mortality was highest amongst those under the age of 9. As we departed from Clondra, local schoolchildren read the names of all 1,490 emigrants.  It was a simple but moving tribute.
Day two, took us from Mosstown to Abbeyshrule. It turned out to be a warm day, with some of the walkers ending the day sun burned. This part of the canal route was particularly beautiful, with a welcome stop at the restored Ballybrannigan ticket office.
Read more: Mysteries of deserted pre-Famine village on Achill Island revealed
Days 3, 4 and 5 were amongst the longest, with almost 30 kilometers being walked each day.  During a stop in the town of Mullingar, a small group of the walkers undertook a visit to the largely intact local workhouse and a nearby famine graveyard.  None of the graves were marked.  It was a somber reminder that the lives of the famine dead mattered so little that no record was kept of their passing. For that part of the walk, we were accompanied by local historian, Seamus O'Brien.
On the second last day of the walk, as we neared Maynooth, I developed shooting pains in my left leg and a swelling in my shin.  That evening I visited a doctor who told me that I had developed severe tendonitis. He also recommended that I should walk no more but rest my leg.  Having come so far, it was devastating news. 
On Thursday morning, the final day of the walk, I took the doctor's advice, but I knew that nothing would stop me from being in Dublin for the completion of the walk so, in the afternoon, I rejoined my fellow walkers. The limp and pained expression as I walked towards the Spenser Dock in Dublin was real.
Despite the return of rain, a number of people had come to observe us as we slowly, and in character, wove our way through Rowan Gillespies' haunting famine figures on the Custom House Quay.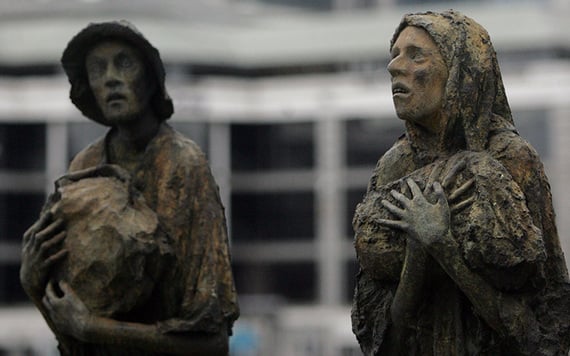 5
We then made our way onto the 'Jeanie Johnston' tall ship, an authentic replica of a vessel that had carried over 2,500 emigrants to North America between 1847 and 1855. On board, we waved goodbye to Ireland before descending into the lower deck of the ship.  It was a touching ending to a heartrending journey.
In 1847, the original 1,490 Strokestown emigrants then travelled to Liverpool, and from there they boarded four ships bound for Canada.  The journey took approximately six weeks during which time the steerage passengers rarely saw the light of day, often only being allowed on deck for one hour a day.  Inevitably, hygiene was extremely poor.   Unfortunately, the ships that carried the Strokestown emigrants were particularly ill-equipped to transport people already debilitated and malnourished, and they lived up to the name, 'coffin ships'.
Tragically, 700 of the Strokestown emigrants died either at sea or upon landing at the quarantine station in Grosse Isle. Having endured so much, they died far from Ireland, the impact of the Famine extending thousands of miles across the Atlantic.
5
The National Famine Walk captured a small part of this tragic journey. Of course, the original emigrants did not have access to the beds, food, sunglasses, sunburn lotion, a change of clothes, blister pads and medical attention, that the 2017 walkers had. Recovering that level of hardship, hunger and heartache would be impossible.  Rather, what the walk hoped to do was to raise awareness of their story and to honor their memory.  A further aim was to draw comparisons with modern-day refugees, and the hardships, fears and prejudice that they experience.
For thirty years, I have spent most of my working life either in a Library, in a lecture hall, or sitting in front of a computer, thinking, lecturing and writing about the Great Famine. During these decades, I have taken part in many events to commemorate the Famine and, in the 1990s, twice participated in the AFRI one-day walk in the Doolough Valley in County Mayo.  However, taking part in the six-day National Famine Walk was a unique and humbling experience.  For me, the walk was tough and at times physically painful. But more importantly than that, it was a deeply emotional experience that brought me closer not only to the original Strokestown 1,490, but to my own ancestors, who were twentieth century emigrants from Tipperary and Mayo, who got no further than Liverpool. 
The next National Famine Walk from Strokestown to Dublin will take place in May 2019.  I hope to be there.
 Montreal Irish march and demand investment in crumbling Great Hunger memorial
* Professor Christine Kinealy is founding Director of Ireland's Great Hunger Institute at Quinnipiac University.  She is author of many publications on the Famine including the graphic novel (with John Walsh), 'The Bad Times' (Xanedu, 2015) or An Droch Shaol (Coisceim, 2016).
From 14 to 17 May, the Institute will be hosting an international conference on 'Children and the Great Hunger' at Quinnipiac University. For more details, visit www.qu.edu.