Aided by the public support of the Irish American community, the archaeological dig at the Duffy's Cut mass grave is set to resume this summer.
The site, at Malvern, Philadelphia, is the mass grave of up to 57 Irish rail workers believed to have arrived in America in 1832, from the port of Derry. It is thought that these 57 Irish immigrants contracted cholera and were murdered. In 2002 two brothers, Prof. Watson and his brother, Rev. Frank Watson, discovered documents belonging to their grandfather, who was a railway man, which led them to the grave.
They have been working on the project ever since. Frank told IrishCentral that works on the site began once more on Friday (June 9). He said "With permissions from Amtrak, our original geophysicist, Ron Labarca from US Radar, will be doing further geophysical work in anticipation of more core samples, conducted by our engineer Joe Devoy.  My brother Bill and I, with our colleague Earl Schandelmeier, anticipate being able to resume the full-scale archaeological dig for the remaining 50 Irish laborers… later this summer."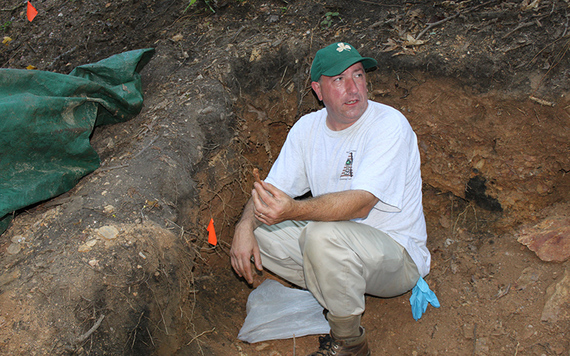 3
In July 2015, the brothers and their volunteer staff returned to Clonoe, County Tyrone to bury the remains of Catherine Burns in her native soil. Another five bodies were reintered at the West Laurel Hill Cemetery in Bala Cynwyd, PA.
Now it is the Watson brother's intention that the rest of those Irish immigrants, who met a violent end at Duffy's Cut will be recovered and have a respectful burial.
Frank said "Our goal is to recover and properly reinter the remaining 50 Irish laborers buried at Duffy's Cut. My brother and I have found that there is now a great deal of popular support for this goal among the Irish-American community, not only in Philadelphia but throughout the country."
He added "Our goal is to rebury any further remains that we recover at Duffy's Cut at West Laurel Hill Cemetery (where we interred five sets of remains of the other laborers in 2012)."
Read more: Pipe found at tragic Duffy's Cut burial site will be returned home to Derry
While the Watson's efforts have been encouraged greatly by the Irish American community at large Frank continued "The Irish-American railroading community (in particular IBEW members Pearse Kerr, Dennis Henry, and Hugh Campbell) has stepped up to the plate in a very significant manner -- they are responsible for a new sign that will be placed on the site of Duffy's Cut that includes a brief summary of the events that took place there.
"They are providing support in the form of a physical presence at the site during our testing; they also literally cleared the site in preparation for the geophysical testing that will begin this week.  These men will be with us as we continue with the testing and the resumption of core sampling, and as we move onto the dig itself."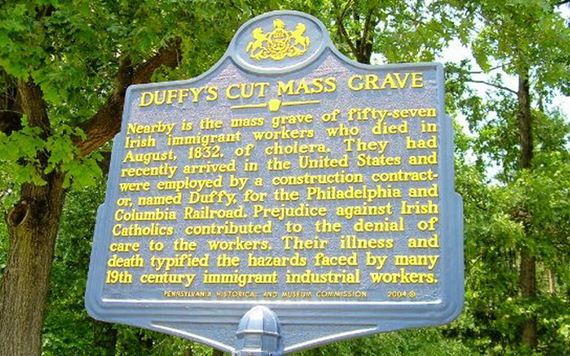 3
With the help of the railroad and the Irish community it seems that the Watson's journey, over 15 years and those of the victims of Duffy's Cut could all be in their final stages.
"Our plan is to get back to taking core samples within weeks of the new geophysical survey, and ideally, we hope to restart the dig at the site later this summer.  We do have a Go Fund Me page to accept donations to offset the costs of the dig," Frank added.
In 1832 these Irish immigrants sailed from Derry on the John Stamp to start their new lives in the US. These immigrants, from counties Donegal, Tyrone and Derry, were hired to work on Duffy's Cut, a stretch of railway in Pennsylvania. Six weeks after starting with the railway works all the workers were dead.
It is believed that many of the workers died from cholera, while others were murdered by local people who believed that the immigrants were responsible for spreading the disease. The families of the workers were never informed of their deaths. Their remains, according to forensic anthropologist Dr Janet Monge's study, show they met a violent death, including one man who was shot in the head.
"Anti-Irish and anti-Catholic sentiment combined with fear of a world-wide cholera pandemic that hit Chester County, Pennsylvania in the summer of 1832 led to vigilante violence at Duffy's Cut," explained Dr. Watson.
The Watson brothers and their team rely entirely on donations to complete their honorable work to give these Irish immigrants murdered and buried in a pit, thousands of miles from home, a dignified burial.
For more information visit duffyscut.immaculata.edu or donate here.