The moving tales and words of World War Two soldiers, from Ireland, who fought on the beaches of France on June 5, 1944, 75 years ago today
On June 6, 1944, 160,000 Allied troops landed along a 50-mile stretch of heavily-fortified French coastline to fight Nazi Germany on the beaches of Normandy, France. In 2014 Irishmen, veterans of World War II remembered their fallen comrades and that historic chaotic day.
D-Day was the biggest seaborne invasion and military campaign the world has seen. More than 5,000 ships and 13,000 aircraft supported the D-Day invasion. By the day's end on June 6, the Allies gained a foothold in Normandy. The D-Day cost was high – more than 9,000 Allied soldiers were killed or wounded – but more than 100,000 soldiers began the march across Europe to defeat Hitler.
Read more: How weather forecast from Mayo lighthouse saved D-Day invasion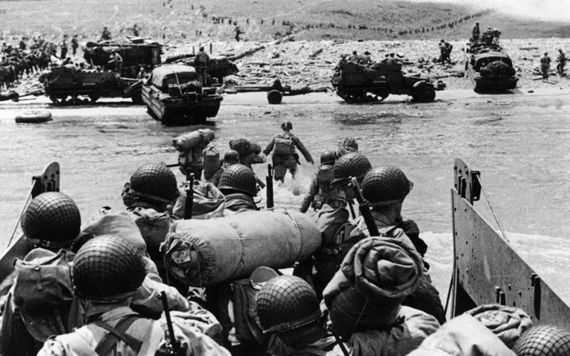 4
Pat Gillen, from Galway, fought with 6 Commando
Pat Gillen, an 89-year-old veteran from Galway, was unable to attend the memorial ceremonies in France in 2014, but sent a moving note, along with a laurel wreath decorated with poppies and Irish tricolors. Sadly the World War II hero passed away in Dec 2014.
His note read:
"In memory of all commandos from the emerald island who lie in sleep in Normandy fields. Pat Gillen. Friends and Families 6 Commando."
He was among the first wave of soldiers to land at Sword Beach.
Gillen told the Belfast Telegraph, "The whole thing was to move fast. Not to be an object for the snipers."
A grandfather of 12, Gillen ran away from his home in Galway at the age of 18 and enlisted in Enniskillen, on Easter Monday, 1943.
He became a rifleman in the 6 Commando, a unit tasked with securing the strategically important Pegasus Bridge, near Caen.
"We came up to the bridge and you could hear the bullets pinging off the ironworks, steelworks, and we had a few casualties there. They were all over us. The Germans had been there for four years, so they had good sniping positions," he said.
Sub-Lieutenant Michael d'Alton, from Dublin
Another Irish witness to D-Day was Sub-Lieutenant Michael d'Alton, who sadly passed on in 2016.
Born and raised in Dalkey, south County Dublin, he joined the Royal Navy in 1942. Aged 93, in 2014, he spoke to the Irish Times about his experience.
D'Alton's family had a history of service in the British armed forces. He father was shot at Gallipoli in WWI, his brother was also in the Navy and his sister was in the Women's Auxiliary Air Force (WAF).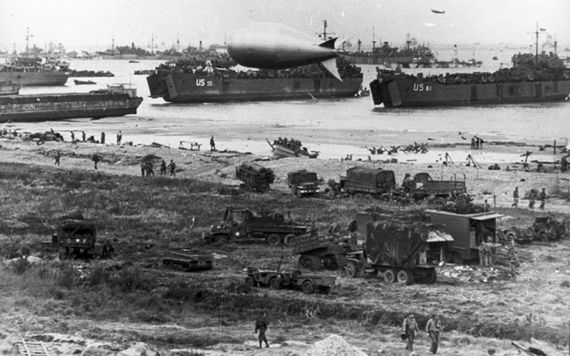 4
He explained that as a young man he had joined the Navy, just after he had graduated with a qualification as a quantity surveyor.
"I thought it was absolutely intolerable that Hitler was going to conquer Europe. I wanted to try and stop that awful German monster," he said.
He served as second-in-command of a landing craft tank (LCT), the workhorse of the Royal Navy. It traveled to Omaha Beach on D-Day with a cargo of six Sherman tanks. He found himself at the center of the greatest invasion in history when halfway across the English Channel his ship was called back, postponing D-Day for 24 hours.
They set sail again the next day.
He described the fleet of ships and aircraft as "absolutely unbelievable."
The scene was much like that depicted in the opening scene of "Saving Private Ryan," which d'Alton told his son was quite accurate.
When it came time for d'Alton and his crew to land they were left waiting for hours offshore. When they eventually got ashore, having almost anchored atop a mine, d'Alton said Omaha Beach was chaos. Tanks, jeeps, and lorries all fought for space, all while under heavy fire.
D'Alton said, "My first thoughts were what a bloody shambles. Once the first shot is fired, the best of plans is gone to bits. And that's what it is. The ones who win the war make the least mistakes."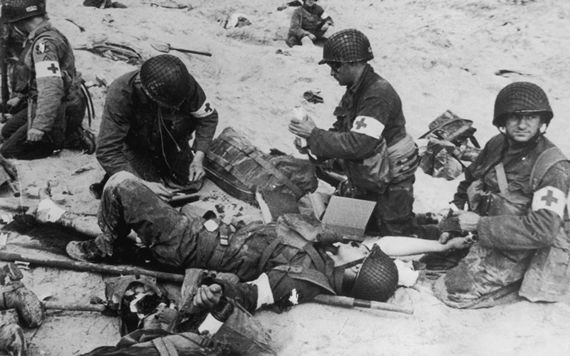 4
He spent the following weeks traveling back and forth to Normandy with various vehicles. After the invasion, he returned to the United Kingdom and eventually returned to Ireland and worked as a quantity surveyor.
Gillen was to serve in Ceylon (Sri Lanka) after Normandy. However, after his time in northern France, he was sent to Antwerp. He joined the forces crossing the Weser and Aller and advancing on Berlin.
Following the war, he retired from the army after having been promoted to sergeant.
He marked Remembrance Day every year at Cork's cenotaph and traveled to Normandy four times. 
In 2014, he added, "I feel a certain sense of sadness about it because most of my friends will not be there and I don't know of anyone else from 6 Commando in Ireland going."
His wreath and note will be laid by ex-soldiers at the Saulnier farm, where he was holed up for 42 days.
* Originally published in 2014.