Ancestry DNA discovers that adopted Hall of Fame Baltimore Orioles pitcher is 94% Irish.
Over a 19-year major league baseball career, Hall of Fame pitcher Jim Palmer won 268 games for the Baltimore Orioles. He was known for his composure on the mound, be it a spring training game or the seventh game of the World Series. His poker face displayed no emotion. Apparently, drama is not in his DNA.
But since he was adopted, he didn't know what else was in his DNA - and he apparently didn't care. He never had a driving curiosity about his biological parents, perhaps because he was showered with love by his adoptive parents. His wife Susan is just the opposite of Palmer. She had a driving desire to find out exactly where her husband came from.
According to the Baltimore Sun, Susan got on Palmer's case and was relentless. "After the baseball season," Palmer said, "we were going to stay in California for a month and then Susan had to take care of an estate for her father in Beaumont, Texas. We had the whole month where she goes, 'You know what? Do you care if I look for your genealogy and your family?'" At that point they sent away for the Ancestry.com DNA test.
Read more: I took a DNA test and was shocked at what I discovered
Palmer had confronted his adopted past years before on Sally Jessy Raphael's daytime TV talk show. "You know," said Palmer, "the whole theme of the show was, 'it's not about your biological parents, it's about your real parents.' Whether it's biological or your foster parent or adoptive parent or whatever … and I never really knew I was adopted until my grandmother, my mom's mom who lived with us in Rye [N.Y.] … I just remember on Saturday morning, she just said, 'You know, you're adopted.' " Palmer went on to say that his adoption "was never an issue. I don't think my parents tried to hide it, but it didn't matter."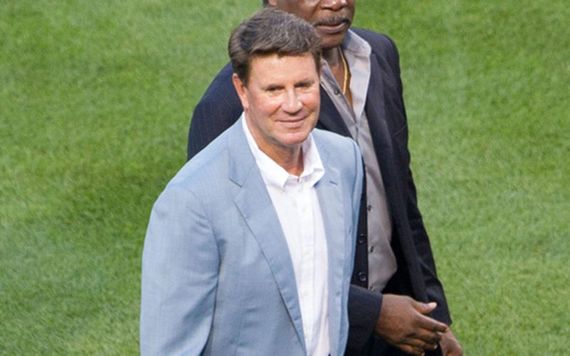 2
Susan was so persistent that Palmer joked "We would know by now if there was any Russian collusion if Susan worked for Robert Mueller. She was on a mission to find out who my real parents were."
"So, Susan asked me and I said, 'Why don't you do that,' and [the DNA results] came back and I was 94 percent Irish, and then she started reaching out."
With Susan playing Sherlock Holmes, Palmer found relatives in Ireland and cousins closer to home. His first cousin Pat Moroney lives in the New York City area. By coincidence, Moroney is a big baseball fan and has seen Palmer pitch at Yankee Stadium. He also found another cousin, Helen Slattery, who knew the history of his birth parents. As a result, Palmer for the first time saw a photograph of his birth mother just this past Saturday.
How is Palmer reacting to all the excitement? "Susan says I don't get excited about anything," Palmer said. "I played for Cal [Ripken] Sr. It's not that you're not emotional. It's not that you're not engaged. I was taught at 18 never to wear your emotions on your sleeve."
Even without any histrionics, Palmer enjoyed meeting his new cousins. "I imagine that," said Palmer, "as this progresses, I'll meet more and more relatives and learn more about where I came from."
At the worst, Palmer will retain his 94% Irish solution.
In case you weren't aware, here's Palmer's biography from the National Baseball Hall of Fame and Museum:
* Dermot McEvoy is the author of the The 13th Apostle: A Novel of Michael Collins and the Irish Uprising and Our Lady of Greenwich Village, both now available in paperback, Kindle and Audio from Skyhorse Publishing. He may be reached at dermotmcevoy50@gmail.com. Follow him at www.dermotmcevoy.com. Follow The 13th Apostle on Facebook at www.facebook.com/13thApostleMcEvoy.
Read more: Watch as the IrishCentral staff find out how Irish we are with DNA test results!