The story of a 107-year-old Boston lady who has become something of a celebrity on both sides of the Atlantic has now been immortalized thanks to an online project which tracks the lives of Galway people all across the globe.
Bridie Daly (nee Duggan) has become the new star of the Galway Tribal Diaspora Project after agreeing to share her life story of fun, heartbreak, and joy in an online exhibition which tells the stories of West of Ireland people who have built new lives overseas.
Such is her popularity in her home village of Woodford, Co Galway, that her name popped up immediately when second level students were asked to nominate prominent emigrants from the area for the online exhibition.
Bridie flies home to Ireland every second year from her home in Arlington, Massachusetts, and her visits have become a cause for celebration in the little village she left for a new life in 1929.
The Galway Tribal Diaspora Project aims to tell the story of Galwegians who have made new lives far from home and Bridie is now the oldest, as well as one of the most colorful, participants in the exhibition.
Read more: New Galway project tells Diaspora Tribe's stories from around the world
Bridie is well known for her great, hearty laugh, and was well up for submitting her story to the Tribal Diaspora Project when her daughter Mary Ann in Boston and niece Cepta in Galway broached the subject with her.
"I believe myself to be a happy and contented person. I am still very active and independent – I regularly attend Mass, I go to Irish events and I get my hair done every week. I also enjoy a small drop of whiskey now and again!" she says with a hearty laugh.
"People often ask me what the key to my longevity is and I tell them to live and enjoy every day. I pray every day for good health – so God must be listening! My advice is to never despair and to live in hope."
Bridie was born in February 1911 in Derrynamucka, near Woodford. The second of 13 children, her given name was Bridget, but everyone called her Bridie. She used to work in the fields and tend to the ducks on the family farm.
Read more: Galway Tribal Diaspora Project - Trish Finn, Dubai, U.A.E
She attended the Wasteland School, near Loughrea, which had been set up during the Great Famine. In 1929, at just 18 years of age and like so many Galway people before her, she took the boat from Cobh to begin a new life across the Atlantic.
It helped that she had an aunt, Teresa Duggan, who was already living in Boston and Bridie made it her mission throughout her life to help new immigrants from Ireland when they arrived in the United States.
"My brother Tom brought me to Cobh to catch the boat across the Atlantic," she says. "I was leaving for work first and foremost, but also for adventure. My parents had arranged that I would live with my aunt and my cousins in Somerville, Massachusetts. When I first arrived, my cousins also helped me to secure work as a waitress and as a nanny."
Bridie made her first trip home by boat in 1936, where she met her brother Kevin for the first time. Later, Kevin also emigrated to the United States.
She has always enjoyed being part of the huge Irish community in Boston and she met her future husband, William John Daly from Cork, at a weekly Irish dance. They married in 1941 and had six children, four boys, and two girls.
Sadly, Bill passed away in 1960, leaving her with six children aged between four and 16 during a tough time in her life.  Three of her sons, Bill, David (who served in Vietnam) and Gerry also passed away before her, but her sense of humor and the strong Irish community in Boston have helped her through the tough times.
Read more: Galway Tribal Diaspora Project - Sinead Clancy, Hollywood
"Myself and Bill did our best to help out anyone who was coming over from Ireland, just as had been done for us," she says.
Bridie did not return home to Ireland between 1936 and 1960, but since then she has been back every second year and receives a wonderful reception every time she returns to her roots in Co Galway.
"The journey by plane is so much nicer and quicker now compared with the boat I had previously taken. My trips home became a great excuse for all of our extended family to get together in Ireland and we have had some wonderful gatherings back in Woodford," she says.
Her cousin, Michael Rafferty, is an All-Ireland champion "lilter" (singer) and always arranges a good session in her honor when she returns home.
"Our family in Ireland, in both Galway and Cork, have been wonderful to us over all these years . . . always kind, welcoming and generous to 'The Yanks' as they affectionately call us," she says.
On her trips home she always visits St Joseph's Church, where she was baptized in 1911, and she makes sure to stock up on Lyon's Tea before the return journey to Boston.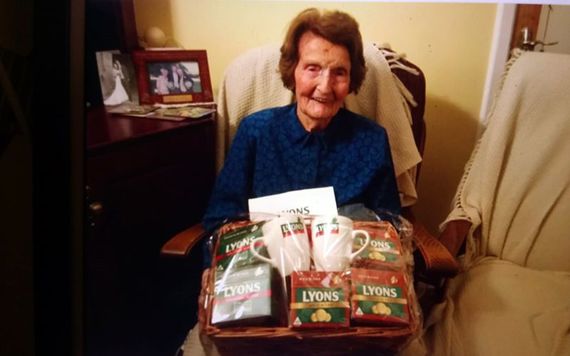 3
All three of her surviving children live in the US. Michael, married with one son, lives in Boston. Kathleen, who has two children, also lives in Boston while Mary Ann lives in New Hampshire. She has three children.
Bridie received letters from two Presidents, Barack Obama and Mary McAleese, upon turning 100 in 2011, but she had a bit of a "run-in" with Aer Lingus that same year!
"When I turned 100 years old, Aer Lingus refused to carry me as a passenger as their booking system didn't allow for passengers aged over 99 years," she says with a laugh. 
"Not be deterred, I opted for a long-haul flight with many stop-overs with a rival airline. Eventually, Aer Lingus saw sense, though, and I now fly again with the national carrier!"
Read more: Galway Tribal Diaspora Project - Patrick J. Conneely, Massachusetts
Management at Shannon Airport gave her a wonderful send off in the Presidential Suite on the occasion of her 106th birthday last year. She was also treated to a tour of the Jameson Distillery in Cork and received a gift of a rare bottle of Irish whiskey.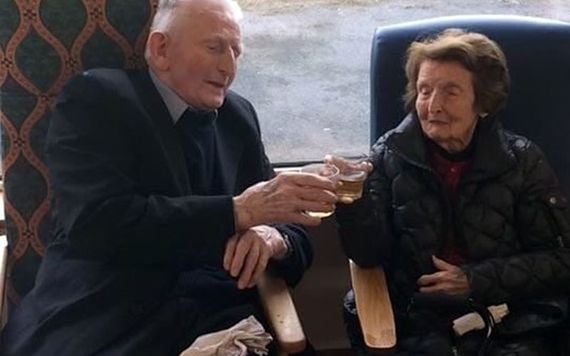 3
"I was certainly treated like a queen on that visit but couldn't believe the fuss that was being made over me. President Michael D. Higgins also sent a letter and a commemorative medallion to add to my expanding collection of honors!"
Bridie told Michael Quinn of the Galway Tribal Diaspora Project that she has no immediate plans to return to Ireland but, if her health holds up, few in Woodford would be surprised to see her make the trip home again for her 108th birthday in February 2019.
"The older she is getting, the more treasured she is, and she is in great health. She still gets her hair done once a week. She's a bit of a celebrity when she comes home to Woodford. Her daughter and her niece were a great help in compiling her profile," Michael Quinn told IrishCentral.com this week.
He is delighted that Bridie agreed to participate in the Galway Tribal Diaspora Project and is seeking out other Galway people living far from home to submit their life stories and join the online exhibition.
"All stories of emigration are interesting. We didn't want to focus on people who are particularly old or successful but to explore the wide range of experiences which people have had across the globe. Of course, some stories are going to jump out at you more than others. They are all fantastic stories, but Bridie, in particular, has an amazing story to tell!"
Read more: Galway Tribal Diaspora Project - Danny Darcy, Tenerife, Spain
If you have a friend or family member who would be interested in taking part in the Galway Tribal Diaspora Project, you can email Michael at diaspora@galwaycivictrust.ie or fill in the online application form at www.galwaytribe.com.
* Ciaran Tierney won the Irish Current Affairs and Politics Blog of the Year award at the Tramline, Dublin, last month. Find him on Facebook  or Twitter here. Visit his website here - CiaranTierney.com.
This article was submitted to the IrishCentral contributors network by a member of the global Irish community. To become an IrishCentral contributor click here.