I can't remember all the details of my first trip to Ireland in 1980 as a teenager, but Killarney and Dublin certainly stand out in my mind.
In 1980, July or August, I was about to be a sophomore at Litchfield High School, Litchfield, Minnesota. I was on the varsity swimming team, played the French Horn and Cornet, a First Class Girl Scout, and become an international traveler. I told my swimming coach I was going on vacation, as I was missing swimming practice, but didn't say I was traveling to Ireland. Looking back, I'm not sure why!
Far away from my Minnesota home, I posed for a photograph in Killarney, County Kerry, Ireland, standing near Aghadoe Heights Hotel with a view of Innisfallen Island in Lough Leane, part of the Lakes of Killarney.
My brother Paul M. Walsh, a college student at St. Cloud State University, snapped the photograph while I was wearing a sporty Irish cap, very similar to one I own today, maybe called a Kerry Cap. It's likely the cap came from a nearby shop in Killarney, a style that can be found at Mucross Weavers today, if not identical. I recall my brother and I both got Aran sweaters at Blarney Woollen Mills during our trip to Ireland after kissing the Blarney stone.
It could be I received the gift of the gab, or eloquence, after kissing the Blarney Stone at Barney Castle, but that's really not for me to determine. Merriam-Webster describes blarney as skillful flattery and nonsense. The phrase 'to be full of blarney' would be an extreme case of the gift of the gab, or a great deal of hooey, and perhaps more than one visit to Barney Castle and kissing of the Blarney Stone.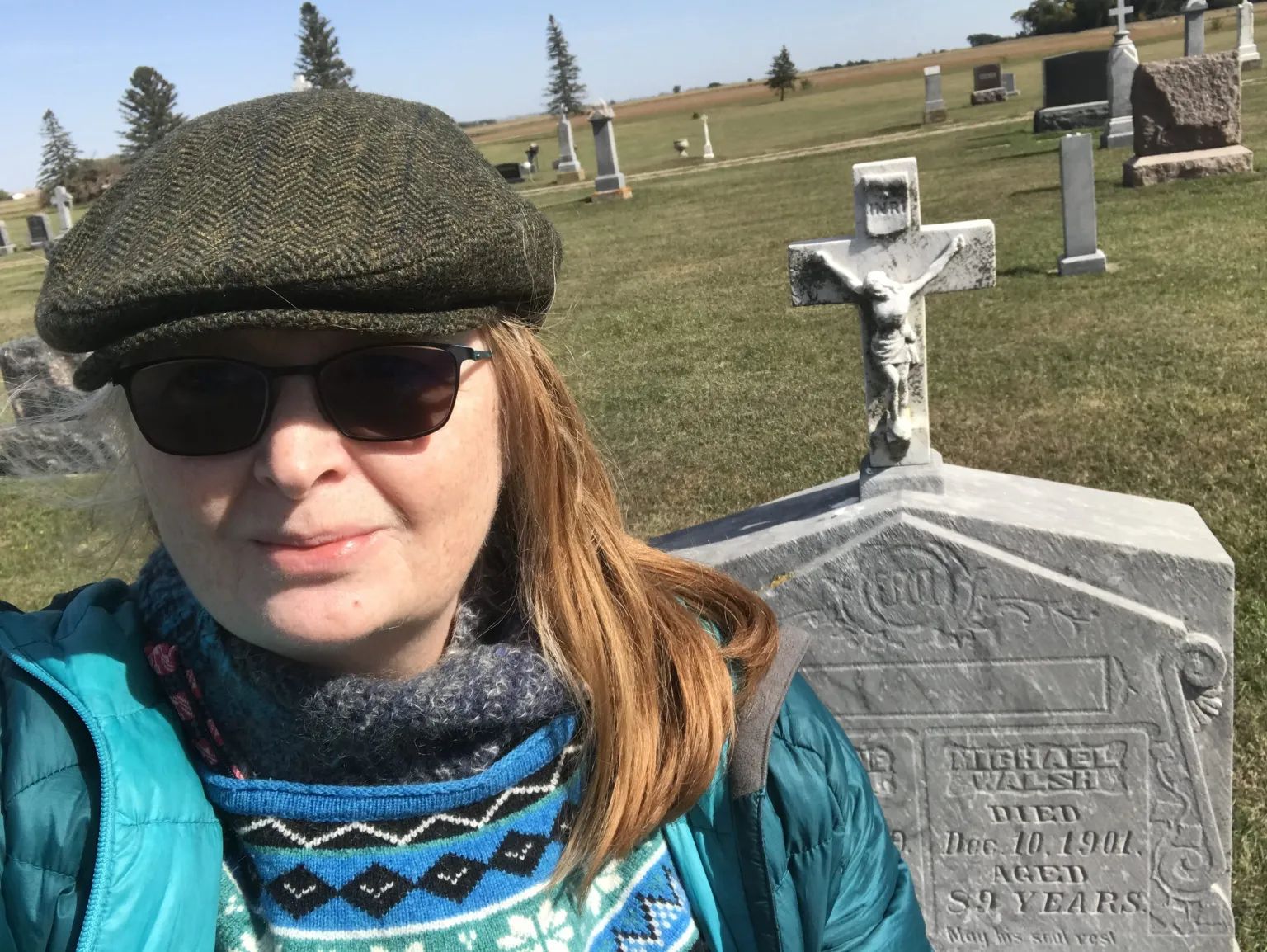 4
There were five people in our 1980 Irish travel party including my aunts Agnes and Margaret, uncle Stanley, brother Paul, and myself. We arrived and departed Ireland out of Shannon Airport, and traveled in a tour bus visiting Waterford, Wexford, Killarney, the Ring of Kerry, and Dublin, or that's what I can remember today. I kept menus from restuarants from the trip, but I can't seem to find them now.
In Dublin, we visited Trinity College, the Book of the Kells, walked down Grafton Street, toured by Phoenix Park, and more. I've tried to remember the hotel I stayed in Dublin, but yet to remember, but it did have a swimming pool, along with a stage where I watched for the first time Irish dancers and a harpist play.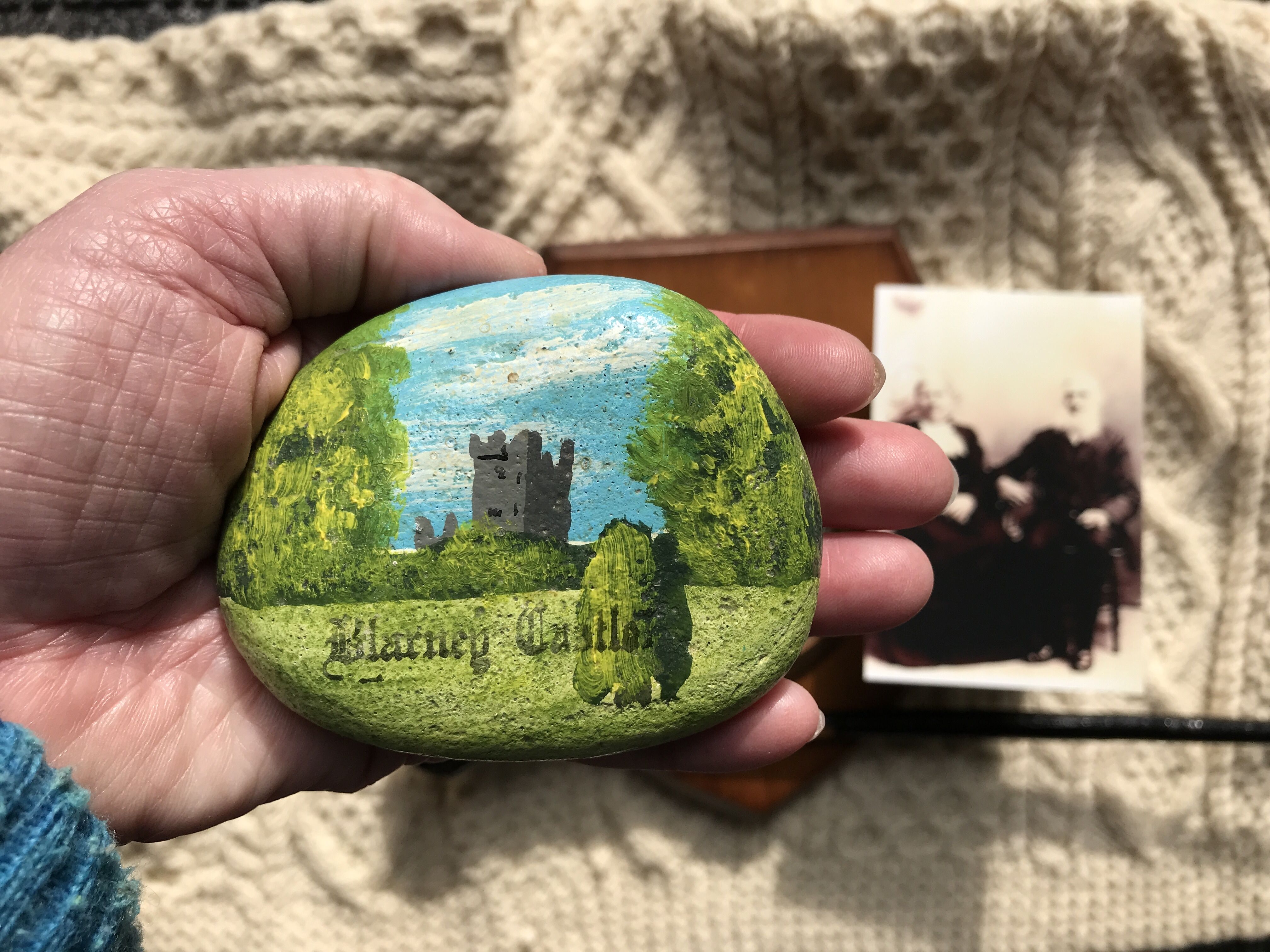 4
Photos from my first trip to Ireland with family have recently been recovered. I've received a photograph from the trip, but at first, was not able to determine the exact location around the Lakes of Killarney. First, I thought the location was at the Europe Hotel, Killarney, where my family stayed.
I reached out to numerous local Irish folks in Killarney, including McCarthy's Killarney Carriage Rides, for help to determine that exact location. (In 2014, I made a video with Martin McCarthy around Killarney National Park, Irish Jaunting Tour.) Certainly, a jaunting driver could help me locate a scenic location in Killarney from 1980! I'd love to return to the exact location and take another portrait.
The photograph taken by the Lakes of Killarney seems a lifetime ago. I've since visited Ireland a total of five times and found my family's origins in rural County Kerry, associated with two townlands. Where I was standing in 1980 near the Aghadoe Heights Hotel, today I can say I was approximately three miles from where my family lived in Townland Dromkerry sometime in the early to mid-1800s, complete with a view of the Gap of Dunloe.
All of this not far from the Kerry Woollen Mills, and Kate Kearney's Cottage, the start of the Gap of Dunloe horse and cart rides. Digital online records have allowed me to recover my family's history, and place of origin, something unthinkable during my first visit to Ireland as a teenager with my first US passport in hand.
(About Video – This is a guided tour by jaunting car, a traditional horse-drawn carriage, by Martin McCarthy of Killarney, Ireland. McCarthy is called a jarvey, a jaunting car driver. He gives visitors guided tours in the Killarney National Park, area lakes, Muckross House, and more, sharing history and folklore in the traditional Irish taxi. The jaunting car is pulled by Jessie, a gelding Gypsy Vanner Horse. McCarthy also operates a bed and breakfast at his home called Shepherds Lodge. The commute to work is easy as he keeps his horses at his home and drives his jaunting car to Killarney's jaunting car center where tourists can take a ride or can also be picked up at their hotels. Family photographs are included of my Irish family, originating from Killarney. Video shot Jan. 29 to Feb. 8, 2014 Killarney, Ireland Dublin, Ireland. Learn more about McCarthy's Killarney Carriage Rides at Facebook.)
My late father Martin J. Walsh Jr. visited Killarney in 1953, the first known member of our family to return to Ireland, but didn't have the chance to see where our family lived in the 1800s. You can read about my father's visit to Ireland, and view his vintage Irish travel photos, here on IrishCentral.
*Jannet L. Walsh of Murdock, Minnesota is a photographer, writer, and educator. She is the author of the forthcoming creative nonfiction quest narrative "Higgledy-Piggledy Stones: Family Stories from Ireland and Minnesota," scheduled for publication in 2023 by Shanti Arts Publishing. Walsh is recipient of a Southwest Minnesota Arts Council Growth Grant funded by the McKnight Foundation, 2022-2024. You can follow Walsh on Facebook and Twitter, and on her other social media channels, with the hashtag #IrishFamilyHistoryDetective.
This article was submitted to the IrishCentral contributors network by a member of the global Irish community. To become an IrishCentral contributor click here.