One year into Donald Trump's presidency a journalist on the inside describes chaos and unrest. Will he last another year?
The chaos in the White House since Donald Trump entered is far more widespread than was believed. In fact, there is bedlam.
According to journalist Michael Wolff, whose book "Fire and Fury" has just been released, the situation is getting downright dangerous - the lunatics are in charge of the asylum.
Wolff was somehow granted unparalleled access during the first year by Trump. Or so he says.
Media columnist Michael Wolff's book about the Trump presidency hits No. 1 on Amazon https://t.co/KupZ5t3BUW pic.twitter.com/LOiuJvprDT


— CNN (@CNN) January 3, 2018

Wolff has the reputation of rendering rumors facts and taking liberties with the truth which is pretty much what his subject, in this case, does too. However, when he quotes a 500-word exchange between two key staffers, which he admits he did not witness, it is a sign to proceed with caution.
Read more: Trump's Irish golf course lost millions in 2016
There is one exception, his conversations with former Donald Trump advisor Steve Bannon definitely took place according to both camps.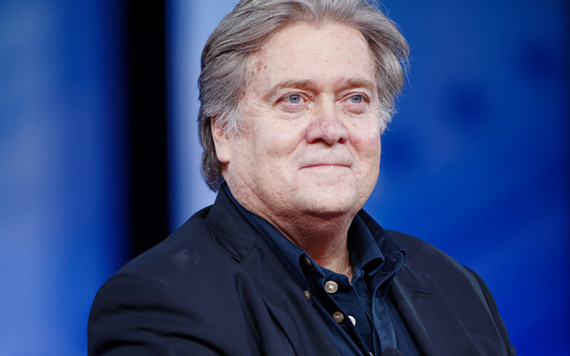 3
Wolff's finding: Trump has no idea about how to do the job, is barely able to spell (obvious from his Twitter feed) and throws tantrums and demands constant praise "like a child" as one staffer said.
Irish American Bannon comes across as the most dangerous man in the White House in Wolff's narrative. He is determined to open a trade war on China, rid America of immigrants, and become the undisputed king of media after Fox guru Roger Ailes' death. In addition, he accused Don Trump Junior of treason for dealing with the Russians
Bannon's office was one of the closest to Trump's and he got rid of all chairs, bar his own, so people would not interrupt him or literally be seated too close to power.
At dinner with friends he made it clear he thought he was the de facto president but deflected all questions about his actual role.
Bannon firmly believes the Trump family are up to their oxters in dealings with Russia and that Donald Junior's meeting a Russian delegation on the president's home ground of Trump Tower was a colossal mistake, treason in fact.
An attorney for President Trump said he has sent a cease and desist letter to Steve Bannon over the critical comments made in the book by Michael Wolff https://t.co/Ll3ff0vWYu pic.twitter.com/GUYhOdhj8y


— CNN International (@cnni) January 4, 2018

For his part Trump is fighting back. He said "Steve Bannon has nothing to do with me or my Presidency. When he was fired, he not only lost his job, he lost his mind."
That must be the strongest public sentiment issued by a president against a one-time key member of his team.
According to Wolff, Trump allows no one near. He curls up in bed in his private bedroom ( he is the first president to sleep alone since Truman) and watches cable endlessly while devouring hamburgers.
The image is striking.
3
This is clearly a man utterly out of his depth, a man considered even by his own staff to be dimwitted. He did not recognize the former Speaker John Boehner's name, he gave up on getting to know the constitution by the 4th Amendment, and he regularly mispronounces words.
The day to day organization is chaotic Wolff reveals.
Kate Walsh a well-regarded Republican staffer quit after she found every order she got was countermanded by one of three men - Jared Kushner, Reince Priebus or Steve Bannon.
Then there was Ivanka, Trump's daughter, who came to the White House with a long-term goal of being the first female president. She now has a much chance as Pocahontas of achieving that, it seems.
Ivanka seeks the presidency – and other big claims from explosive new book by Michael Wolff https://t.co/nbqFcj04Y5 pic.twitter.com/aSMyHSjPMx


— Charlie (@econgularity) January 4, 2018

Ivanka even spills about how her father colors his hair, covers his bald patch by swiveling the hair around it, and keeps it in place with hairspray.
Staffers have called President Trump a "moron" and "a fool" while Rupert Murdoch his idol, slammed down a phone after talking to him calling him a "f***ing idiot".
There is so much more. Trump is experiencing a death of a thousand cuts. The biggest blow, Robert Mueller's evidence into foreign electoral intervention by Russia in the 2016 U.S. presidential election, is yet to come.
President Donald J. Trump may not last the year.
Read more: Seven reasons why Donald Trump and JFK are more alike than you think