Planning an LGBT vacation or wedding in Ireland in 2019? Start here and easily find the best Irish LGBT trip!
Just how gay is Ireland? Well in 2015 it was the first country on earth to vote in favor of marriage equality in a historic referendum, so if your first mental images are of The Quiet Man and Aran sweaters they really need an upgrade.
Swap out John Wayne for the show Riot, for example. Now an international theatrical phenomenon that has played from New York to Sydney, it's one part Riverdance and two parts revolution with a decidedly queer sensibility at play.
Admiring the Irish stage tradition and simultaneously skewering it, its subversive sensibility is busy reinventing what it means to be Irish in time for the 100 year anniversary of our revolution, which is where this extraordinary show first got its start. If you're in Dublin in May you can catch it live at Dublin's Dance Festival from May 1-4.
Things have gotten seriously gay-friendly on the Emerald Isle in recent years after the small and famously friendly nation voted to give Irish LGBT people the same rights as everyone else. Progress, see?
So are big gay trips to the old sod a thing now? You bet they are, from multiple LGBT vacation options to romantic wedding destinations, you're going to be spoiled for choice like never before.
But let's start with love. Want to meet a hunky Irish farmer and get swept away by romance by the light of the Wild Atlantic ocean?
Well, you're in luck because Ireland now hosts The Outing Festival, the worlds only LGBT music, and matchmaking festival held at The Inn at Dromoland, a fun little spot only a stone's throw from Shannon Airport, on the majestic 450-acre grounds of the famous Dromoland Castle Estate.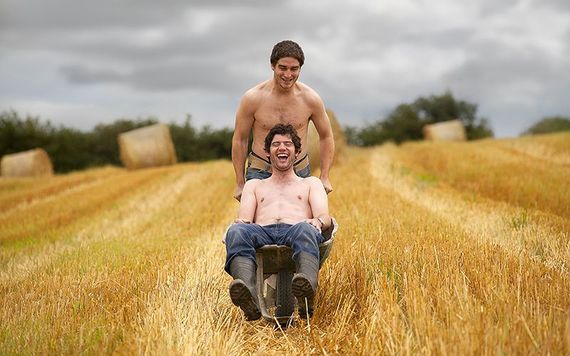 6
The emphasis will be firmly on fun, dancing, socializing and yes romantic matchmaking, but come with an open mind and you never know whose hand you'll end up holding (perhaps even in matrimony).
An LGBT weekend like no other, The Outing Festival is attracting more overseas visitors each year because the organizers are serious about helping you make that Irish gay dream come true.
But they are also just serious about you having fun, so expect to join in with the lively throngs dancing to traditional Irish music and expect to dance with just about everyone by the night's end.
Come on, who would pass up the chance to meet a nice Irish boy or girl or gender non-binary person in a big Irish ceilidh (dance)? People would cross oceans for that and in fact, they do in growing numbers.
Well in the scope of fun things to do with your time we can assure you this ranks very high up there. You might surprise yourself. You'll never know until you go.
Oh and before you decide this sounds like a modest affair, remember gay people own and operate this event so expect internationally famous guest stars, non-stop live acts, hilarious drag, renown singer-songwriters, and even arts and crafts fairs – and everyone is welcome. You'll have the time of your life.
6
For tickets and more to The Outing Festival, Click Here. 
The simple truth is that the LGBT community is welcome to visit Ireland year round and there are a ton of other seasonal cultural events and attractions to entice you.
One upcoming annual draw is the International Dublin Gay Theatre Festival.
6
Held from May 6 through 19, 2019, the festival was first created to mark the 150 anniversary of the birth of wit and dramatist Oscar Wilde, in his native city.
With its emphasis on works with a broadly gay theme or relevance, the IDGTF has grown to become the largest event of its type in the world.
Works by both Irish and international gay writers, works that have a gay relevance or theme and works that include either performance or an artistic contribution by gay people are all eligible, but that doesn't mean they're exclusionary - participation and attendance are open to all. So what are you waiting for? 
6
Theatre and performance art lovers up north can also check out the impressive OutBurst Arts Queer Arts Festival held every November in Belfast. Events have a standard recommended ticket price but you can actually pay what you can at the door to experience the best of local and international LGBT plays and performances.
Meanwhile, film lovers should make a point of flying over for GAZE, the annual Irish LGBT film festival held each August.
Established in 1992, the Dublin Lesbian and Gay Films Festival was renamed Gaze in 2007 and is now the largest festival of its kind in Ireland.  Click Here for the latest updates and schedules.
And if you are seriously thinking about getting hitched in a landscape that will surpass your wildest dreams can we suggest starting with a visit to the Irish LGBT Weddings website to research and plan your day to remember.
6
A groundbreaking glossy Irish LGBT wedding magazine and website, it will direct you to supportive (and frankly enthusiastic) venues, suppliers, planners, and locations, because Irish LGBT Weddings knows the market and is your one-stop shop for the perfect LGBT nuptials in the most perfect setting.
In the immortal words of Beyonce, if you decide to put a ring on him or her (or indeed them) there's also a same-sex ring shop in Dublin who will be glad to help you pick the perfect one.
Visit Same-Sex Rings in Dublin and tell them we sent you. Now go and find a big castle somewhere and fill your heart with Ireland.
Did you know that we have a sister travel company called Irish Studio Travel who can help you vacation in Ireland no matter your budget? With Irish Studio Travel, you can now book your entire vacation with us, which means we do all the hard work.
Are you hoping or planning to travel to Ireland this year? Join with other travelers, adventurers and lovers of Ireland in our dedicated travel group, where you can find top tips, great recommendations, and air out any of your concerns and questions.