Ireland was the first country in the world to vote in favor of marriage equality, but have you ever seen it advertised as a major LGBT destination?
Neither have we.
If there's more to Irish life in 2019 than The Quiet Man, Golf trips and the Cliffs of Moher then it would probably do us no harm to say so.
LGBT travel operators here in the USA and elsewhere are increasingly keen to work with gay-friendly Irish destinations and tour operators, but a firm introduction to all the key players in this lucrative market looks like it still needs to be made across much of the Irish tourism sector.
Clearly the market exists – because who wouldn't want to get hitched to their same-sex or opposite-sex partner in a deluxe Irish castle, say - but it's still just a matter of reaching the right markets with the right message.
Read more: Man beaten by gang in Dublin after kissing boyfriend
Luckily for us though, the key to promoting Ireland as a key LGBT destination depends on a skill we are already noted for: storytelling.
To get a clearer picture of some of the challenges and opportunities ahead for the Irish LGBT tourism market I spoke to the President of the New York-based LGBT online marketing company Pink Banana Media, Matt Skallerud.
The former president of Gaywired.com, which he built up to become one of the top three LGBT websites in the U.S, Skallerud helped pioneer online LGBT web communities in the 1990s and now he helps companies reach the LGBT market on the internet.
"We work with companies that are trying to hyper-target, companies that really want to drill down and say I want to reach LGBT travelers who live in this part of New York and have these interests. And that's now possible," he tells IrishCentral.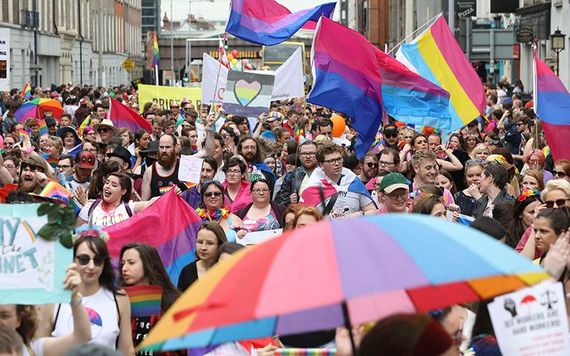 7
"We can do the same now with hyper-targeted banner ads to reach an LGBT consumer who's in the market for opening a checking account, say. We can reach them successfully and prove it to our clients. And then they can measure how much you cost per the acquisition of a new customer. We do very well in those spaces."
But reaching out to target audiences these days is a far more challenging and interesting process than it used to be, Skallerud says.
Advertising is no longer simply being led by a top-down big media company where they're the only ones deciding what people are going to consume, he says. "These days you're just kind of part of this overall fabric and mosaic of online content that comes out every single day."
"Social media has democratized the wider media landscape and so our role is just to help shepherd some of that content and to identify some of the best stuff, then share that through our own dedicated social networks, realizing that we're still part of something much bigger than what we're doing ourselves."
The internet moves faster than ever before and so do the opportunities to engage with its markets, he says.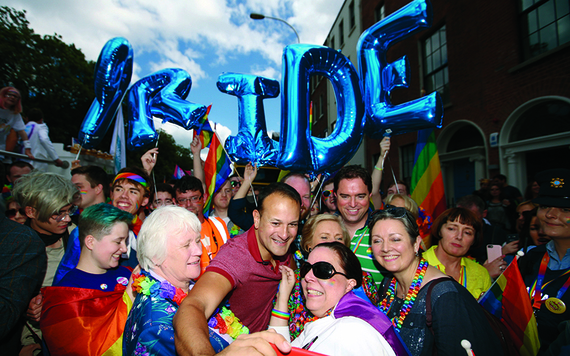 7
"Ireland's one of the top countries that is very, very active online on, especially on social media and especially on Twitter. And it includes every LGBT organization you can think of, whether it's GCN newspaper or all the activist-oriented groups, or the youth-oriented groups, they're all on there, and a lot of their leadership is also on Twitter too so all of a sudden you're able to see a lot of the consumers that their target market reaches are on there with them, they're all engaged with one another and you don't see that in every country."
All of that online exchange presents obvious marketing opportunities as well as significant outreach, and the sheer quality and quantity of the posts means they are seen far beyond their initial geotagged locations.
"For myself, being in New York, I see a lot of LGBT Irish content that I would never even never known about because events like Cork Pride were phenomenal and widely shared and hashtagged. Everybody who was posting was so colorful, from the government officials to activists to the participants, and they're all part of this big sandbox."
Ireland, of course, is the first country in the world to vote for marriage equality, taking a decades-long journey from being a deeply conservative and reactionary place to a poster child for the success of progressive politics in about a quarter-century.
7
That means Ireland is also a reminder to the world that they too can make similar journeys themselves, especially in these times when Ireland looks like a little beacon of tolerance in a world that is being overrun by authoritarian populists.
So shouldn't that success be a part of our new narrative? Are we actually making enough of our own successes? Are we promoting ourselves effectively as an LGBT friendly country?
"The world and Twitter is wide open and ready for Ireland to tell that story about itself because so many other companies, countries, cities, states, and tourism boards are pursuing the LGBT market and want to hear it," Skallerud says.
7
"One of the keys to successful LGBT outreach is to pursue it with a long term objective, which is harder to do because sometimes when the government changes the staffing and those things change too, so it can go from liberal and conservative or even in values."
So the challenge is to put things in place that allow an LGBT campaign to start with some forethought as to where it will go, where it will continue even after the individuals that started it have left.
"That's the key because there's always destinations that are scrambling to try to get on Google," he says. "You want to get into the top 10 results of everybody thinking about where to go to for a gay trip, right? And when I say gay, I mean LGBTQ plus. The idea is not just simply to make landfall, you have to have a plan and it has to be ongoing. And then you have to account for changes in the weather politically too."
Skallerud's perspective comes from decades of experience, he has been at the forefront of LGBT tourism since the 1990s, when he joined IGLTA (International Gay and Lesbian Travel Association) and became a Board President.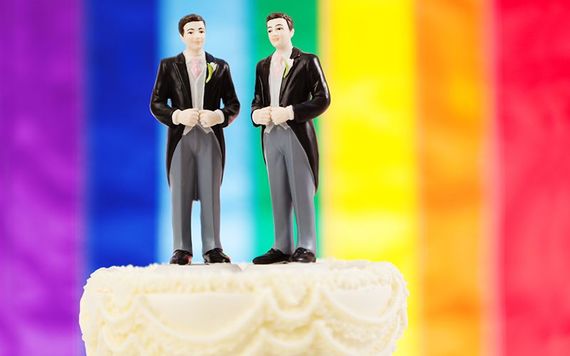 7
The travel part of LGBT life will always be there he says, "because we do have more time on our hands because maybe we have less kids, many of us are professionals and we have money and time."
But good storytelling is the key to it all, he continues.
"Let's use Cork. I love Cork because Pride looks so good there. If I was from the Cork tourism board I would look at the assets they have in place already, and how could they leverage them and really then amplify that message worldwide? And that's where (Pink Banana Media) comes in because we do know what's going on in a lot of these different regions all over the world and we can reach them."
Skallerud's team usually flies out to the destination they will work with to meet some of the people that we've known online and to figure out how they can all work together to take things from whatever simmering level it's at to a higher level.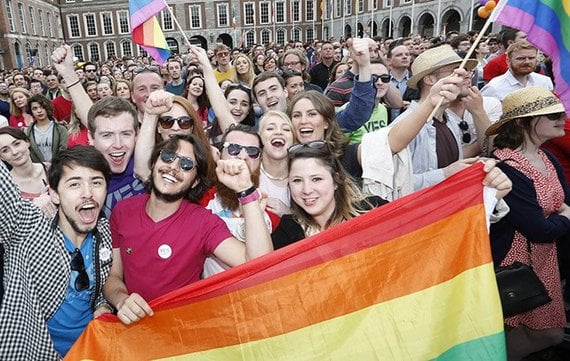 7
"Let's just say Ireland has a story to tell and now it's a matter of getting the story out there through videos, through pictures, and written words. Then it's a matter of leveraging the relationships that people that are already kind of in place, from Ireland to here," he says.
LGBT travel influencers are also a key part of this outreach because when they are posting about the place you can feel like you're already part of it, he says.
"Imagining yourself visiting is the next step to actually going, right? So stories matter and how you tell the story matters and how you reach it is what matters."
In Ireland, we have always had more stories to tell than the big cycles of emigration and return, boom and bust, and our sporting and cultural successes. Another story is how we have resisted oppression - and how we have celebrated it once it lifts. That's a story that resonates with many key tourism demographics
So it looks like our domestic tourist market is finally getting the big LGBT picture though, and soon an Irish LGBT tour may be as common a site as another tour bus of overseas visitors getting ready to kiss the Blarney stone. 
The key to it all will be the new stories we tell. It's time we started.
Read more: Dealing with adversity as a gay person in the west of Ireland explored in short doc