The Craic Fest is back this Pride Month with its yearly CraicFest LGBTQ+ Film Fest on Thursday, June 15, and the Craic LGBT Session on Thursday, June 29, both at the New York Irish Center.
Featuring films by celebrated directors and stars and readings by well-known community members, the Craic Fest's events this month are an opportunity to reconnect with the wider Irish LGBT community and their allies at a particularly contentious time, courtesy of political scapegoating.
"The longevity of our festival – and the LGBT Craic Fest - is a testament to the films and filmmakers," festival director Terence Mulligan tells the Irish Voice, sister publication to IrishCentral.
"We're excited to be able to show this work and do something at a time of the year under the Craic banner and we're particularly delighted to work with The New York Irish Center. It's going a fun couple of nights. Everybody's welcome, as always with the Craic Fest. That's what we do. And there will be drinks promotions on the night courtesy of Stella Artois."
Craic LGBT Film Festival 2023
First up for the CRAIC LGBT Film Festival on June 15 is the award-winning writer, director, and actor Mark O'Halloran, whose hard-hitting film "Rialto," starring gifted screen actor Tom Vaughan-Lawlor, is a dark tale of a married man who spirals into crisis after the death of his father.
There's a little more to it than that, of course. An ill-advised tryst with a rent boy becomes something more when Vaughan-Lawlor's character finds someone in his life who is finally willing to listen to him.
The tragedy is that he mistakes that attention for love. "Rialto" isn't the kind of film that sends an inspiring message about the power of stepping into yourself, on the contrary, it's about toxic masculinity and what can happen when you ignore your own heart and the hearts of others.
Best known for classic Irish films such as "Adam & Paul" and "Garage," O'Halloran's focus has often fallen on the people that are otherwise marginalized and unseen in Irish life. That once included himself, of course. He well remembers what it was like to be a closeted teen in the west of Ireland in the 1980s.
"Well, you know when I was coming to terms with my own homosexuality in the West of Ireland in the 1980s, it felt like I was always going to be on the outside," he told IrishCentral. "I thought I was always going to have to keep it a secret from my family. You had to keep it secret from the wider society back then. So the choice was you either had to leave or to totally repress yourself."
"I personally decided to leave rather than do that. It was also a time that was at the height of the AIDS pandemic, Section 28 was going through parliament and Britain and Ireland were just anti-gay in so many ways."
3
Since O'Halloran felt he was being forced to live outside of ordinary social conventions, he developed an appreciation of what it means to be an outsider. "I've always been interested in outsiders and the idea that you can be completely removed from your society and yet be living in the midst of it. I think that's kind of where a lot of my work comes from."
He had two choices back then, he remembers. "You either become, you know, totally buttoned up or you can become the clown, you can allow yourself to be laughed at and ridiculed and be a ridiculous person. Personally, I think that's really corrosive and so I didn't try to do that, you know?"
O'Halloran will be onsite after the screening to discuss the work, which is sponsored by the New York City Department of Cultural Affairs and Fitzpatrick's Hotel.
Meanwhile, "Glitterbug" is the name of the film by actor, writer, and director Tania Notaro set in 1990s Dublin where two young club DJs (Notaro and co-star Irene Kelleher) dream of making it to London and the big time. But when one of them is diagnosed with HIV, the dream is deferred and causes tension among their relatives and friends.
"Glitterbug" is Notaro's first film and the graduate of Bow Street Actors Academy and The Gaiety School of Acting pays particular attention to storylines for working class and LGBT actors and themes.
Socially conscious films seen from a female perspective are her stock in trade, so expect some shake-ups on the night (Notaro will attend the screening and talkback).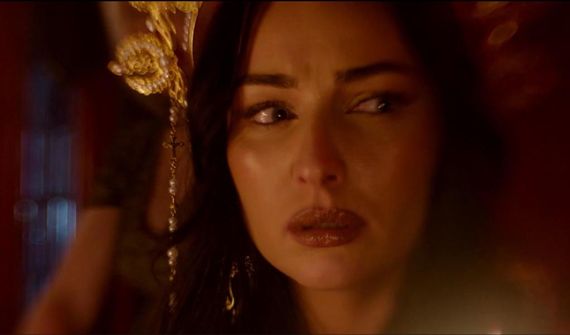 3
Craic LGBTQ Session 2023
The Craic LGBTQ Session, which will be hosted on June 29, will feature Kerry-born singer and Morning Star founding member Mary Courtney, who as well as being a gifted performer, is a living catalog of the best of Irish ballads and folk songs of the past three centuries, an opportunity that you do not want to miss.
Some of her most memorable performances include singing the Irish national anthem for Martin McGuiness's memorial mass in 2017 at St. Patrick's Cathedral, singing for JFK Jr's memorial mass, and singing at Father Mychal Judge's month's mind at Old St Patrick's Cathedral.
Also taking the stage will be Dublin-born author and performer Honor Molloy, whose award-winning plays are well known to Irish audiences here. She's the writer, performer, and author of "Round Room," "Crackskull Row," "Smarty Girl – Dublin Savage,"  and the forthcoming "Dubbel Eyed."  Expect cracking dialogue and a lighthouse gaze into the private lives and loves of the Irish.
New York-based comedian, influencer, and producer Yumi Kay will perform on the night, talking dating and more in New York City.
Also scheduled is Martin Warde, a Galway native stand-up comedian and writer from the Irish Traveller/Minceir community who has performed at every major venue and festival in Ireland, and is a graduate of sociology and politics from NUI Galway.
Warde has been reminded time and again of the prejudice still openly directed at Irish Travellers and he also sees how homophobia can be directed by Travellers at LGBT people.
"There's been a disgusting homophobic reaction to some of my videos from travelers in the UK," he told Hot Press. "They'd be the very same people crying 'discrimination' and 'racism' if that sort of thing was directed at them, so I've just put up a tweet saying, 'Do you realize how hypocritical it is having this prejudiced attitude towards other marginalized groups? Cop on!'"
To find out more and book your tickets for the screenings and performances (which both include full receptions) visit thecraicfest.com.