The Craic Fest Music and Standup night bags another big comedy headliner.
Colin Quinn, the Irish American legend revered by fellow New York comedians, will play the Craic Fest Comedy/Standup night on Friday, February 24 at Rockwood Music Hall.
The show starts at 7pm and you can get your tickets online here.
Quinn, fresh from his sellout off-Broadway show "Small Talk," is an impressive addition to an already stellar lineup.
When I asked him last month what makes his show Irish, Quinn replied, "A true Irish show should make you laugh and then feel horrible," with the kind of deadpan that can only come from within the tribe itself.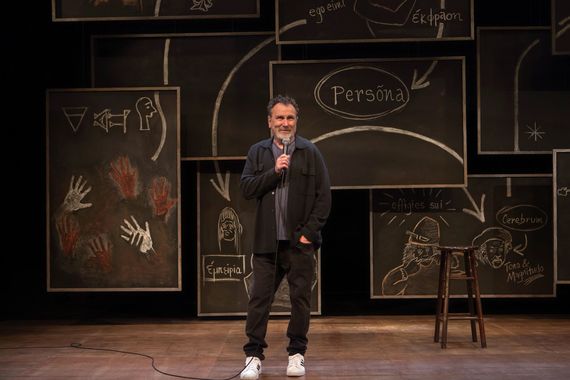 2
Also scheduled to appear on Friday night is Irish American actor and standup Craig Geraghty, who hails from Woodside, Queens where he was the son of Irish immigrants.
Geraghty now has recurring roles on HBO's "The Gilded Age," Showtime's "Ray Donovan," and Marvel's "Iron Fist." As a standup, he's played Caroline's on Broadway, The Comedy Store, and even the prestigious Carnegie Hall. 
Geraghty's association with the festival goes way back to the days when it was known as the Film Fleadh when his debut feature "From Woodside, Queens" led to his first manager and agent.
CraicFest director Terence Mulligan told me: "And then we have local musician, Brendan O'Shea, a veteran of the New York music scene since the 1990s.
"I also reached out to writer and actor Siobhan Fallon, who's going to come down and tell a few stories on the night.
"And there will be some surprise guests I cannot mention, but I will say we have a music guest who's on the way up in Ireland."
Mulligan added: "We all also have rising comedy star Katie Boyle, well known for her popular 'The Shift' podcast. She's going to be doing a short set and it's great to have somebody who's young and emerging because that's what the essence of the Craic Fest is, a springboard for up-and-coming talent. She's gonna kill it." 
The Craic Fest Music and Standup night starts at 7pm on Friday, February 24 at Roockwood Music Hall in New York City. For tickets click HERE.