Nothing will prepare you for what's about to hit the stage at the new ABBA Voyage show in London, the mind-blowing "live" concert featuring the iconic Swedish pop group. 
After a forty-year hiatus (the band took a quick break in 1981 and forgot to reform for four decades) they are finally back, but miraculously still looking exactly like they did in their prime back in 1979.
You guessed it, this massive disco time machine was built on motion capture and the de-aging magic of computer animation. But before you can say that sounds as interesting as watching The Sims singing karaoke, let me tell you that you have no idea just how far the technology has actually come.
Taking five weeks to record the famous songs they sing "live" for the onstage performance, the band recorded their new show in a blue screen recording studio until their four so-called ABBA-tars had achieved an identical synthetic match.
By the end of their long residency - and the start of their new concert - the increasingly thin line between art and science was virtually indistinguishable. 
Taking the little DLR train to the purpose-built ABBA arena in Pudding Mill Lane outside London this weekend, I was convinced there was no way I would be fooled by all the technological trickery. 
Within minutes of the concert actually starting though I was agog, I mean I was slack-jawed with wonder and then overwhelmed with joy, at what I was seeing and feeling. Yes, feeling. You might think being sung to by four computer-generated images would be as passionless as listening to a microwave ping, but think again. If you can't tell the difference between the onstage ABBA-tars and the actual band does the distinction even exist anymore?
"To be or not to be, that is no longer the question," pianist Benny wryly quips near the opening of the show, and given the evidence of your own eyes you'll have to agree.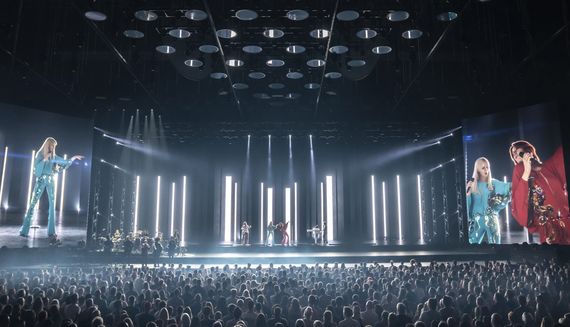 4
But what's Irish about ABBA, you may ask? Why are you writing about them this week? Well for a start we have spectacularly winning the Eurovision song contest in common. ABBA wrote the greatest winning entry in the show's 67-year history with Waterloo - and Ireland undeniably wrote the most winning Eurovision numbers (seven in total). 
Another thing that's sort of Irish about the fab four is that their new album ABBA Voyage references Kilkenny in the band's second big single When You Danced With Me. Longtime fans were stunned to hear the Irish town unexpectedly name-checked in the band's first new album in 40 years.
ABBA played their one and only concert in Dublin in 1979 when I was still a child, so attending this concert was wish fulfillment taken to the next level, as it must have been for the sea of original fans and young LGBT people who have adopted the band as their own in the years since (thanks to musicals like Mamma Mia and an endless string of covers, thanks Madonna). 
Let's face it, ABBA wrote so many unforgettable dance floor fillers that it's almost supernatural. And they're not just good pop songs, they're often like entering a different, better world of celestial four-part harmonies for four and a half minutes, over and over. I cannot praise them enough.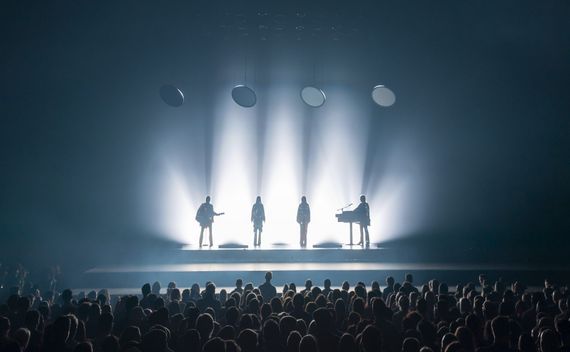 4
Think of what songs your ideal ABBA live set list might include and ABBA Voyage probably has you covered. I correctly guessed that they were playing The Visitors (a personal favorite) from more or less the opening note as the show began. 
But then the band started ascending onto the main stage and I could no longer tell what was real and what was computer generated, exactly as they had hoped. The lights fall on the audience in exactly the same way they do on the band, to the point where the division simply does not exist. It's the most sophisticated visual sleight of hand that I have ever seen on a stage.
Moving on from The Visitors to what for my money is the most perfect pop song ever written, the band launched into SOS. This was when I surprised myself by tearing up. I don't mean little sniffles, I mean sobs of unexpected happiness. This music still sounds so contemporary but it also connects us to vanished eras and every avatar of ourselves in a way that can quietly sneak up on you.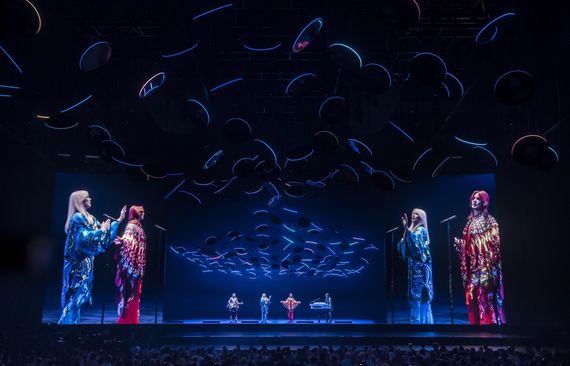 4
As a guest of ABBA's management, I was given full access to the VIP Departure Lounge (it's completely worth the ticket price, so don't miss out on the experience, which includes wines, spirits, cocktails and yummy finger food) and of course some of the best seats in the house. 
If you had told ten-year-old me I would one day see ABBA play together I would have thought you were dreaming (they broke up before I became a teenager after all).
But go to London any night of the week now – seriously, book a plane ticket, put it on a card, do what you have to, just catch this show as soon as you can – because I promise you, just like the songs says, you'll be having the time of your life.