For the children of Tuam, and Bessboro, and Castlepollard, and Sean Ross Abbey, and St. Pat's, the Navan Road, and all related institutions, the State hinders the truth by denying access to information.
Towards Transitional Justice: Recognition, Truth-telling, and Institutional Abuse in Ireland, a conference at Boston College this week, starts a conversation about the need for greater transparency on the part of the Irish State in its response to historic abuse in Child Residential Institutions, Magdalene Laundries, Mother and Baby Homes, and the nation's closed, secret and forced adoption system.  
Truth-telling about these aspects of Ireland's past demands a statutory right to access information—records and archives—for survivors, family members and the Irish public.  And, it requires a holistic rather than a compartmentalized response that also puts State actions—in the past, and in the present—at the very center of the conversation.
The need for this transitional justice approach was underscored by two recent events.
Read more: 796 Tuam babies to be exhumed from mass grave in Galway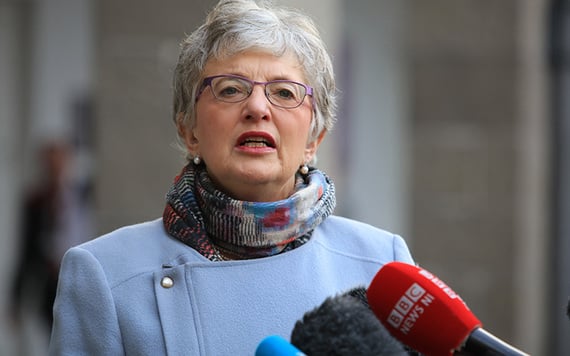 5
Last week in Dublin, Minister for Children Katherine Zappone, T.D., announced the government's decision to excavate the Tuam Baby Home site where it is believed as many as 796 infant and child remains lie buried in a disused septic tank. The government has now committed to pursue DNA forensic testing to effect identification and individualization where possible, and ultimately ensure dignified burial and memorialization of the infants and children and to preserve this site of national conscience. These actions are nothing less than the right thing to do!
Everyone who admires the tenacity and perseverance of Catherine Corless and the Tuam survivors and families welcomes Minister Zappone's announcement. But, does it go far enough? The families will achieve a measure of peace of mind long denied them only when these decisions are implemented in a prompt and thorough fashion. There can be no further delays.  
5
What about the State's own failures with regard to Tuam? How do we learn those lessons in the absence of truth-telling that includes the State's failures in the past and in the present?  For example, why has no inquest taken place since this site became the center of an international media frenzy in 2014? Did the prospect of 796 dead children discarded in this fashion not merit immediate investigation? And, one might ask why no inquest was conducted for these children at their time of death?  The local coroner was obliged to hold an inquest over each death in a publicly funded institution.
Four nights after Minister Zappone's announcement, I watched Alice McDowell and Mia Mullarkey's powerful new documentary, "Mother and Baby," at the Irish Cultural Center in Canton, Massachusetts.  Approximately one hundred and fifty people attended the event. Peter Mulryan, who is featured in the film, and his wife Kathleen, patiently answered questions from an increasingly angry audience: "How could this happen?" "Who is to blame?" "Why is the Church not paying more?"
I sat in awe at Peter and Kathleen's dignified eloquence and unwavering commitment to justice. He still seeks the truth of what happened to his baby sister Marion.  He has written to every government official. He has brought a case to the Irish High Court. But despite the fact that records exist, he is today no better informed as to her fate. Might she be one of the babies buried in the tank?  Was she one of the children sent to America? Was she falsely and illegally registered? Peter Mulryan is entitled to answers for these questions. And, Peter is not alone.
Read more: Emotional US screenings of "Tuam Babies" documentary hears from American-based survivors
5
For the children of Tuam, and Bessboro, and Castlepollard, and Sean Ross Abbey, and St. Pat's, the Navan Road, and all related institutions, the State hinders the truth by denying access to information. Moreover, it refuses to reveal publicly what it knows, when it knew, and the many ways in which it failed to intervene and protect vulnerable women and children.
The documentary also exposes the connections between and across Ireland's institutional complex. Peter Mulryan and his mother Delia entered the Tuam Home from the Central Hospital in Galway. Four years later Peter was boarded-out to a household he characterizes as abusive; his mother at that point had already been transferred to the Sisters of Mercy Magdalen Laundry on Foster Street in Galway.  
John Rodgers also appears momentarily in the movie. John too was a Tuam baby. His mother Bridie was raised in the Industrial School in Clifden, also managed by the Sisters of Mercy.  John too would be boarded-out and Bridie also ended up in the Galway Magdalen, escaping after eighteen years of forced and compulsory labor. Delia did not fare as well, ending her years behind convent walls.  
5
Some of Peter's crib-mates were adopted: a process that became legally available in Ireland after January 1953. Others were sent to America for adoption. A Health Services Executive (HSE) Memorandum written in October 2012 suggests that as many as 1,000 children were trafficked out of Ireland to the United States from the Tuam Home alone. The children not adopted were transferred at four or five years old to a near-by industrial school, perhaps Clifden or Lenaboy, or the dreaded Letterfrack. Many of their mothers, if fortunate to escape the Magdalen, left Ireland, traveling to England and to America where they comprise Ireland's Hidden Diaspora.
The "Towards Transitional Justice" conference at Boston College this week considers international best practice in responding to histories such as this. It promotes the inter-dependence of truth-telling and the ability to offer a guarantee of non-recurrence.
And, it contends that the path forward starts with greater transparency and access to information. Irish society owes nothing less to Peter Mulryan and to all the mothers and children who experienced and live with the consequences of Irish institutional provision.
Conference website: https://www.bc.edu/content/bc-web/academics/sites/ila/events/towards-transitional-justice/
James M Smith is an associate professor in the English department at Boston College. He is the author of "Ireland's Magdalen Laundries and the Nation's Architecture of Containment," and a member of JFM Research.