Colm Murphy, a suspected member of the Real IRA who was found liable for the fatal 1998 Omagh bombing, was branded a "coward" after his funeral last Friday, April 21 by one victim's sister.
Claire Radford, whose 16-year-old brother Alan Radford was among the 31 (including unborn twins) killed in the worst tragedy of The Troubles, also branded the republican salute to Murphy as amounting to "stomping all over the grave of my brother."
Radford told the Irish Sun that cowardly Murphy had never been able to look victims' loved ones in the eye during court hearings.
"Anyone who knew Murphy knew he was a murderer, that he enjoyed orchestrating killings," Radford said.
"He was a cold-blooded killer of innocent, decent, people."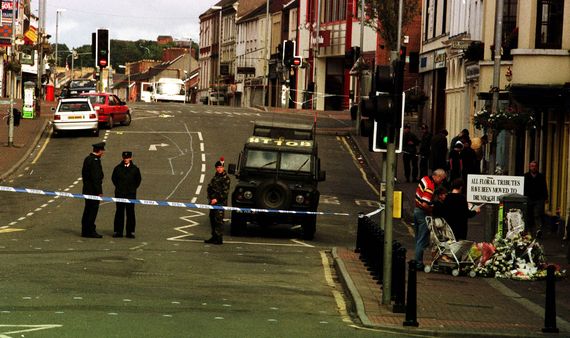 2
Murphy, 70, had been living in Dundalk where he was a publican and a building contractor before he died on April 18 in Our Lady of Lourdes Hospital in Drogheda, Co Louth where he was treated for lung disease. A funeral service was held on April 21 at the Church of St. Laurence O'Toole in his native Belleeks, Co Armagh.
Murphy was buried in a Tricolour-draped coffin with a black beret and gloves on top, a traditional form of acknowledgment at a republican funeral.
He was jailed three times for arms offenses including once in the US after he tried to buy machine guns to ship to Ireland in 1985.
In 2002, he was found guilty by the Special Criminal Court in Dublin of conspiracy to cause the 1998 Omagh bomb attack. His conviction was overturned in 2005 and a retrial ordered. At the retrial in 2010, he was acquitted after prosecution interview evidence was ruled inadmissible.
In 2008, relatives of some of the Omagh victims began a landmark civil case, suing five men they claimed were involved, including Murphy.
The next year, a Belfast judge ruled that Murphy and four others were all liable for the Omagh bomb. In 2011, Murphy won an appeal, but in a civil retrial in 2013 he was again found liable.
Murphy, Real IRA founder and leader Michael McKevitt who died aged 71 two years ago, Liam Campbell, and Seamus Daly were ordered to pay £1.6 million in damages to 12 relatives of those killed by the bomb.
Due to their failure to pay, bankruptcy proceedings were taken in the Republic against Murphy, McKevitt and Campbell, and all three were adjudicated as bankrupt in 2019.
To date, no one has been held criminally liable for the Omagh bombing. Earlier this year the British government said it intended to set up an independent statutory inquiry into the bombing.
*This column first appeared in the April 26 edition of the weekly Irish Voice newspaper, sister publication to IrishCentral.