An Irish Canadian bartender has started a "Go Fund Me" to buy a ticket for Democratic Unionist leader Arlene Foster to leave the country.
Foster had stated in an interview she would leave the country if there was ever a united Ireland.
Speaking with comedian Patrick Kielty, whose father was murdered during the Troubles, on his BBC documentary My Dad, the Peace Deal and Me, the former First Minister of Northern Ireland made clear she doesn't see a United Ireland as a plausible outcome. 
Read More: Arlene Foster would pack her bags if there was a United Ireland
Kielty asked Foster, "If the majority did want to join the Republic of Ireland how would it feel to be a unionist, outside of the UK?"
Foster dismissed the possibility, replying: "First of all I don't think it's going to happen. If it were to happen, I'm not sure that I would be able to continue to live here, I would feel so strongly about it.
"I would probably have to move."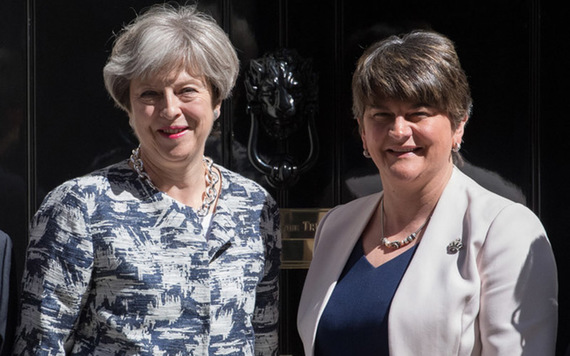 2
Asked where she would move to if a United Ireland were imminent, she answered: "It's not going to happen so I don't have to worry about it anytime soon."
Mother of two Jennifer Montour, 43, from Toronto, says that she started the "Go Fund Me" because "She [Foster] wants to leave so let's give her an Irish farewell!!
"All I'm asking for is what she wants...to leave Ireland!! The price of a ONE way ferry from Belfast to Liverpool is approx. £30...the least we can do as the kind Irish souls we are is to give her what she wants!!"
Read More: Ian Paisley's widow slams Arlene Foster over Stormont stalemate
Montour stated that Foster's comments were insulting to Irish everywhere and she would be better off leaving the island of Ireland.
She stated "I have been to Ireland, it is beautiful and to hear her insulting its people is dreadful. She should really leave."
The fundraising goal of the campaign is $100 - there haven't been any donations yet.