American preacher Steven Anderson will not appeal his ban from Ireland
American preacher Steven Anderson has responded after Ireland's Minister for Justice Charlie Flanagan signed an executive order preventing him from entering the country.
Read More: Ireland's government bans US anti-gay, holocaust denying pastor
Speaking with The Niall Boylan radio show in Ireland, Anderson indicated that he would not appeal the Minister's ban, saying: "I would not humble myself to that wicked and evil person. He's anti the true word of God."
ON AIR NOW - Steven Anderson believes the Minister for Justice is bringing the wrath of God on the people of Ireland. He also calls him "a wicked evil person" #IrelandTalks

— The Niall Boylan Show (@Niall_Boylan) May 13, 2019
Anderson added that he has not received an official notice of his ban, only that he has "heard it through the grapevine."
On Sunday, Minister Flanagan said he signed the exclusion order for Anderson, effectively immediately, under the Immigration Act 1999.
Minister Flanagan said: "I have signed the exclusion order under my executive powers in the interests of public policy."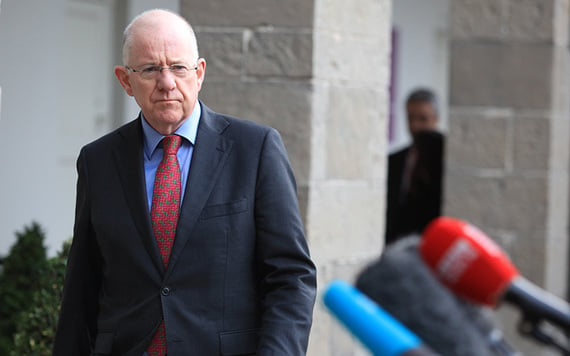 2
This is not the first time Anderson has been banned from a country - in fact, it's the 32nd time.
"It didn't really shock me that Ireland is number 32," Anderson said on the radio program.
"I'm proud of being banned in all these countries," he added, "I'm collecting them like beanie babies."
On May 13, the preacher's Facebook page shared the below meme:
Read More: Anger over rabidly anti-gay US pastor's planned visit to Ireland
Anderson, who is notorious for his anti-gay and anti-Semitic preachings, founded the Faithful Word Baptist Church in Arizona in 2005. As of Tuesday, his church's website still lists the "preaching / soul-winning" event in Dublin, but it is understood the event may go ahead without the pastor. The venue has yet to be announced.
Anderson said on the radio program: "My visit had absolutely nothing to do with homosexuality or abortion. It's only the media that fixates on these issues. There are all kinds of other issues that I care about and those things make up less than five percent of my preaching.
"The internet is way bigger than me. I am getting lots of extra listeners because the media put me on the front page.
"So unless they ban the internet in Ireland, I'm not really banned in Ireland."
Read More: Should Trump receive hate speech ban from Ireland like Holocaust-denying US pastor?
H/T: The Irish Times
What do you think of Steven Anderson being banned from Ireland? Let us know in the comments