Taoiseach (Irish leader) Leo Varadkar and Tánaiste (Deputy leader) Micheál Martin revealed the first to be dedicated specifically to those on the pro-Treaty side who died during the Civil War. 
From 1922 to 1923, 800 soldiers died during Ireland's Civil War. At least 183 of these soldiers are buried in Glasnevin Cemetery, in Dublin. The conflict followed the Irish War of Independence and the establishment of the Irish Free State.
At a ceremony on Sunday, July 31, unveiled the new monument and also a new interactive digital system of all the known dead in the Irish National Army. It was attended by Taoiseach Leo Varadkar, Tánaiste and Defence Minister Micheál Martin, Defence Forces Chief of Staff Lieutenant General Sean Clancy, Lord Mayor Daithi de Roiste, and family members of the soldiers of the National Army.
Following a laying of wreaths, a minute's silence was observed and the National Flag was raised to full mast. 
Lieut Gen Clancy said "For far too long there has been no memorial of any kind, nor any complete listing of the National Army war dead. This year represents perhaps the last real opportunity to rectify that."
On average the soldiers buried in Glasnevin were in their early 20s, unmarried and from working-class backgrounds.
Clancy continued "The deaths of these men were devastating not just for their families at the time, but in many cases these casualties on operations, these accidental shootings, and these deaths by suicide, led to intergenerational trauma that still resonates in families today."
He said, "It is crucial that we also acknowledge the hurt, the tragedy, and indeed the atrocities that were perpetrated on those in the Republican tradition during the Civil War who fought for an Ireland they believed in."
At the National Army plot in Glasnevin Cemetery some 183 names have re-emerged from formerly neglected limestone plaques, restored only last year | Read more: https://t.co/wZ6c01DvIZ pic.twitter.com/iiy5YTPJ9h

— RTÉ News (@rtenews) July 30, 2023
Speaking to Newstalk, Lieutenant Colonel Stephen McDonald, said archiving the deaths during the Civil War was complicated. 
He said "It can be difficult to categorise casualties in conflicts because of the fact that some people die after conflict as a result of wounds.
"What's significant about today as well is that we're revealing for the very first time, a roll of honor of those men - they're all men because women weren't serving as combatants at the time." 
A wreath was laid by Ellen Ward, whose great-great-great-uncle, Christopher Kearns, was killed during the war, aged just 18. He had lied about his age in order to fight.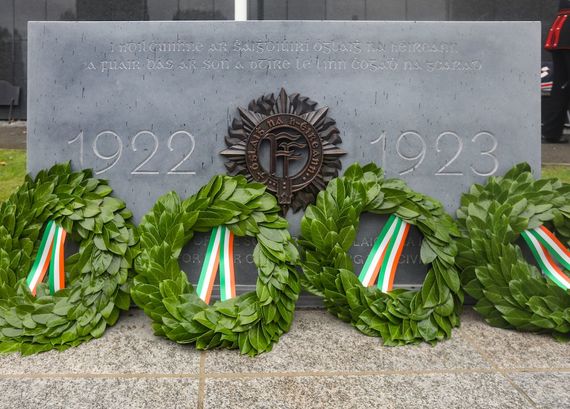 2
Ward told the Irish Independent "It's a great thing to remember. In our family it wasn't really spoken about, it wasn't really acknowledged. Over the past few months, we've spoken about it more than ever before. When he went off to join the army he packed his sandwiches in newspaper, said 'right, I'm off' and away he went.
"There are so many stories like that as well. It's not just our family. I think it's so important to remember that and talk about it, and have these discussions regardless of sides. It's really about just remembering their lives and what they did."