A number of people were evacuated from their homes in Dublin following flash flooding on Saturday morning. 
Dublin Fire Brigade took eight people from their homes using inflatable rescue sleds after being called to the scene near the Auburn apartments and Castle Court housing estate in Clontarf on Saturday morning. 
One person, a 92-year-old man, was taken to hospital, while some affected residents were moved to a local hotel. 
A total of 17 houses in the housing estate were flooded on Saturday morning in addition to several apartments. 
Meanwhile, the basement of the apartment building was flooded, with water still reaching the basement's ceiling later on Saturday afternoon. Roughly 15 cars were thought to be parked in the basement at the time. The flooding also cut off services in the apartment building, including electricity. 
Dublin Fire Brigade and Dublin City Council worked throughout the day on Saturday to pump the water out of the basement. 
One affected homeowner, who did not wish to be named, told the Irish Times that the flooding started at 9 a.m. and described it as a "tsunami". 
"We'd no time to protect ourselves. (We) looked out the window, it was up to your ankle, next thing you know it was up to your knee," the homeowner told the Irish Times. 
She added that her family tried to save some of the valuables in the house, including photographs, but said there wasn't enough time to save most things. 
A man who is related to one of the residents told the publication that a mark on his kitchen wall indicated that the water was about 3 ft deep. He said anything that is knee-high or electrical has been damaged by the flooding.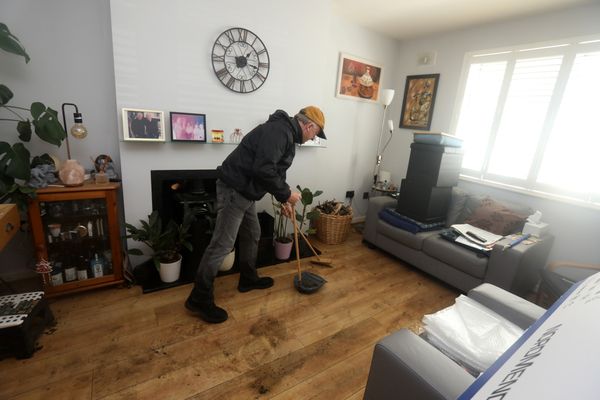 2
Other residents told RTÉ that they had bought flood barriers to protect their homes after similar flooding in 2011 but said the water came in so quickly on Saturday morning that they did not have time to put them in place. 
Residents praised the "brilliant" response of firefighters and council workers who responded to the flooding. 
Crews from Phibsboro, HQ and North Strand are in Clontarf with @DubCityCouncil and are using a high volume pump to clear an underground car park pic.twitter.com/aGDTPNPXCi

— Dublin Fire Brigade (@DubFireBrigade) August 5, 2023
Met Éireann issued several Status Yellow weather warnings across Ireland on Saturday as Storm Antoni moved eastward across the country. All weather warnings lapsed on Saturday afternoon.