Seven people have been charged in connection to the death of Irish peacekeeper Private Seán Rooney that occurred in Lebanon last month. 
Only one of the seven charged, Mohammad Ayyad, is currently in custody after being handed over by the Shiite group Hezbollah last month, AFP reports.
Ayyad has been charged "with killing the Irish soldier and attempting to kill his three comrades by shooting them with a machine gun", a judicial official speaking on condition of anonymity told AFP on Thursday, January 5.
The judge also charged six fugitives "for uttering threats with an illegal weapon, destroying the UNIFIL vehicle and intimidating its passengers", the official added.
Rooney, 24, was killed when the UNIFIL (United Nations Interim Force in Lebanon) vehicle he was traveling in came under attack near the village of Al-Aqbiya in the south of the country on December 14.
Judicial sources told the AFP that seven bullets pierced the UNIFIL vehicle, with one hitting the driver in the head. 
The attack left three other Irish peacekeepers injured, including 23-year-old Trooper Shane Kearney, who was left in critical condition and transported back to Ireland after suffering blunt force trauma to the head. 
UNIFIL called on Lebanon to enact a swift investigation in the wake of Rooney's death, the first violent death of a UNIFIL peacekeeper in almost eight years. 
Rooney was repatriated to Ireland and laid to rest in Co Donegal after a military funeral in Co Louth on December 22. He was described as a "national hero" at the funeral which, in addition to Rooney's family and friends, was attended by President of Ireland Michael D. Higgins, Taoiseach Leo Varadkar, Tánaiste Micheál Martin, and Chief of Staff of the Defence Forces Lieutenant General Seán Clancy.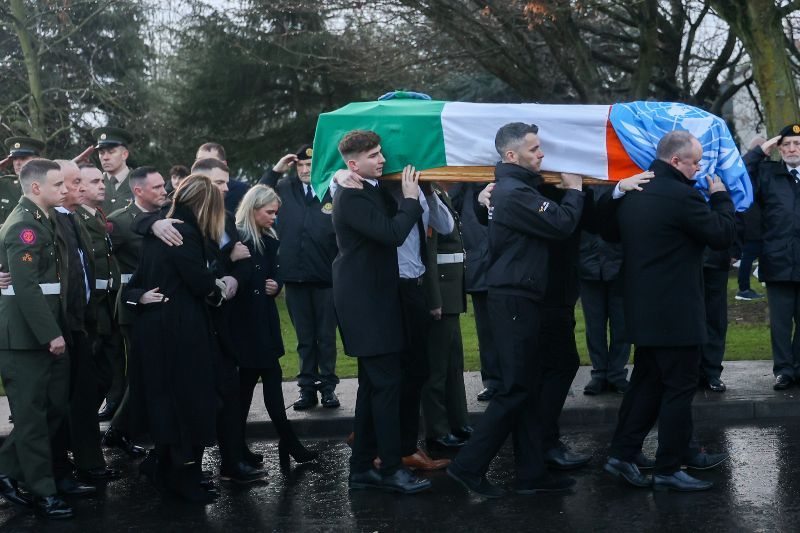 2
UNIFIL is made up of roughly 10,000 peacekeepers and has deployed since 1978 to act as a buffer between Israel and Lebanon. 
There have been reports of incidents in the past between Hezbollah supporters and UNIFL supporters, but there have been few deaths in recent years. 
Hezbollah distanced itself from last month's attack and offered its condolences to UNIFIL. It is also believed to be cooperating with investigations into the attack.