Irish broadcaster RTÉ admitted today, June 22, that Ryan Tubridy, the former host of "The Late Late Show," received a series of payments totaling €345,000 above his published salary between 2017 and 2022. 
The RTÉ Board said on Thursday that in late March of this year during a routine audit of RTÉ's 2022 accounts, an issue was identified in relation to the transparency of certain payments.
On receipt of this information, the Audit and Risk Committee of the RTÉ Board commissioned Grant Thornton to carry out an independent fact-finding review on the matter, the findings of which were furnished to the Committee last Friday and discussed on Monday of this week by the Board of RTÉ.
Tubridy's earnings for the years 2017, 2018, and 2019 were understated by €120,000, while earnings for the years 2020-2022 were understated due to the payments which went through a Barter Account, "a common practice in advertising and marketing businesses where goods and services are traded through an intermediary company which charges a fee for its services."
The Board said that €150,000 was paid to Tubridy's agent (on his behalf) from the barter account in 2022. This related to the guaranteed income for 2021 and 2022. It resulted in an overall cost to RTÉ, from this account, of €230,760 (inclusive of fees incurred through the barter account process).
In light of the 'actual earnings,' Tubridy's earnings were €545,000 in 2019 and €515,000 in 2021, representing an overall reduction of 5.5% in 2021 earnings compared to his 2019 earnings.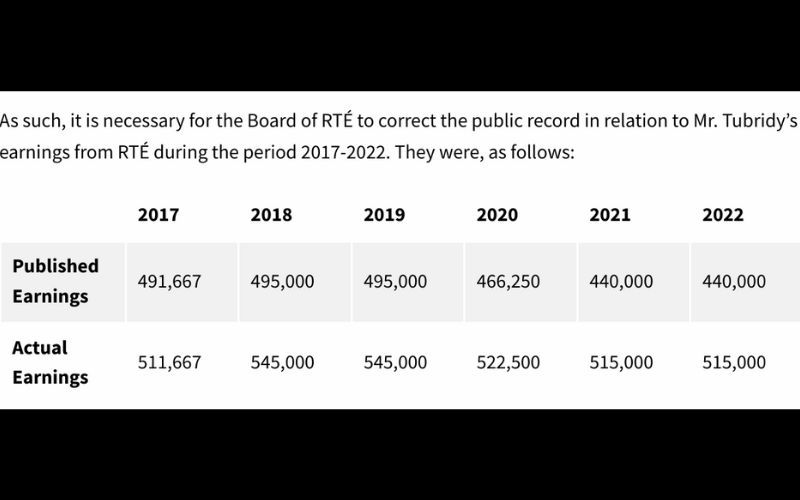 2
Chair of the RTÉ Board Siún Ní Raghallaigh said on Thursday: "This is a matter of profound regret for the Board of RTÉ. We are well aware that this is a serious breach of trust with the public.
"On behalf of the Board, I wish to apologise for what has occurred. It is clear that RTÉ has fallen short of the high standards that it sets for itself and are expected of it.
"Once these issues came to light, we acted expeditiously to establish the facts and we are confident that the safeguards we have now put in place will ensure that nothing like this will happen again, and that good corporate governance is adhered to at all times."
Ní Raghallaigh told RTÉ News on Thursday evening that Turbidy's "Late Late" departure was not related to the accounting errors. She further said that he will not present his RTÉ Radio One show tomorrow morning.
RTÉ Board Chair Siún Ní Raghallaigh says Ryan Tubridy will not present his radio show on RTÉ Radio One tomorrow, adding that his return next week is "a matter for the Executive" | More: https://t.co/xswPnwrjk2 pic.twitter.com/PuWrrEAHaj

— RTÉ News (@rtenews) June 22, 2023
Tubridy said on Thursday afternoon: "Like many people, I'm surprised by the announcements made in RTÉ's statement today regarding the errors in the reporting of its accounts.
"It is unfortunate that these errors are in relation to how RTÉ have reported payments made to me but I just want to be clear: this is a matter for RTÉ and I have no involvement in RTÉ's internal accounting treatment or RTÉ's public declarations in connection with such payments.  
"Obviously, I'm disappointed to be at the centre of this story but unfortunately, I can't shed any light on why RTÉ treated these payments in the way that they did nor can I answer for their mistakes in this regard."
Tubridy's NK Management company said: "We were made aware today [Thursday] of RTÉ's statement concerning its accounting treatment and public declarations of payments made to Ryan Tubridy.
"These are matters for which RTÉ has sole responsibility and accountability.
"There is no issue whatsoever in relation to the payments being properly and lawfully due and there is no suggestion of any wrongdoing on the part of Ryan Tubridy or NK Management.
"These issues are solely concerned with RTÉ's internal accounting treatment and public declarations in respect of such lawful payments."
Catherine Martin, Ireland's Minister for Tourism, Culture, Arts, Gaeltacht, Sports, and Media, said she was "deeply concerned" by the RTÉ announcement. 
"I have spoken with the RTÉ Chairperson today, and have subsequently written to her requesting that she meet with me and officials of the Department. The meeting has been arranged for Monday," Martin said in a statement. 
"I have asked the Chair to set out in that meeting, in detail, the issues involved, the steps the Board is taking to deal with the matter, the follow on action that will be required, and the timeline for these actions.
"The public rightly expect much higher standards of transparency and accountability from Ireland's Public Service Broadcaster. It is unacceptable that these have not been met.
The RTÉ Board said on Thursday that external accountants at Grant Thornton will now review the contracts of RTÉ's top ten earners to "independently validate that all remuneration figures have been correctly stated and accounted for by RTÉ."
RTÉ said it is pausing all new on-air presenter contracts until its Remuneration Committee has full oversight and approval of the terms of contracts relating to the top 10 most highly paid on-air presenters.