President of Ireland Michael D Higgins was in Offaly on Friday overseeing the planting of the biggest redwood forest outside of California.
Redwoods were once native to Ireland and the project says the return of the trees to Ireland symbolizes the hope that one day the Irish diaspora will return home too.
On their website, Crann - Trees for Ireland write, "These Giants with their height, great bulk, long life and deep root systems symbolize the giant place that the diaspora and their families hold in the hearts and minds of the Irish people, including Irish people living abroad with their roots in Ireland. This grove will be a lasting monument to our diaspora and has the potential to be a major tourist attraction for many years to come."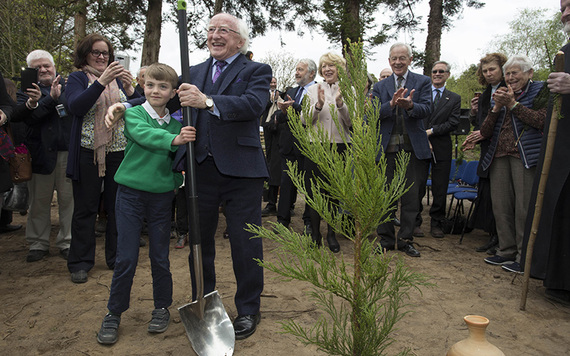 4
On Friday President Higgins planted the first tree of the grove - named in his honor - just outside Birr Castle. The saplings have been nurtured by pupils from the nearby Gaelscoil na Laochra and Kildorrery National School in Cork.
Read More: Ireland planting the world's largest redwood forest outside of California
So far just under 90 trees have been purchased and named with buyers hailing from as far away as New Zealand and the US. Costing $535 each, the fee covers the cost of caring and maintaining the young forest as well as a certificate of dedication.
Lord Rosse, whose family have lived at Birr Castle for generations, said, "This launch was planned to draw attention to this project which is very much linked to Ireland's Diaspora. We are deeply honored that President of Ireland Michael D Higgins is here today.
4
"The return to Ireland of redwoods, which were native here before the geologically recent ice age, is a symbol of Ireland's global concern for biodiversity enhancement and conservation, especially at the present time where climate change represents a threat to the long-term survival of redwoods in California."
He added, "We are honored to have the President visit as this project is very close to my heart. Our grandchildren, their grandchildren, Birr, Ireland and the world will benefit from this magnificent forest grove. These will be the biggest trees in Ireland and the largest collection outside of California, fittingly here in Birr in a place which has the biggest treehouse in Ireland."
Redwoods tend to grow 30 feet wide in diameter and 275 feet tall; their average lifespan is between 500 and 700 years but some have been known to reach live for two millenniums.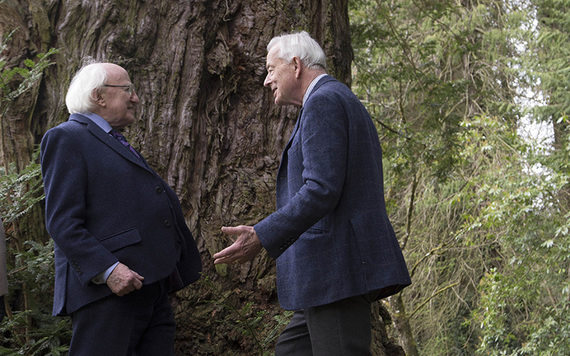 4
H/T: Redwoods.info