St Patricks Day provides Ireland with a unique opportunity to promote itself overseas and government politicians will be jetting around the world to attract investment, increase exports and help create jobs in Ireland.
Taoiseach Leo Varadkar (Prime-Minister) will lead the diplomatic charge stateside with a visit to Washington DC where he will present US President Donald Trump with the traditional bowl of shamrock at the White House.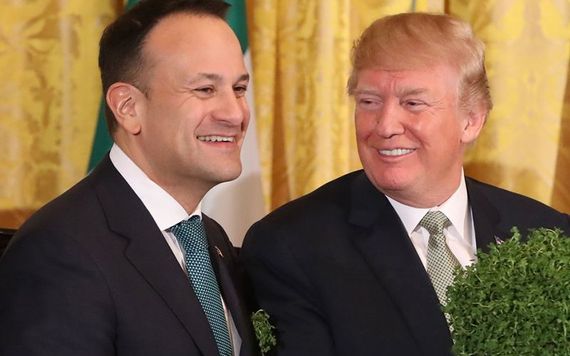 3
Justice Minister Charlie Flanagan will travel to New York, while Health Minister Simon Harris will be in Los Angeles in advance of a new Consulate General opening there later this year. He will also take in San Francisco.
Read More: Cancelled Washington DC St. Patrick's Day Parade to march in New York
Minister for Rural and Community Development, Michael Ring is heading to Chicago, while the Attorney General, Seamus Woulfe accompany the Taoiseach to Washington DC.
Government Chief Whip and Minister of State for Gaeilge, Gaeltacht and the Islands, Seán Kyne is off to Boston and Pennsylvania, while Minister for Higher Education, Mary Mitchell O'Connor will be in Austin, Denver and Kansas.
Savannah, Atlanta will host Minister of State for Equality, Immigration and Integration, David Stanton, while Vancouver, Calgary and Seattle will be paid a visit from Minister of State for the Diaspora and Development, Ciaran Cannon.
Read More: "Mayor of Southie" needed for Boston St Patrick's day parade
3
In total, 38 elected officials will be participating in the showcasing tour to destinations as far afield as China and Australia.
There will be an extra emphasis on the European continent this year, with a minister in every one of the 27 EU capitals for the celebrations.
Read More: Aer Lingus announces massive Black "Flyday" offers leading up to St Patrick's Day 2019
Tánaiste (Deputy Prime-Minister) Simon Coveney will visit Paris, Berlin, The Hague and Brussels as the UKs Brexit deadline falls just 12 days later on March 29, Finance Minister Paschal Donohoe is traveling to London. 
There will also be representation in the Middle East as the Irish government pushes its claims for a seat on the UN Security Council from 2021.
What do you think of Irish politicians flying around the world for St Patrick's weekend? Is it a waste of taxpayers' money or a good opportunity to promote Ireland abroad? Let us know in the comments section below.