According to poll results, IrishCentral readers believe President Donald Trump should be banned from Ireland. 
Almost three in four IrishCentral readers believe that US President Donald Trump should be banned from Ireland because of hate speech, according to the result of a poll conducted on the site. 
When faced with the question "Does President Trump deserve to be banned from Ireland for hate speech?" 73.87% of readers voted 'yes' while only 24.32% voted against. The remaining 1.81% were uncertain. The total number of those polled reached 551 readers. 
"We here in America have to listen to enough of it. There's no need to allow him to spread hate throughout the world," stated one reader. 
Read more: How to move to Ireland and escape the Donald Trump presidency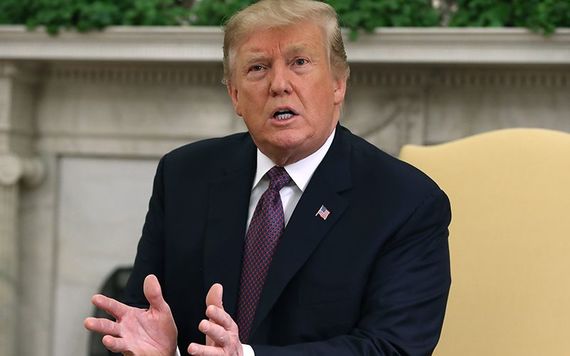 3
Another added: "Mr. Trump purports to have the utmost respect for the Constitution of the United States, but the many examples of his hate speech belie this. Freedom does not mean that individuals can do ANYTHING they want- and freedom of speech does not mean individuals can say ANYTHING they want. Inherent in our global human rights is the overriding tenet that our freedoms do not include the right to impinge on the rights of others to not be demeaned, degraded or disenfranchised. I have always believed that the Irish are a people of high integrity and strong morals. I pray that Ireland will stand up tall on the world stage for the rights of all~ and ban Mr. Trump."
Those who argued against stated "he is a good man" and that "he is the President of the largest economy and free democracy in the world. Even you don't like the man, you should respect the office he represents."
President Trump is believed to be visiting Ireland in June but several groups are already mounting in protest against the trip.
Last week US pastor Steve Anderson became the first person to be banned from Ireland under the 1999 Immigration Act.
Read more: Ireland should welcome President Trump with open arms when he visits in June
3
The Holocaust denier and fundamentalist American preacher was due to speak in Dublin on May 26 but is now banned from traveling to Ireland by the Irish government after several petitions called attention to his visit. 
Do you agree with the poll results? Let us know in the comments section, below.