Ireland's Tánaiste Simon Coveney spoke in New York on the implications of Brexit. 
Simon Coveney is Ireland's Tánaiste or deputy prime minister.
He is the Minister for Foreign Affairs and Trade.
But as he told a gathering of Irish and Irish American community leaders in Manhattan Wednesday morning he feels that these days he has a third portfolio – that of being minister for Brexit.
And it was Brexit and its myriad implications - and indeed mysteries - that dominated a briefing given by Coveney to a rapt audience at a gathering bestride the East River hosted by Loretta Brennan Glucksman and attended by Ireland's Ambassador to the United States Dan Mulhall, and Consul General in New York, Ciaran Madden.
The meeting was ordered; the main subject, seemingly more chaotic by the day.
Read more: Brexit Boris needs to make major Irish choices ahead of deadline
Tánaiste @simoncoveney and Minister @HMcEntee talk #Brexit and the dangers of no deal for Northern Ireland, the GFA and the devolved institutions this morning in NYC at a breakfast hosted by Loretta Brennan Glucksman. Packed room from the business, legal and media worlds. pic.twitter.com/Viv9CqPfhf

— Irish Consulate NYC (@IrelandinNY) September 25, 2019
Brexit, said Coveney at the outset, had been a journey for Ireland and while initially there had been disbelief the Irish government, and Ireland, had moved way beyond that.
Now the task was based on an "insistence" on protecting the peace process and warding off what he described as "the politically corrosive impact of barriers to trade on the island of Ireland."
The task was also to protect the Irish/British relationship, a complex and at times tragic one, but one that, in recent decades, had become stronger and more positive than ever before.
But now, Coveney cautioned, that relationship was under strain because of Brexit, and beyond that the chaos in the current British political system.     
Unfortunately, said Coveney, British Prime Minister Boris Johnson had essentially tried to rewrite Brexit in the context of Irish issues.
So there was an impasse.
Of the border backstop, Coveney said that if all else failed this was a fallback position in which Northern Ireland would remain aligned with the EU Customs Union and Single Market "until we can find a new permanent arrangement."
It was Ireland's red line, he said. 
At #Brexit event in NY this morning with Tanaiste @SimonCoveney hosted by Loretta Brennan Glucksman & @IrelandinNY The implications of Brexit in particular the GFA are extremely important to the Irish in America. Our ties remain strong #GlobalIreland pic.twitter.com/JPVKZdECtA

— Helen McEntee TD (@HMcEntee) September 25, 2019
A question for Boris Johnson, Coveney said, was if no backstop "how do we solve the Irish border?"
If there was no solution, he said, Ireland would become "collateral damage of Brexit."
The British government, as was the case with the Irish government, had a responsibility to see that this did not happen.
"Unfortunately," Coveney said, there was currently no answer to the border question without the backstop, "so we say the backstop has to stay."
Many ideas had been suggested to deal with the border, Coveney indicated.
"But when you test the answers they are simply borders away from the border," he said.
And they would have the effect of frustrating trade and in some cases ending it.
Read more: Blow for Brexit Boris - calls for resignation, he lied to the Queen
Alluding to the Good Friday Agreement, Coveney spoke of the agreement being based on respect and convergence with the result that the border had become all but invisible.
Unfortunately, he said, Prime Minister Johnson's version of Brexit was all about "divergence."
In a situation with two single markets operating under separate rules, there would be a border.
The Irish government was confronting its British counterpart "with these realities" and the Irish government would not sign a Brexit deal until all these issues were resolved.
A no-deal Brexit would be a "disaster" for Ireland, the tánaiste said.
"We're spending a huge amount of money, time, and political currency trying to solve a problem, not of our making," he said.
"There's a deal to be done and the suggestion that there is no deal there is nonsense," he said.
What was required was "political will."
Northern Ireland, while being part of the United Kingdom, was different in some ways and needed a complex solution.
Northern Ireland politics, Coveney confessed, "keeps me up at night."
He nevertheless believed that all the parties in the North wanted to go back into government, but if there were a no-deal Brexit and no devolved government he was fearful as a result of what the PSNI was saying, and what senior civil servants were saying.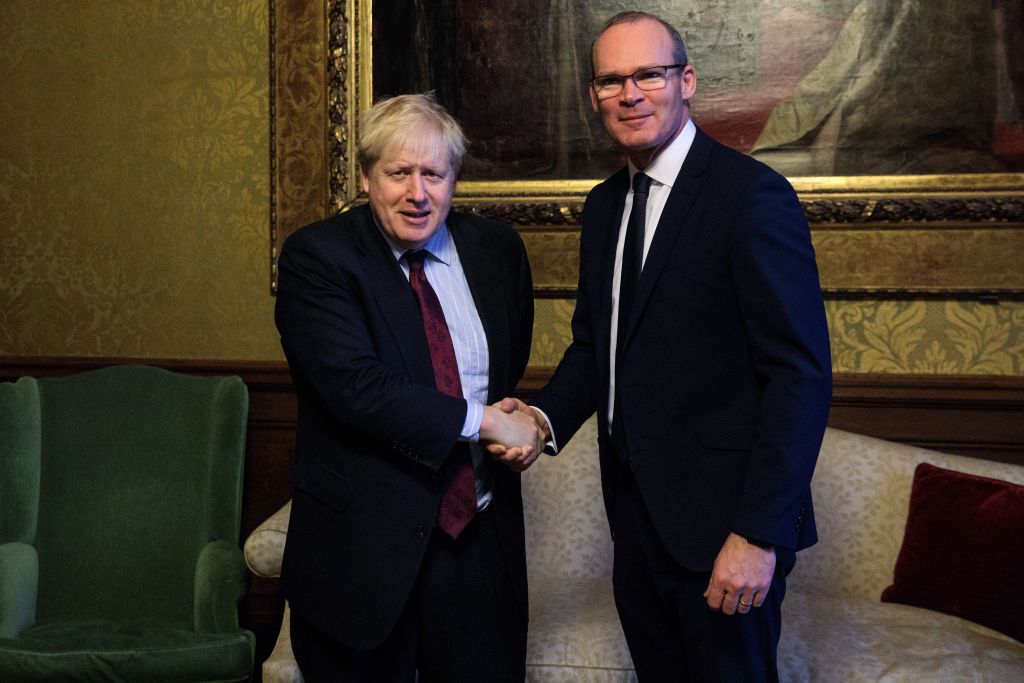 2
Among the things being said was that the North could lose up to 40,000 jobs in a no-deal, no restored government, scenario.
We were, said Coveney, living in a moment when history was being written.
What happens in the next few weeks would determine relations on the island of Ireland for the next twenty or thirty years, and also relations with, and between, the UK and the EU.
"So we need to get it right," he said.
Now was the time to deal with the border question while respecting the UK's (Brexit) decision but also facing into the disruptive influences of Brexit.
He had no comment to make regarding the current internal UK political situation.
"Our issue," he said, "is the impact on the island of Ireland and we need answers."
Coveney was asked questions from the floor, one of them regarding the role of Irish America and the United States.
The Irish government, Coveney responded, was not asking the U.S. to take sides. President Trump supported Brexit and that was fine.
But the U.S. had a role in protecting the peace process, watching carefully for the impact of Brexit, and taking account of the Irish issues.
A no-deal Brexit would have a damaging impact on the island of Ireland. It would "rock the foundation" of the Good Friday Agreement.
"I do not say that lightly," Coveney told the room.
Irish America, he said, should encourage the political parties in the North to work together.
One way was financial, by way of the Ireland Funds.
Northern Ireland, he said, was "as fragile now as it has been in twenty years, unfortunately."
Coveney was compelled to use that last word frequently during his talk which lasted over an hour and during which he was joined several times by his colleague, the Minister of State for European Affairs, Helen McEntee.
Brexit, Coveney said, had become "all-consuming" for him. He was, effectively, a minister for Brexit.
In the end, he conceded, an extension of the Brexit deadline would be better than a no-deal Brexit.
But he sensed that Ireland's EU partners were "getting quite impatient" with the whole situation.
He believed that a Brexit deal was still "doable" and he was looking, hopefully, to a window in October with that in mind.
The current Brexit deadline is October 31.
Coveney posed a question of his own at the conclusion of his talk.
"Does a small country in trouble matter to the European Union?"
In the context of Brexit, Coveney said, the answer was "an emphatic yes."
This article originally appeared in the Irish Echo. You can read more from them here.