With the Ireland Presidential Election on Oct 26 it's already plain to see that there's little chance Michael D Higgins will be defeated and rightly so.
At age 77, Irish President Michael D. Higgins is running for a second term against five opponents.  Election Day is October 26 and Higgins is a prohibitive favorite in the betting with Paddy Power showing him at 1-6 odds – in other words, put down six dollars to win one.
Bizarrely there are three Dragons' Den stars in the race, all stars of the Irish television equivalent of Shark Tank where entrepreneurs try to convince the investors to take an interest in their companies.
Sinn Fein has a candidate, Liadh Ni Riada, daughter of the famous Irish composer Sean O Riada, and the charitable sector in Ireland is represented by Joan Freeman who founded runs Pieta House, a well-known suicide prevention center which also has offices in New York.
Higgins stands out in the field with a relatively weak group of contenders. By any standards, he has been an outstanding president especially on the huge occasions such as the first ever state visit to Britain by an Irish leader in 2014.
On those occasions Higgins struck just the right note, proclaiming Ireland's history and achievement for all to see while being mindful of the British perspective on the same events.
Higgins reminds me of a "saoi," the Irish word for a wise man or sage. He is not fashionable or young, but he reflects a true vision of Ireland and a gravitas which none of the others comes close to matching.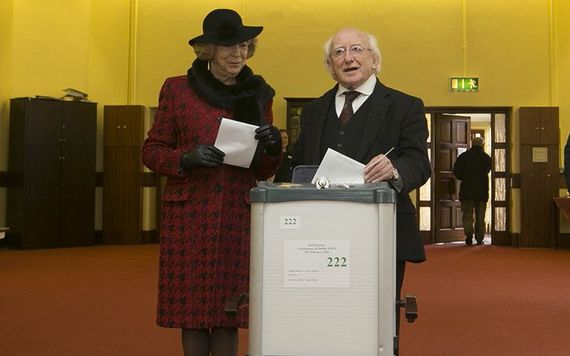 3
From grinding poverty himself, he speaks up for the underprivileged and is outspoken on justice issues. He has a clear and coherent vision of the diaspora and has never hesitated to make common cause with them, having lived in the U.S. at one point in his life.
Higgins has one great claim to fame when he was minister for the arts while in government as a member of the Labour Party. He removed Section 31, the ludicrous restriction on Sinn Fein members being heard or seen on national television and radio.
He has been part of every major Irish battle for equality of the past 40 years, left wing, unashamedly outspoken and also brave in sticking by controversial positions.
I have been to the president's home Aras an Uachtarain, a stately pile in Phoenix Park a few times during his residency and always found him and Sabina, his wife, utterly charming and welcoming. He speaks beautiful Irish, always a plus for a president of Ireland.
The dragons, by contrast, are mostly strangers mostly to political action. Indeed, one wonders where they have been in the great issues of the last few years such as same-sex marriage and the abortion referendum.
3
Sean Gallagher is Higgins' biggest rival, a man who parlayed his fame from reality TV into an incredible run for the Irish presidency seven years ago (reality TV star runs for president -- sound familiar?)
Gallagher was ahead until the final debate when he failed to answer a charge that he was politically corrupt which was completely made up.  In the ensuing hubbub Higgins swept through to victory.
Gavin Duffy, Peter Casey and Freeman are three people I know a little about. All seem fine and decent folk but have yet to present a compelling vision of why they should be president.  Ni Riada is a member of the European Parliament who has a bright political future ahead, but probably not as president of Ireland.
Higgins was at 57 percent in the latest poll with the other 43 percent scattered among his opponents. It is very hard to see him defeated and rightly so.
Read more: Boris Johnson prepared to bring back The Troubles in his mad ambition for power