Homelessness up by 81 percent, unemployment and debt down but how does Ireland feel? Well?
From healthy living, employment to engaging in sport the Central Statistics Office of Ireland has released its findings into how the Irish people feel about their lives in Ireland as a whole. The report is entitled "The Wellbeing of the Nation 2017".
Commenting on the data, Statistician Damien Lenihan said: "This publication attempts to measure wellbeing, which is influenced by many factors including the economic conditions of the country, the health of its population, and the educational attainment of its people".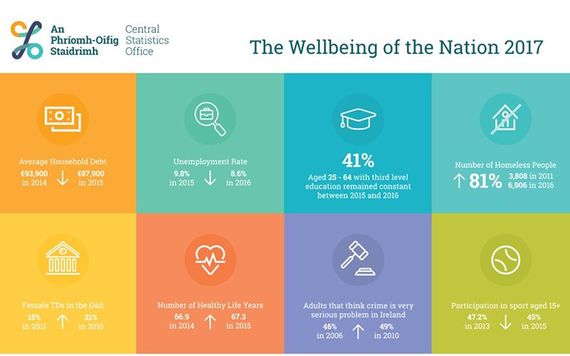 2
Read more: What to do around Dublin Bay
With over 30 indicators across eight areas of society, the key findings of the publication include:
- Irish people can expect to live 67.3 healthy years of life (as of 2015) that's up from 66.9 in 2014
- The unemployment rate has fallen from 9.8 percent in 2015 to 8.6 percent in 2016
- Participation in sports among those aged 15 and older has fallen from 47.2 percent in 2013 to 45 percent in 2015
- Average household debt has fallen from $112,649 (€93,900) in 2014 to $105,451 (€87,900) in 2015
- The percentage of those aged 25 to 64 with third level education has remained constant at 41 percent between the years 2015 and 2016
- The number of homeless people, as measured on Census night increased by 81 percent between 2011 and 2016 from 3,808 to 6,906 persons
- The percentage of adults that think crime is a very serious problem in Ireland has increased from 46 percent in 2006 to 49 percent in 2010
What is well-being?
The National Economic and Social Council's (NESC) document 'The Developmental Welfare State', states 'in a globalized world, the strength of Ireland's economy and of its society will rest on the same foundation – the human qualities of the people who participate in them'.
This view feeds into well-being, which can be said to measure how people feel about their lives as a whole. Well-being, in its broadest sense, can be viewed as a measure of all aspects of life. As a result, it is a complex multi-dimensional issue influenced by factors such as the state of the environment, the educational levels of the population, economic performance, public safety, and the health of the population, amongst others.
How do you think Ireland's doing? Are you surprised by these figures? Let us know in the comment section below.
Read more: US visitors to Guinness Storehouse up by 13% in record-breaking year