What's behind Ireland's growing diplomatic footprint in Tokyo, Japan?
The new Ireland House Tokyo building will be the biggest ever capital investment by the Irish Department of Foreign Affairs in the history of the state.
But what's behind the 23 million euro investment?
The answer is that Japan, with its 127 million citizens, is the world's third-largest economy and the Irish government has ambitious plans for both it and the wider Asian market through its Tokyo gateway.
The message Ireland House Tokyo will send is simple: Ireland is open for business as a solid, steady trading partner (an important thing to the risk-averse Japanese) and – in these days of British Brexit chaos - as a deeply committed member of the European Union. 
Set to be completed in 2020, Ireland House Tokyo will be home to familiar State agencies including Enterprise Ireland and IDA Ireland, but it will also place a strong emphasis on the "soft power" of Irish culture itself.
"The embassy delivers services for the Irish citizens living in Japan and there's a lot of work on the official consular side of things," Joe Moore, Bord Bia's (the Irish Food Board's) Market Manager for Japan tells IrishCentral. 
"But in a country with such a huge population and economy Ireland is not well known yet. And so I think one of our main missions is to change that. It's a constant challenge," he continues. 
"But it's a challenge which I think all of the embassy, the IDA, Enterprise Ireland and Bord Bia relish because I think there's a real connection between Japan and Ireland.
"It's incredible that you see so many Japanese people who have visited Ireland or lived in Ireland and have a real love for it, whether it's the music or drama or sport or food. The embassy tries to support all of those people on the ground here."
The pace of change is accelerating with Board Bia opening its first Tokyo office in June,  bringing to 14 the number of international offices it has promoting the Irish food and drinks industry overseas.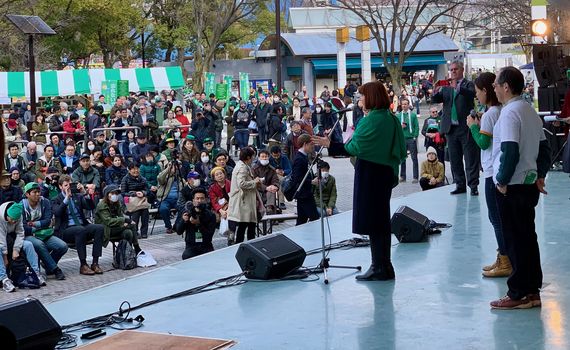 5
"It's been a busy year for Bord Bia in Japan," continues Moore. "Michael Creed, the Irish Minister for Agriculture led a trade mission here in June, which was the second time in 20 months, another sign of kind of the growing commitment to Japan, to bring a group of Irish companies and also at that time to officially launch the Bord Bia office here in Tokyo.
"And in addition to the people side of things in order to have a permanent, proper scale presence in Tokyo the government recognizes that having a legitimate Ireland House in Tokyo would be an excellent move. And so they've committed to, to building a state of the art new building in haste."
In another example of the push to diversify Irish exports, Enterprise Ireland and the Irish Minister for Business, Enterprise and Innovation, Heather Humphreys, led a trade mission to of over 50 Irish companies to Japan last month. It's part of a notable uptick in the conversations between the two nations.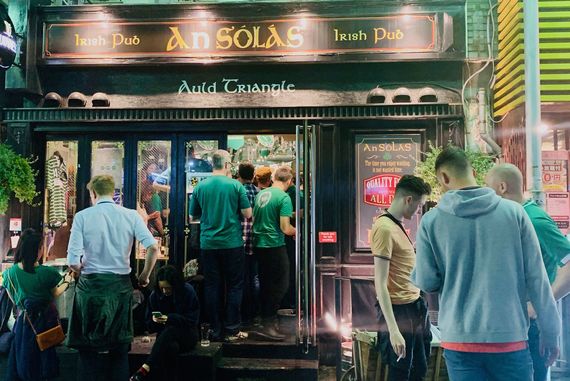 5
For many Japanese, Moore admits, Ireland is still widely confused with Iceland or the UK, however. That means a major task facing the Irish consulate will be to put us on the map. But thankfully they are receiving a remarkable degree of local help with this.
Inspirational Hibernophiles like the remarkable Hideki Mimura, a 10th-generation farmer, and businessman from Kanagawa Prefecture, are another delightful example.
A guiding light behind the 21 St. Patrick's Day parades that were held across 14 prefectures this year, when I met him last month in Tokyo he spoke several words of Irish, a moment that was as unexpected as it was disarming. 
Mimura has been involved in the management of each of the St. Patrick's Day Parades in Japan since the early 1990s and 15 years ago he founded the annual parade held in Yokohama, near his hometown. 
He got involved with the parades when he noticed that the Irish had some cultural characteristics he believes the Japanese may have mislaid.
"During the 90s we had a bubble economy here, where companies were spending too much money and borrowing too much as if it was all going to last and during that time we lost many of our best characteristics I think. Making money became more important than anything else. And it was very sad to see. We changed a lot.
"But Irish people still have something that we used to have, I discovered. It's an awareness of what really matters and a connection to each other that I admire and want to share that with other Japanese people."
There are many Japanese who have lived in Ireland or who love Irish culture and want to celebrate it, Moore agrees: "The main St. Patrick's Day Parade that happens here in Tokyo is on a tree-lined road called Ometesando, which is like I suppose the Champs-Elysee of Tokyo or the Grafton Street of Tokyo. It's an incredible shop window. And as far as I know, Ireland is the only country that gets to shut down the whole road."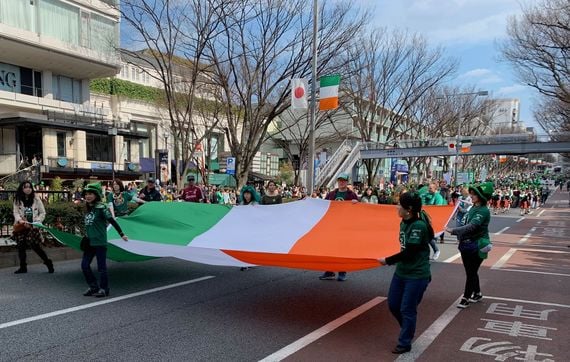 5
Mimura meanwhile has been a frequent and well-known guest of the St. Patrick's Day parades in Dublin and Galway, as well as a guest of honor at the Fifth Avenue parade in New York.
He was also presented with a distinguished service award by the Irish president for his decades-long Irish advocacy work in Japan.
But it's the desire to share his love for Irish customs and culture that has helped the Irish consulate and a succession of Irish ambassadors partner with him in the development of the growing Irish presence there.
"I think the Japanese people are beginning to realize that there are closer links between our two countries than they might have initially thought - and it's the same for Irish people," Irish Minister for Culture, Heritage and the Gaeltacht Josepha Madigan told IrishCentral in March.
"We're both insular but open economies, we have deep cultural roots in terms of literature and art and we both love to celebrate life."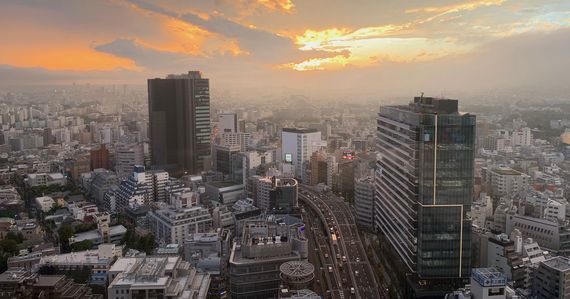 5
One of the most striking examples of the connections between on display us recently was in what you might call the auld decency of Japanese sports fans.
Ireland may have been trounced by their national team during the Rugby World Cup, but were there ever two nations that took more care to celebrate victory and defeat at the hands of each other?
That kind of sensitivity will get another airing next year at the 2020 Olympic Games, with Ireland already scheduled to compete.
Meanwhile, Japan is Ireland's eleventh largest trading partner and over 600 Enterprise Ireland companies are currently exporting to the region with exports of over two billion, an increase of 80% over the last five years. 
With direct flights between Dublin and Tokyo in the offing, the greening of Japan is underway.
Read more: Record-high rents in Ireland now spell home or homelessness