Facebook is attempting to eliminate fake ads and provide transparency on its platform ahead of Ireland's abortion referendum vote on May 25.
In the wake of Russian interference in the U.S. 2016 election, the social media giant is introducing a new tool that, according to CNN, will "give users more information about political advertisements and sponsored posts in their News Feeds."
The new feature, which has already been tested in Canada, is expected to be available in Ireland on April 25, ahead of the global launch.
Read More: American pro-life groups attempt to shutdown Irish Repeal Facebook page
John Kaplan, Facebook's vice president of global public policy, has said the company decided to move up the launch date in Ireland because of the abortion referendum vote.
"Ireland will be the second and only other country that we roll out before the global deployment," he testified to the Irish parliament. "We hope that this will bring greater transparency to ads running in the context of the forthcoming referendum."
3
The Irish Independent reports that the new feature "will show information about political ads related to both sides of the referendum campaign."
In addition, "Under the new ad transparency system, Irish users can see all ads an advertiser is running on Facebook at the same time, even if those ads are not in the user's own news feed.
Read More: Irishman reveals shocking amount of data Facebook and Google keep on you
"Facebook users can click on the advertiser's Page, select "About" and scroll to "View Active Ads" where they will see all of the ads that Page is running on Facebook."
Susan Daly, editor of TheJournal.ie and head of the website's FactCheck initiative, spoke to NiemanLab in an interview about fake news and misinformation surrounding the upcoming referendum vote in Ireland.
"It's noticeable that there are not so many blatant articles being disseminated that are #fakenews in the way you might understand it in an election campaign such as the most recent U.S. campaign.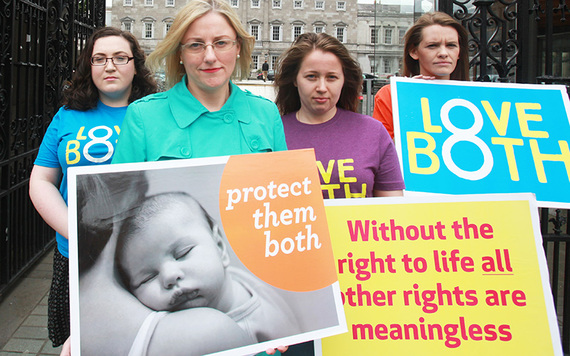 3
"The misinformation or cloudiness is emanating from social media posts that are native to those platforms — memes/photos/videos — and on billboards, which naturally go for soundbites that can lack the context needed for a casual passerby to make an informed decision on its veracity.
Daly went on to say that "this referendum is showing that the impact of influencers on social media (known and unknown) is becoming much more significant than in the past."
Some groups are wary of Facebook crossing the line into censorship.
Read More: Facebook warned to stay out of Irish abortion referendum
Cora Sherlock, a spokeswoman for the pro-life 'Love Both' campaign told the Irish Independent: "If Facebook does start to monitor things you'd have to generally welcome that. But that comes with a strong caveat that any type of monitoring doesn't descend into censorship."
However, despite the introduction of its new transparency tool, Facebook says that it won't be fact-checking content posted to the social networking platform by individuals or media, to  avoid restricting free speech.