Detectives investigating the murder of Natalie McNally arrested a 32-year-old man in the Lisburn area of Co Armagh on Tuesday, January 31.
The Police Service of Northern Ireland (PSNI) confirmed the arrest on January 31, noting that the man had previously been arrested on December 19, the day after McNally, who was 15 weeks pregnant, was murdered in Lurgan, Co Armagh.
The man was taken to Musgrave Serious Crime Suite on Tuesday where he was questioned by detectives.
Our detectives investigating the murder of Natalie McNally on December 18th have today arrested a 32-year-old man in the Lisburn area. pic.twitter.com/p7i4UeV4zG

— Police Service NI (@PoliceServiceNI) January 31, 2023
Natalie McNally was fatally stabbed on the night of Sunday, December 18 in her home in Silverwood Green in Lurgan, Co Armagh.
The 32-year-old "died a violent death having been stabbed a number of times, and there were signs of defensive injuries," the PSNI said when announcing its murder investigation on December 21.
On February 1, the day after the PSNI announced its latest arrest, McNally's family was outside Leinster House in Dublin for a St. Brigid's Day protest over violence against women.
The McNally family wore shirts featuring Natalie's face that said "#SayHerName," the Irish Independent reported.
Niall McNally described his sister Natalie as an activist for women's rights who "would have been here today herself if she could."
"She was big into women's reproductive rights and LGBTQ plus rights as well," he said.
Natalie's cousin Gemma Doran read a poem she had written for Natalie and afterward said "it means so much to us to be able to represent all those women who lost their lives due to violence."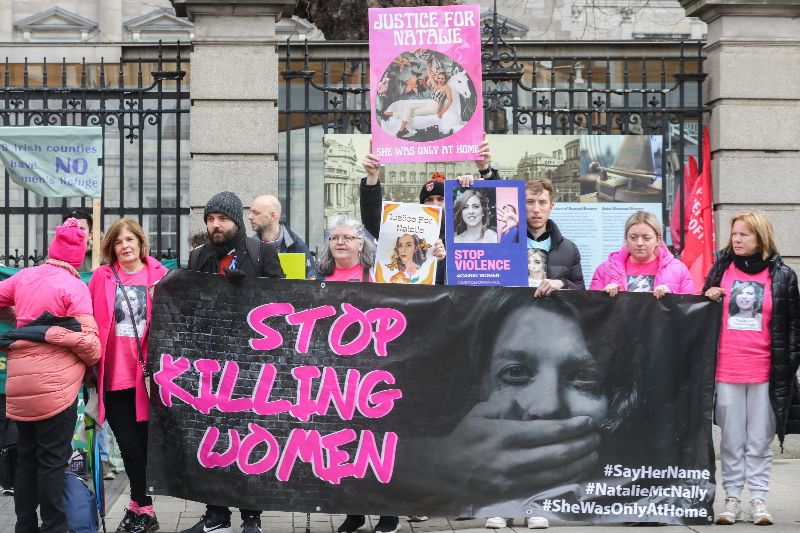 2
The PSNI renewed its appeal for information regarding the murder of McNally last week.
"We are continuing to investigate the horrific murder of Natalie, who was 15 weeks pregnant," Detective Chief Inspector Neil McGuinness said on January 28.
"We are committed to finding answers for Natalie's heartbroken family. It is shocking that the mother-to-be was brutally murdered in her own home which should have been a place of safety for her. 
"I would like to pay tribute to the continued fortitude of Natalie's family and thank them for all they are doing to support our investigation. The deaths of Natalie and her unborn baby have caused them unimaginable heartache. Not only are they trying to come to terms with the death of their only daughter and sister, they are also grieving the loss of Natalie's baby boy, who they have named Dean. Natalie's killer robbed all of them of meeting Dean and watching him grow up as part of their loving family.
"I would also like to thank the community of Lurgan and beyond for their support and for all the information people have brought to police. Please keep it coming.
"We previously released CCTV footage and our efforts to identify the man in this footage remain ongoing. It shows the suspect arriving at Silverwood Green that night at 8:52 pm, and then the same figure walking away at 9:30 pm. Please remember, this was the night of Sunday 18 December – that's the same day as the World Cup Final.
"I'm asking you to cast your mind back to that Sunday. If you witnessed anything untoward – no matter how insignificant it may seem – or if you have captured dash cam or CCTV footage, please get in touch."
DCI McGuinness added: "We are continuing to progress our extensive investigation, in which we've already carried out hundreds of house-to-house enquiries and seized over 4,000 hours of CCTV footage.
"I would like to remind people of the reward of up to £20,000 from Crimestoppers, who are a charity and independent of the police. It is being offered for information given directly to Crimestoppers that leads to the arrest and conviction of those responsible for Natalie's murder."
"I am appealing to anyone who noticed someone they know acting strangely that night to come and speak to us. Maybe you recognise the rucksack or noticed that a rucksack was missing for a period of time or indeed is still missing. The suspect captured in the CCTV footage has an unusual gait.
"We remain absolutely determined to bring him to justice for this horrific murder. Please contact police on 101 with any information at all no matter how insignificant you think it is."
PSNI said people with any information can also contact Crimestoppers on freephone 0800 555 111 or online at Crimestoppers-uk.org. There is no caller line display, no 1471 facility, and computer IP addresses are never traced.
Information, including photos, CCTV, and dashcam footage, can also be provided to police through the Major Incident Public Portal. Please see: Police Appeal: Murder of Natalie McNally | PSNI.