British Prime Minister Theresa May continues to walk on a political tightrope as her party's Eurosceptics claim to have killed off her Chequers deal for agreement on Brexit with the EU.
Ireland's Fianna Fail spokesperson on Brexit, Lisa Chambers, said she believes Ireland has to be very worried after Monday's vote in Westminster.
The Tory Eurosceptics claimed to have killed off May's plan presented earlier this month at her country home in Chequers.  They boasted that they forced her to make changes that were passed by three votes but will leave the plan "dead on arrival" for negotiation with the EU in Brussels.
Read more: AOH National President warns of return to "dark days of the past" in the North
On Tuesday, Sinn Fein Northern Ireland leader Michelle O'Neill rejected that her party's seven MPs at Westminster could be of assistance in May's Brexit plans if they took their seats and voted. O'Neill said Sinn Fein was "proud" of its abstentionist policy.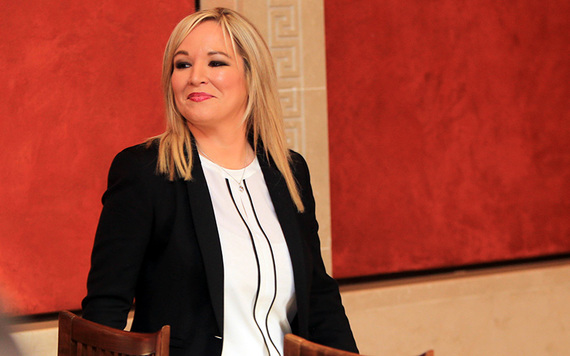 2
May insisted that her Brexit blueprint was not fatally compromised after she caved in to four demands from leave supporters in order to avoid a Commons rebellion over a key piece of Brexit legislation.
But her climb-down provoked a backlash from remain-supporting Tories, who accused her of being "frightened" of her backbenchers.
With Tory divisions over Europe once again threatening to tear the party apart, Fianna Fail's Chambers said the most worrying of May's four amendments was the one that relates to the backstop arrangement to prevent a hard border on the island of Ireland until December 2021.
Chambers told RTE that in her opinion the vote in the Commons has essentially made a backstop unlawful and therefore it was not possible to contain it in the Withdrawal Treaty with the EU.
"The EU has reiterated its point several times that there will be no withdrawal treaty unless the U.K. adheres to its commitments made last December and last March that it would agree to a legally binding backstop, which now in my view is not possible," she said.
 "This is the very first time we've had something passed into law in the U.K. which does effectively preclude the backstop."
Chambers argued that the amendment meant Northern Ireland cannot form part of a separate customs territory to Great Britain.
Resignations from May's government continue. Scott Mann, a parliamentary private secretary at the Treasury, resigned on Monday, saying he could not support the "watered down" Brexit being proposed by May. He was the seventh member of her government to resign over Brexit in 10 days.
The departures started with the exit of two prominent members of her Cabinet. David Davis resigned as Britain's Brexit Secretary and Foreign Secretary Boris Johnson also resigned.
But May has continued to maintain a tenuous hold on power, backed by Northern Ireland's Democratic Unionist Party.
Read more: Video of crossing Irish border 4 times in 10 min shows absurdity of hard border